These 10 running-related questions originally came from Another Mother Runner and I saw it again on Shut Up and Run (any post that starts with a photo of Honey Boo Boo is a  must read) and then again on these folks tweets where I was tagged:
When you have running friends like these, finding things to blog about can be pretty easy.
So here we go.
Best Run Ever?
I'm going to go with my best race ever and that would have to be my Big Sur experience in 2009. It wasn't my fastest, or my strongest, but it was my first time running a sub-5 hour marathon (yes, I've come a long way) and the scenery was amazing. The course is extremely challenging with a steep incline up Hurricane Point (600 feet over 2 miles). I battled leg cramps toward the end of the race, but fought through it and loved every mile of it.
3 words that describe your running?
"I'll never learn." LOL. I always go out too fast, something I'm really working on. I also am really bad about stretching and injury prevention (foam roller, ice baths, cross training). These ARE things that I do, I just need to do a better job of doing them more frequently. Please don't take my running card away from me.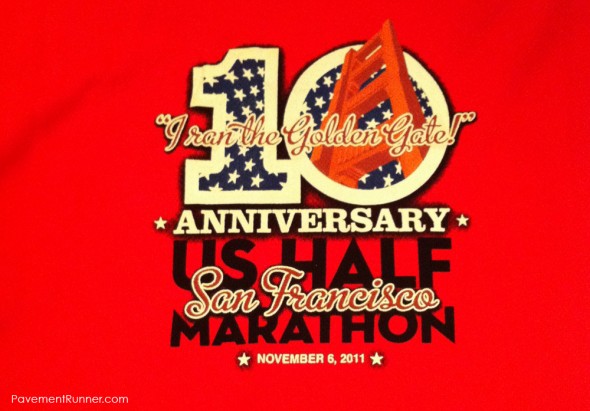 Go to running outfit?
My 2010 NYCM finisher's shirt. It isn't the best designed shirt graphically, but I feel in elite company when I wear it. Lame, but very few of us get the opportunity to run that race and I feel privileged to be a part of it. (see blow bunny photo, told ya, it was my fav.) I also love all of my Run US Half shirts. I have three of them and two have been worn more than most of my other shirts. Love the design on them and they feel so darn comfortable.

Quirky habit while running?
I do the hand dance moves to the music I listen to. I know that everyone can hear my iPod and are admiring at how my hand-dancing-meets-jazz-hands goes perfectly in sync with the beat. It really is a treasure that many people get to enjoy when they see me run. You're welcome.
Morning, Midday or Evening?
Can I say all three? I always set the alarm for the morning during the week. As many of my twitter followers know, the bed usually wins and I end up running during my lunch hour (midday). However, some of my favorite runs have come at night during a couple of relay races I have done. Something about running through a neighborhood at 2 in the morning that has a very quiet and surreal feeling. Wish I could experience that more.
I won't run outside when…
it is too hot. I don't do well in the heat, which makes San Francisco the perfect place to train. However, I don't do treadmills, so it's outside or nothing. I have nothing against treadmills, the few I have encountered seem pleasant and easy-going, I just choose not to run on them if I can avoid it.
Worst injury and how you got over it?
ITB anyone? I encountered my very first ITB injury a few years ago while running the Seattle RNR marathon. It wasn't the races fault, it was just the result of running in an old pair of shoes and going out too fast. See "I'll never learn." Okay, there were a lot of highway miles so I will point part of the blame on a rough surface, but it was the combination of the ITB trifecta.
I got over it through constant foam rolling, stretching and starting over again. What I mean by that last part is that I took two weeks off and started with a 3 mile run. Then slowly built to a 5 mile run with some 1-2 milers during the week. Then week by week built up my strength. If I only had a reset button like the old school Nintendo system.
I felt like the most badass mother runner when?
When the right song comes on my playlist AND I'm in the zone. There is something perfect about catching the right beat in your headphones and hitting the right stride. I guess that is pretty generic. Were we supposed to pick out a specific moment? How about the time when I ran across the Golden Gate Bridge with THIS on my head? Oh ya, I set my Half Marathon PR while doing it as well.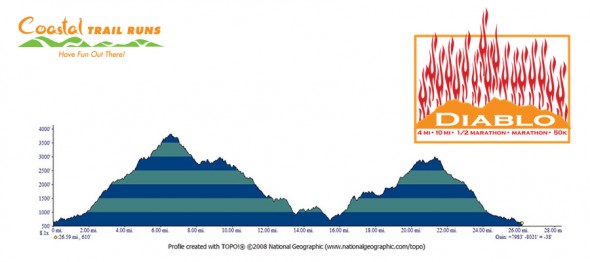 My next race is…
TOMORROW! That's right. This was the surprise I mentioned earlier in the week. On Saturday I will be running a trail marathon with a 6,760′ elevation gain. Yep. This is going to be the perfect test for my 50 miler 10,000′ elevation gain. I was kind of playing this one close to the chest because I am really nervous about it. It's right in my backyard on Mt. Diablo (messed up name, right?)… I can literally see it from my house every day.
Running goals for 2013?
I really, really want to break 4-hours for the marathon. It really has been something that I have wanted to do for a really long time, my training has just never been intense enough and I just need to focus more on my running. Registering for the 50 miler this year was my kick in the pants to make it happen. There are HUGE hopes for 2013… did someone say 100 miles? Nah, I didn't think so.
There you have it.
Do you feel like you know more about me?
Advertisement: