5:00 a.m. alarm goes off. Snooze. 5:07 alarm goes off. Snooze. 5:10 I lazily get out of bed to beat the 5:11 alarm because wifey is starting to make "get the heck out of bed or turn it off" noises, a sound that runners who share beds might be all too familiar with.
By the time I get my things together and head out the door it's closer to 5:30 which gives me less than an hour to get into San Francisco during the morning commute. As you can tell by the title, I did not show up on time to November Project. But I still showed up for some sweaty hugs, a workout — even if it was a partial one — and some morning coffee with Breakfast Club (the coffee-after-party).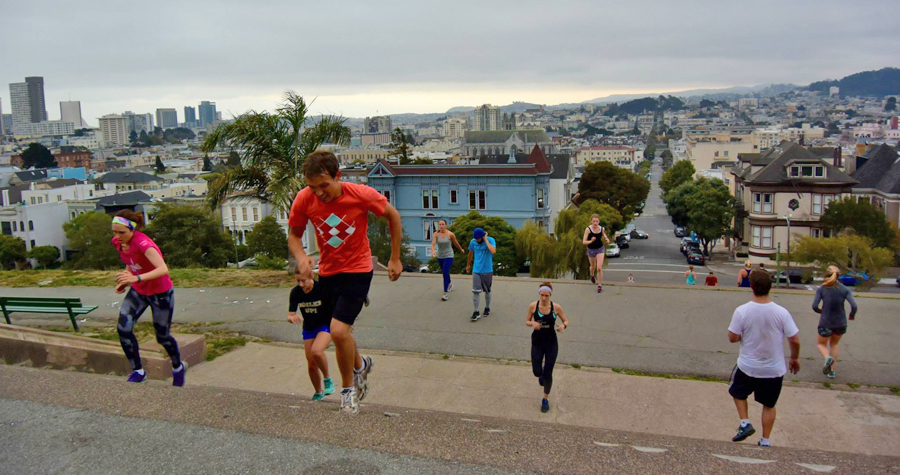 As you can see from the photos (photo credit NPSF), fun is had at November Project and even though I don't make it out there as regularly as I would like, I always have a good time when I go. It's a long drive for a 30-minute workout, but it's about MORE than the workout with NP. It's about the community. It's about cheering on each other, friends, strangers, guy walking the dog.
If you want to read more about today's workout, check out the November Project SF blog, and find out where the tribe will be racing this weekend.
Also, rumor has it that I'll try to show up on time on Friday for some hills at Glen Canyon.
* * *
Win a trip to Amsterdam?
Did you see that I made a video? CLICK HERE
It's only 24 seconds, worth a watch.
* * *
Do you have trouble with those early-morning alarms?