I waited a week after my first 50 mile event to register for my next one: Lake Sonoma 50 Mile.
Saturday that day arrives.
I'll be running a 50 mile trail race with 10,500′ elevation gain (and an equal amount of loss – see chart below) and several water crossings. Why can't I run an ultra without getting wet? It has 6 river crossings (that you do twice), it says "ankle-deep water," but I see pictures of runners in previous years in waist deep. Never trust an Ultra site (half serious).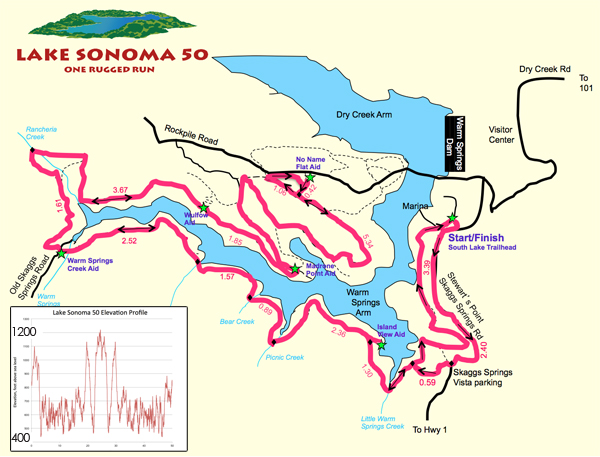 I'll be running with my good friend Chris. We ran NFEC 50 together, so it will be great company and a familiar approach to the distance. I feel like my training has been better and Chris has been killing it on runs and rides.
4 months after my first 50 miler, I'll be trying to finish in under 11 hours, the qualifying standard for the Western States 100. That would be shaving an hour off of my time. Chris has finished in that time before and it's more of my "self-imposed goal," but he's down for some qualifying fun.
Click here to see some course photos from a fellow blogger!
Running races the past few weeks has allowed me to keep my mind OFF the fact that its time to put all the cards on the table, so to speak.
Here are my current thoughts written without filter:
What did I get myself into?
You've got this. A 50k PR and a marathon PR in your pocket, get it son!
Anything can happen when running for 11 hours, good or bad.
You're not ready.
Yes you are, trust in your training.
Chris ain't going to wait for your slow ass.
You cant tweet out your failure.
Yes you can, they'll understand.
Do it for wifey, she's waiting at the finish line.
It'll be a story to tell the

First Lady,

make it a happy one.
Find your motivation. Run with it.
I've been running a lot and racing often. My training has been consistent and there are definitely confidence builders on the calendar.
I'm nervous, plain and simple. It's a distance that you can't just go out and race again if it doesn't go right.
I'm going to follow advice often given and well received: "Trust in your training."
Tomorrow on my mind.
You always feel like you could have done more,
but I'm a day away from finding out if it was enough.
Advertisement: