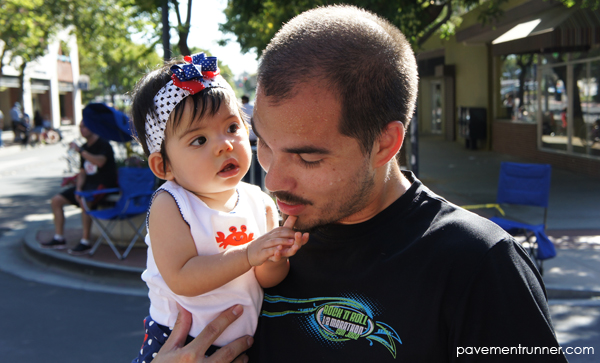 I ran my first 5k this past Wednesday on July 4th — yep, this endurance runner put on his speedy shoes and gave it a go. As you can see above, I had the best cheerleader clapping for me. It was the first time she has ever come to see her daddy race. Talk about pressure. It was a big moment for me, and I like to think she enjoyed it as well. She even wore her crab shirt. I tell her to be sneaky and grab things from the side… like a crab. Gotta teach her the important things, ya know.
Okay, now onto the race. Here was my strategy:
Mile 1: Keep it around a 7:30 pace. This is reasonably quick for me, but not a go-speed-racer-crazy-and-burn-out-early kinda pace

Mile 2: Faster than mile 1, but not pedal to the medal… yet.

Mile 3: Broken up into 2 parts. Run the first half pretty darn hard. Run the second half with everything I have left.

.10 — sprint your ass off!
Final time was 22.45 (7:24, 7:21, 7:08, (.10 mile) 6:17)
I pretty much hit all the goals. I might have been able to shave off 5-10 seconds off the second mile, but I did take a quick sip of water at the half way point. Either way, I'm excited that I was able to run a solid race and all of your pre-race tips really helped. I did a one mile warm up with lots of stretching and some sprints/strides to get the "fast" juices flowing. I placed 47/451 overall and 12/90 in my age group.
And of course, we had a "predict my 5k finish" winner. Here were the closest guesses, Price Is Right rules of course. Congrats Laura. 
Thank you to everyone that sent me congrats via twitter and facebook. The support, advice and community really make this running thing amazing.
What's next on your race schedule?