This is a sponsored post. All opinions are my own.
Every once and awhile you see a shoe and think: "I have to get those." There are always shoes that you see on friends, or in a store, and you really like them, but I'm talking about when you see a shoe for the first time and you KNOW that you are going to buy them.  I'm a shoe fanatic and it's only happened to me a couple of times — most recently with the Air Max 2015.
It wasn't in an ad, or in a store, but someone was wearing them and I immediately thought "what are those?" From that moment on, I was hooked. A couple of days later I was at the mall, standing in Finish Line holding a pair in my hands. They were bright, had bold colors, and with an air unit from heel-to-toe (a signature Air Max look) with a giant Nike swoosh on the side — the formula for shoe epicness.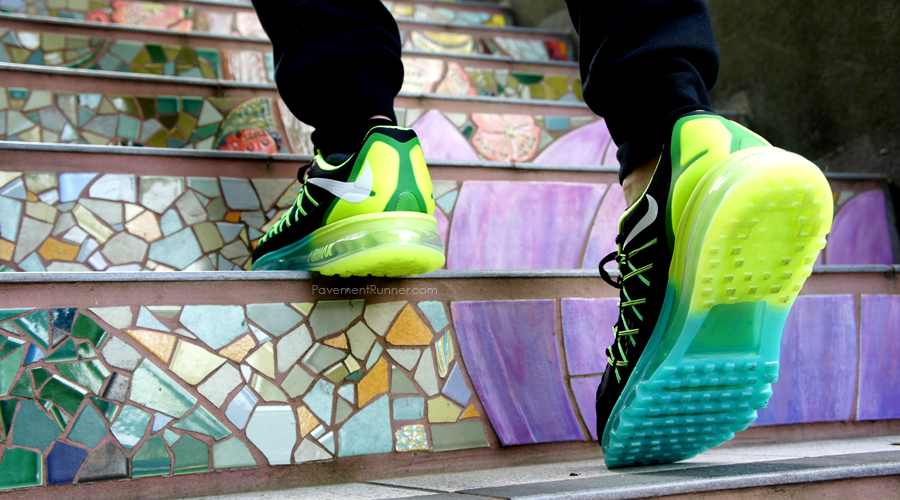 Lighter Than Ever
Over the years, shoes have become lighter and these hold true to form. The Air Max 2015 is built with Flywire technology, a series of filaments (that function like cables on a suspension bridge) to provide support and combined with a seamless mesh upper, make this the lightest Air Max to date.
Choose Your Color
The Volt/Hyper Jade colorway just shouts out at me and I knew that was the one for me, but the Air Max 2015 comes in various color options including Hyper Crimson, Blue Legion, Pure Platinum, Hyper Grape, Fuchsia Flash — and now Reflective Silver.
Click here to see all the color options — including WOMEN'S styles.
I've talked previously about my love for the Air Max style and these are definitely head-turners. Anytime I wear them, it's amazing to see people's heads look down and have them watch your next step. Most of my shoes end up under my bed, but there are a select few that get placed back in the box and put in the closet — these are one of them.
Available at FinishLine.com in various colors.
If you could have a pair RIGHT now,
what color would you choose?