I have been wanting to print a shirt like this for some time. Black Friday seemed like the perfect opportunity to make it happen. Since the store is only open UNTIL MONDAY, DECEMBER 1, there is a very short time frame at play.
shhh… they are only $20 through this weekend
Black ink, Black shirt
These shirts are meant to be seen up close and personal. From a distance, it will look like any other all black shirt, but the closer you get the fresher it looks… I believe "dope as hell" is how I worded it in the product description. In my opinion, the black on black style shirt has an elite feel to it. A best of the best kind of thing that may require you to wear it with some swagger (excuse me for saying swagger). I'm kind of glad it's only available for the next 4-days. I'm kind of tempted to never make it available again and have this be a limited edition shirt, but I can't make any promises on that.
Note: The Ladies shirts are now available in LADIES sizes and run "true to size."
Shop for the ALL BLACK EVERYTHING style here.
All the shirts for all the runners
I dig this shirt so much, that I marked it down to $20. I want EVERYONE to rock this shirt at an expo and be stopped and asked "where did you get that?" 
The racerback tank is also marked down to $20 as well. The racerback tank color shirt is labeled as VINTAGE BLACK. The actual tank is a little darker than what it shows on-screen, but it's not as dark as the shirts. It's somewhere in-between the two. The shirts are on point and I thought about not making the racerback tank available, but I had a feeling I would be asked about it. Wifey says she digs it, so that's good enough in my book.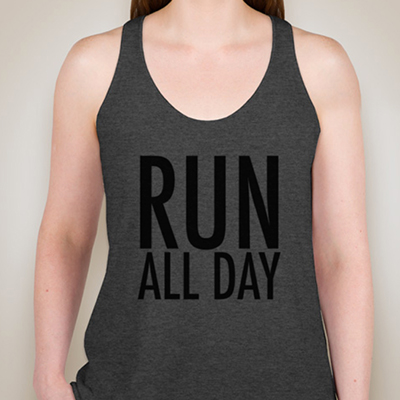 Store Closes Monday, December 1
With Friday being Black Friday and Monday being Cyber Monday, I'm hoping everyone is in the mood to do some shopping. I'm going to be promoting the shirts on social all through the weekend, but I once I close the store I always get asked when it will open again. If you are in the mood for some tweeting or instagraming, feel free to grab any images from the site, or hit the "tweet" below. The url is PavementRunner.com/shop
What do you think of the shirts?