Disclosure: This post is sponsored by Champion®.
The best thing about being a runner is that anyone can be a part of the community. Whether you run for recreation, race often, or compete amongst the elites. For those of us that run throughout the year, it's important to have the right gear. In my running closet you will find all sorts of gear across the spectrum of fitness brands. One of those brands happens to be Champion®, est. in 1919.

One of the great things about the Champion® brand is that they provide a quality product at a fair price. If you are like me, then you've walked through Target and glanced at the fitness section and said "oh." And just like that, something has been added to your running closet. It happens THAT easily.
Today we are going to take a look at some of the items in the 2015 Spring collection. I received (2) heather men's shirts with Champion Vapor® Technology (wicks moisture for sweat-free comfort). A pair of 6.2 men's shorts with mesh side panels and reflective highlights, and a pair of PowerTrain print knit shorts with Double Dry™ moisture wicking technology.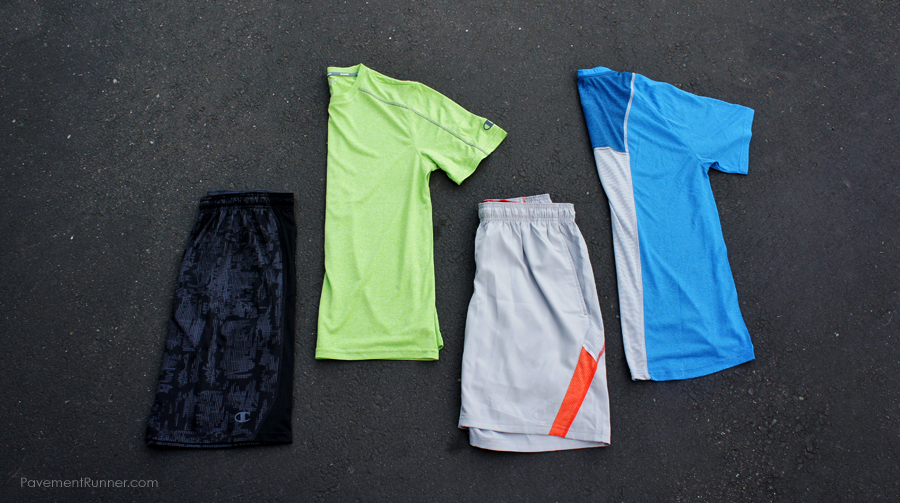 Champion Vapor® Heather Men's T Shirt
Both of the shirts are extremely comfortable and perfect for long-distance running. They are extremely light weight, the seams are "flat-locked" which means you don't have to worry about chafing, and they are incredibly soft. The heather pattern gives the shirts some style without weighing down the front with graphics.

Champion® 6.2 Men's Shorts
The 6.2 shorts (6.2 because it's the mile distance of a 10K — see what they did there?) are built for running: light-weight, side pockets, reflective highlights, and mesh side panels for ventilation. The pair I received has a splash of orange down the side for some flair which is a nice touch.

Champion® PowerTrain Men's Print Knit Shorts
The PowerTrain shorts were the first things I put on. They were extremely comfortable and I love the print. They are a little on the "lengthy" side, which I enjoy, but might be a bit too long for distance running. Built with moisture wicking technology and side mesh panels for ventilation, these are perfect for cross training in the gym.

#AllGainNoPain™
Champion® is using the #AllGainNoPain™ hashtag to help push and inspire athletes to do more. Check out the 2015 line here or click the hashtag on social media to see how the community is engaging and interacting with the idea.
How do you push yourself to do more?