I always say that I am going to do more of these, and I really mean to. Thankfully, Lisa was extremely patient with me as I kept promising her that I would feature her when she asked towards the end of December. Since I'm not able to run an easy 10 miles with most of you, I figured the next best way to get to know you is with an easy 10 questions. I'm pleased to bring back the "An Easy 10 with…"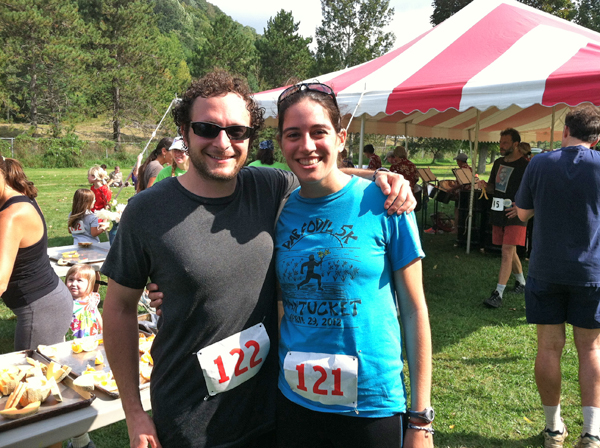 Name: Lisa Fine
Location: Mad River Valley, Vermont
Race History:
5k: 7
10k: 2
Half Marathon: 2
Full Marathon: 0 (But training for Vermont City Marathon in May 2013!)
lisa fine / vermont vittles
blog / www.lisafine.org
twitter / @CitySproutsNYC
* * * * * *
I started running… to gain confidence. I was always the last one to finish the 12-minute run in high school, but knew several years ago that if I started running slowly, with walk breaks, that I could eventually run 30 minutes without stopping. Now my fiancé and I are training for our first marathon together, which is just amazing.
When I'm not running, I… hike, go for walks, cook, preserve food, drink tea, read, and blog.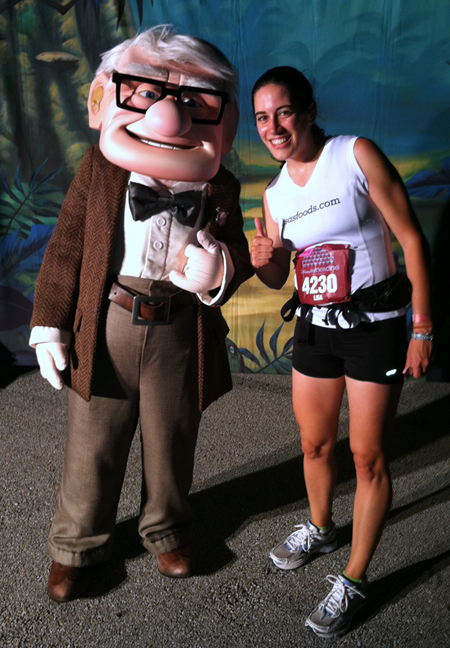 One time when I was on a long run… I got to get my photo taken with Carl from the Pixar movie Up. Yes, it was while running the Wine and Dine Half Marathon at Walt Disney World, and yes, it was awesome.
I choose to run without… a GPS watch. It'd be fun to try one out, but I make do with the RunKeeper app on my phone and my Timex Ironman watch.
The question I am asked most about running is… "How can I get started?" Try a couch-to-5k kind of plan. That worked for me by gradually building up minutes and mileage. I was shocked when I made it to running 3 miles continuously.
After an event or tough run, I… make a big smoothie with spinach, a banana, peanut butter, raw oats, and rice milk. And eat pizza and seltzer.
Running is… what keeps me calm. I love clearing my head and getting some extra outside time, even on a 20 minute run. It's my biggest stress reliever.
When I'm on the road… I usually bring running clothes with me, but if I don't have room to pack them, I make sure to at least have decent shoes for walking.
I wish other runners would… be more forgiving of those of us who run with walking breaks. Most runners are super supportive, but I've heard a few complaints when running races and taking walk breaks, even when I'm all the way to the side.
If I could run 3-miles with someone famous, it would be… with Jeff Galloway. His running plans have kept my knees in good shape, and give me the possibility to train for a marathon.
* * * * * *
Thanks Lisa. I'm excited that you will be running your very first marathon in a couple of weeks and I'm glad that I was able to feature you before.If you have a moment, check out Lisa's blog CITY SPROUTS for vegetarian recipes, race and hike recommendations as she adventures around NYC.

If you'd like to be a part of "An Easy 10 with…" please email me at pavementrunner[at]gmail[dot]com
Let's send Lisa some good running mojo and last-minute tips or mantras for her first marathon!
Advertise:
//
//