As many of you already know, my goal for last Sunday's Rock 'n' Roll Arizona Marathon was sub 3:30. That would have been (at least) an 8-minute PR from my 3:37 in Sacramento in early December. After an amazing Q&A session with @RunEMZ and tweet up at the expo (recap and photos here), we were set to do our thing race morning. RunEMZ was going to pace me the entire way and the goal was to maintain an 8-minute pace for 20-22 miles and reevaluate from there. Let's see how it goes.
Race morning
I woke up fine after a good night sleep. Had a little trouble falling asleep, as is typical the night before, but I woke up refreshed and ready to go. Had some water and my Payday bar (yes, that's my breakfast before a marathon when I'm not at home) and just like that, we were on our way to the start line. Me and Emz talked confirmed race strategy, then hugs, high fives, well wishes and we were off.
Marathon #20
Mile 1: 7:31
Mile 2: 7:47
Mile 3: 8:07
Mile 4: 8:07
Mile 5: 8:07
Look at that. Like clock work. The first couple of miles are always fast, but once we nailed our rhythm, we were money. Course is really flat, so it was pretty easy to find a groove and just sort of stick with it.
Mile 6: 7:55
Mile 7: 7:51
Mile 8: 7:56
Mile 9: 7:54
Mile 10: 8:00
Let the awesomeness continue. We were really getting into a rhythm… at least that is what the numbers show.
What the numbers don't show: By mile 7, I could already feel like my legs were heavy. I had a GU at Mile 5 and another after Mile 10, sticking with my "fuel every 5-6 miles" and was hydrating well. But I just sort of felt "off." I was hoping that something would click physically later, but I just didn't feel right. My stomach didn't feel right either… I wasn't having the runner poo-poos (technical term) or anything, I just felt off. I didn't want to eat or drink anything, but knew I needed to. My energy level was high and Emz was doing an amazing job of pacing me… my legs just felt like they normally do at mile 19-20.
Mile 11: 8:10
Mile 12: 8:06
Mile 13: 7:43
Half Marathon Split: 1:44:18
Around mile 11-12 I told Emz I was going to throw on my headphones.  I needed something to distract me from how heavy my legs were feeling. Each mile was feeling more and more laborious. It was way too early to be feeling this tired. I knew that I wasn't going to be able to maintain this the entire way unless something changed and changed quickly.
I couldn't have asked for a more perfect half marathon split. Those first 13 miles were gorgeous and perfectly paced for a sub 3:30.
Mile 14: 8:10
Mile 15: 8:13
Mile 16: 8:24
Mile 17: 8:44
Mile 18: 8:46
The wheels are slowly starting to fall off. I know that my pace has slowed. Miles 13-18 are the "out" of an out-and-back segment and it felt like it lasted forever. I'm never a fan of the out and back, but I'll never use it as an excuse. Miles are miles no matter what they look like, these just felt like they took forever.
Mile 19: 9:26
Mile 20: 9:58
Mile 21: 9:20
My pace is quickly going off the deep end. I think mile 19 was the first point I stopped to walk for a significant amount of time. Emz knew I was slowing and she would later tell me that she noticed something change in my stride before mile 10. She said she heard my feet hitting the ground differently. That was around the time my legs started to feel "heavy" so it makes sense. Damn she's good. I was bummed to see day slowly falling apart. I was really feeling like I was letting Emz down. I was excited to go after sub 3:30 and she was the perfect person to inspire me to get there.
At this point, Emz knows I'm toast and I let her know that my legs are feeling like they are going to cramp. I've stayed on top of my hydration and fuel, I'm just running on tired legs. Nothing has seized, but I could tell it was going to happen. For the next 6 miles, I'm running as fast as I can at a pace that will get me to the finish without cramping or crashing. Sometimes it means taking a 30-second walk break, other times it is going into a mini-shuffle. I keep saying "sorry" to Emz every time I have to stop to walk and she finally tells me to stop saying it… I then say "sorry" for saying sorry  Oy. It's been a long race.
Mile 22: 10:31
Mile 23: 11:00
Mile 24: 11:18
Mile 25: 10:12
Mile 26: 9:39
3:48:57
I'm thrilled with another sub-4 marathon and am amazed that I can personally have a "tough" race and still be so far ahead of where I started (my first marathon was over 5 hours). It is a far cry from my sub 3:30 goal and 10 minutes slower than my PR, but I pretty much ran 19 miles on tired legs after mile 7. Some days you just don't have it and I knew it early on. I would have loved to have held onto the amazing pace for a few miles longer and kept my miles in the low 9s, that would have put me at least in position for a PR, but I know for a FACT that I couldn't have run this race any faster than I did… on this particular day. If it wasn't for Emz, I would have walked a whole lot more and beat myself up… it would have easily taken me an extra 15-20 minutes to finish if she wasn't there.
As you can see in the below photos, taken seconds after we crossed the finish line by RunWestin Concierge Chris Heuisler, smiles were on our faces and I'm honored to have run 26.2 with a great friend.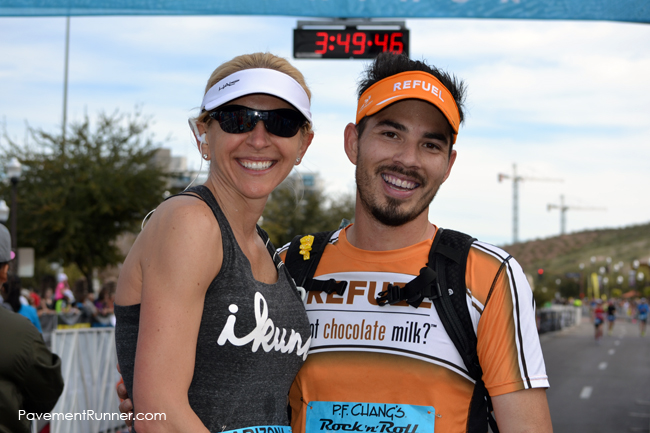 Thank you RunEMZ
Please allow me this #toosmallofaspace thank you to one of the most outstanding people I have come across in the running community. There were so many wonderful moments that happened and I wish I could tell you every little joke or funny story or about all the amazing running and non-running conversations we had. It was a weekend I will never forget and it was an honor and a privilege to run my 20th marathon with a running icon. I'm humbled at the opportunity and forever thankful for everything she did for me last weekend. She is just as inspiring and amazing in person as she is on the interwebs… actually, more. #allthehugs #allthethankyous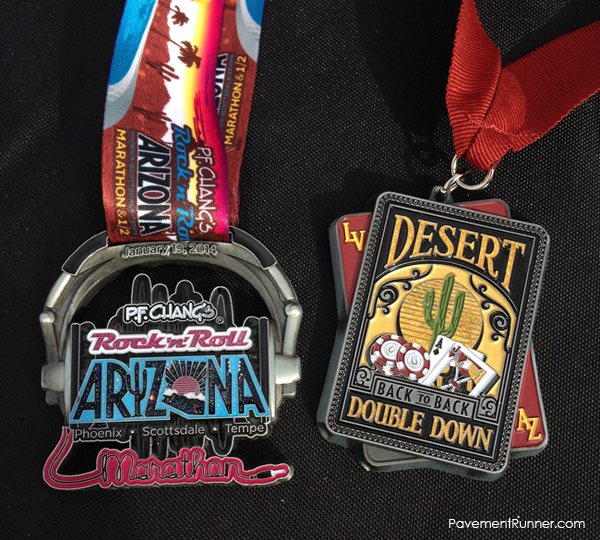 Final thoughts:
I just didn't have it. On another day, maybe. If the race was tomorrow, maybe it happens. Maybe it doesn't. It was just one of those days when my legs were not ready. I'll always throw my goals out there. Putting them out there and having something to strive for knowing that friends are rooting me on, DRIVES me. It motivates me. It's "positive peer pressure." I feel like I let Emz down, but she'll hate that I said that or feel that way.
If I could go back in time and change one thing, I would NOT have run that 19 miles the Saturday before. I felt like I needed one more long run and I think it would have been better suited as a true taper week. I let my training slip during the holidays and felt like I needed "one more long run." I let self-doubt in and it may have been my downfall.
I'm building on those first 18 miles. Up until that point, I still had a PR in my grasp. The first half was epic and the next 5 were still solid… I just need to keep working on it. Still searching after my sub 3:30… and 21 is a lucky number, right?