I'm pleased to have a Geo, a good friend and fellow enthusiast of the running community, share his recent experience at the Crescent City Classic 10k. Enjoy.
* * * *
What a fun time!

The 2015 Crescent City Classic 10k Exposition was held a the Hyatt Regency New Orleans. OK ya'll! The Hyatt Regency New Orleans hotel is beautiful. I was totally taken aback and amazed. I felt like I walked into a whole new world… I walked into the expo room and let me tell you… the party started at the BIB# and registration area and never ended! Charity coordinator Hilary Landry pointed out the 15 charity partners that were across from registration and allowed participants to join the teams that day for a donation.
I visited the Community Coffee booth and chose the breakfast blend coffee… I chatted for a short time with race participants… and had more coffee :) I received a generous serving size sample of Blue Runner red beans and rice = SOOOO GOOD! I passed by the full service bar but the Michelob Ultra booth was Rock'n! Now that I was hydrated and fed I was ready to pick-up my race shirt and explore the rest of the event.
I had a fun time visiting the United States Army/Army Reserve, Coast Guard, SPIBelt, Allstate Sugar Bowl, and New Orleans Track Club #NOTC booths. My favorite item in the official #ccc10k merchandise area was the knit hat with pom-pom priced $20.00 and super comfortable: ccc10k.com/shop. I had a necessary #Selfie with the Winn Dixie Easter Rabbit and staff members plus… I WON A CUTTING BOARD!!!
The Athlete Pasta Celebration was a way for Elite Athletes, #ccc10k participants, race officials, media, and the community of New Orleans to come together. I had a chance to go behind the scenes to see the event set-up in the 8 Block Kitchen & Bar. Servers were meticulously setting the tables, managers were finalizing details, and the air was scented with good Louisiana cooking.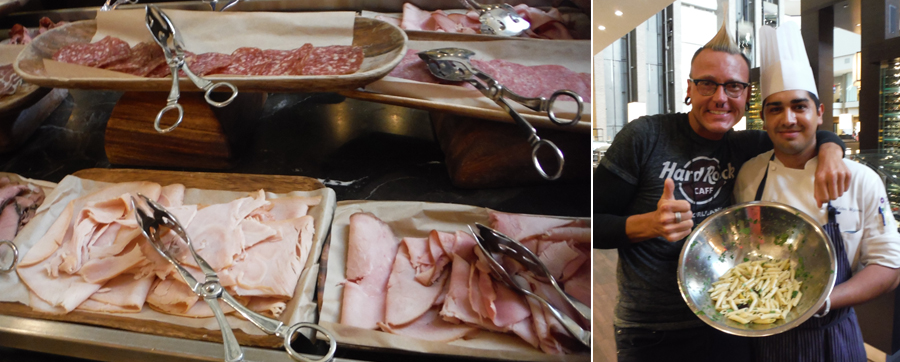 I have never seen a pasta party like this… EVERYTHING WAS FABULOUS! The pasta stations were stunning, appetizer stations were well stocked for a rush, drinks and water were ready to serve, and everyone in the room had a smile. Hector was my pasta cook and customized a pasta dish for me… Hector YOU ROCK!!!
The #CCC10k 2015 Expo & Athlete Pasta Celebration was a great social event!
* * * *
Part 2: Read the Geo's race day recap: Crescent City Classic 10K Recap

What's your favorite thing about visiting an expo?