Every once and awhile I'll share my adventures in the kitchen. I actually cook a lot for the family, even if it does not regularly get shared on the blog. With the First Lady's favorite request being mac and cheese, we have tested a few different ways of making this for her. There is always the classic "out-of-the-box" style, which we have plenty of organic options to choose from. We have also gone the baked-squash route, which is quite delicious, but usually made by wifey.
This time around, we decided to try a dairy-free option for #MeatlessMondayNight, and mac and cheese pairs perfectly for those of you looking for a Monday Night Football dish.
Note: I modified an existing recipe that I found online to suit our dairy-free needs
Dairy-Free Mac and Cheese
Ingredients:
10 ounces uncooked elbow macaroni (or noodle of choice)
6 ounces of shredded dairy-free cheese
1 1/2 teaspoon of salt (optional, I made it without)
Note: We plan for leftovers, you could easily make this with 8 ounces of pasta and 4 ounces of cheese. The First Lady loves the cheesey-factor, we accommodate.
Directions.
In a large pot, boil water (add optional salt) and then add the pasta.
In a saucepan, pour the almond milk and bring to a simmer over medium-to-low heat, stirring often.
Turn heat on milk to low, or remove and add the shredded dairy-free cheese to the simmering milk and continue stirring until all the cheese is melted.
Drain pasta and combine with sauce. Stir and remove from heat. If you would like a thicker sauce you can cover and let it stand.
We served it as is Sunday night with some sliced avocado on the side. We plan on having leftovers for dinner Monday night, and might add some corn-on-the-cob as well. All in all, this took maybe 10-minutes max and was really easy to make. You might have to add in some time to shred the cheese if you purchase it in block form.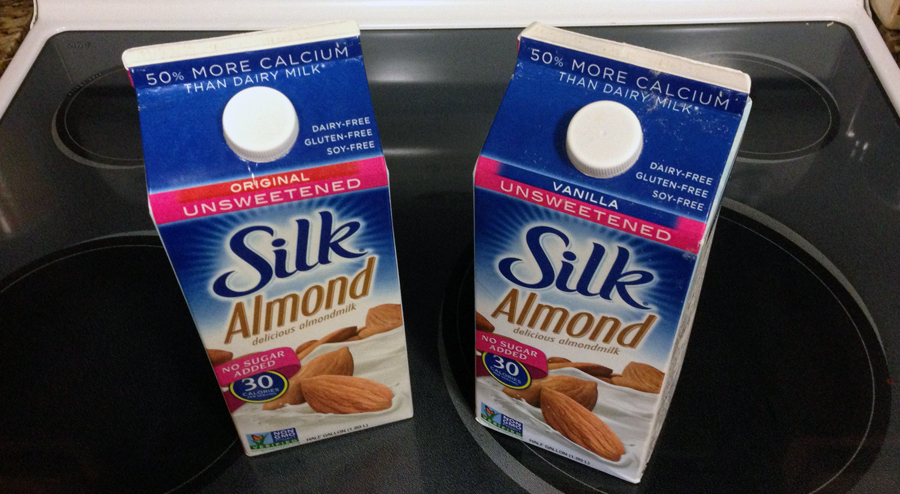 Silk Almond Milk
Winning recipes for Meatless Monday Night (and GIVEAWAY)
I've been using Silk products for the better part of this year, mostly as part of my post-run recovery. I've experimented a bit with different smoothie recipes, but have found one of my favorites in a Vanilla Mocha Protein Shake. It's a great way to add in protein into my workout routine and convenient, typically making and finishing one within 20-minutes post-run.
It's a great way to incorporate a dairy-free option into your everyday routine and there are various options to choose from. I typically go the unsweetened almond milk route, but there are tons of options including soymilk, chocolate, vanilla, light-options, organic options, cashewmilk, coconutmilk, and even seasonal options such as almond nog pumpkin spice.
Have you considered going meatless for one night?
Have you tried Silk or other milk-alternatives?
This conversation is sponsored by Silk. The opinions and text are all mine.