Previously, on PavementRunner.com:
At the Revel Canyon City Half Marathon the day before, I raced down a mountain and finished 13.1 miles faster than I ever have in my entire life… ok, it was by 49 seconds, but it sounds MUCH more dramatic when I type it out the other way. You can read about the race recap here – it includes a mini cutout version of me.
Getting Ready for Avengers
As you would expect, my legs were pretty shot from the half marathon the day before. I ran back-to-back days during training, but running DOWN a mountain delivers a beating on the legs. Michael mentioned that I was moving a bit differently. He said "you were limping after dinner" but let's not talk about specifics and he was probably experiencing a pizza-filled illusion.
Speaking of pizza, on Saturday night a bunch of folks gathered for some good food before we had to wake up super early. I always enjoy hanging out with other runners, especially when food is involved. Inside jokes were shared, new ones were created and we all had a good time. But most importantly, we had fun trying to decide where to take the photos.
Sunday: the First Race of the day
BOOM — a door is kicked in. "It's 4AM, are you awake?"
"Yep" I replied… but no, no. Not at all. Thankfully, I had all my stuff set up from the night before and I was ready to go in 10 minutes. Michael and I headed out and made the walk over to Disneyland. We arranged a little mini-meet up outside of the corrals to take a group photo. Priorities people.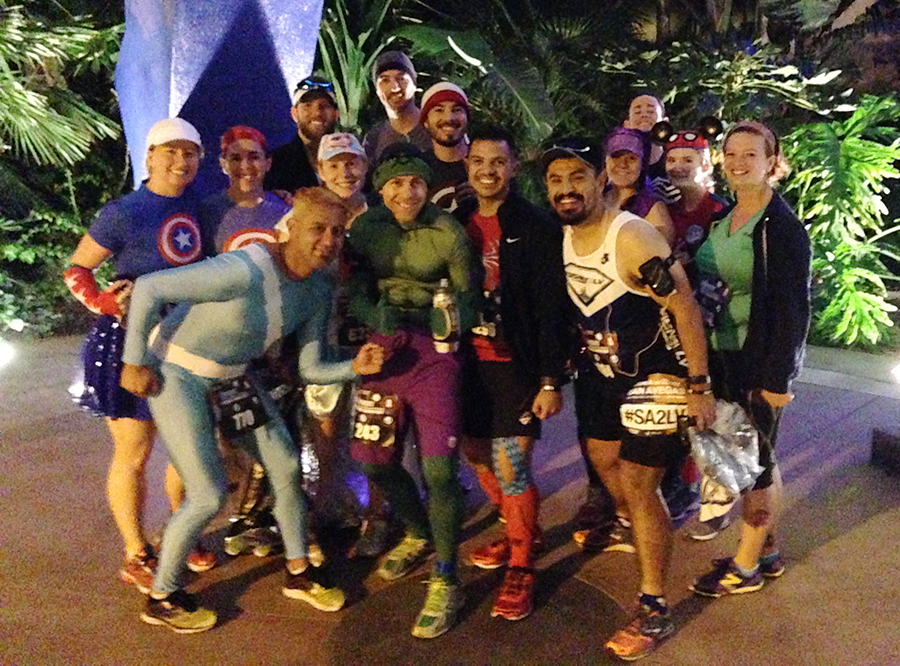 By 5:15 or so, we were in our corrals ready to take on the first race of the day. I had no idea how my legs were going to feel after Revel, but I was out just to have fun and run a half marathon dressed as Captain America. The first few miles, my legs were pretty tight. Running through California Adventure Land and Disneyland helped me forget about it. We took note of the characters that were along the course, but didn't stop to take very many pictures. We discussed stopping, but just went running by. However, we did stop for Mickey and Minnie and, of course, Captain America (above).
We picked up and dropped some friends along the way. Michael and I hung together for the first 6 or so miles and we briefly had a discussion about trying to sub-2 the race. But I didn't have the energy and although it sounded like fun, I knew my legs couldn't work that kind of miracle. Michael eventually pulled off and I settled into what would be my pace for the second half of the race.
The wind started causing some troubles. It's funny, but the wind was WAY more challenging than the winds in New York. In NY, we were protected by the buildings and each other, but in Anaheim we were out in the open battling swirling debris and dust. As I was running through the water stations, I could tell that cups of water had been blown down, perhaps even tables. Mile markers were pretty much knocked down after 7 and it was almost kind of funny how WINDY it was. Thankfully, I could laugh about it and just kind of went with it.
The course was lined with thematic sections outside of the park, including a long stretch that was filled with costumed characters and another section that had men and women dressed in 40's army attire after the run through Angels Stadium. A lot of the runners were dressed up as Captain America… Thor and The Incredible Hulk were probably the next two popular costumes.  I've seen more "participation" on the Disneyland Half Marathons, but perhaps that is because the entire Disney line-up is an option.
I finished under 2:10 and ran most of the way. I crossed the finish line with a smile, but I was happy to be done. A few minutes later I came across Kelly from Sparkle Athletic and she had the most wonderful thing in like ever: a box of donuts. She said the most amazing thing as she opened the box slowly: "do you want a donut?" I immediately wanted one and asked kindly to confirm that I could partake. I was the envy of at least 4 other runners as I walked through the finisher area eating a chocolate old fashion. #BLISS
To The Next Race
And now it was time to get moving. I reconnected with Michael post-race and with a 5:30 start and a 2-hour race, we were on our way back to the hotel by 8. We stopped at Subway to grab a sandwich and showered and ate in shifts. We were making really good time and made it to the airport with ease and enough time to socialize before our 11am flight. You know that the running community is crazy when you realize that the 11am flight out of Santa Ana to Las Vegas is filled with #Disney2LV runners… we pretty much took over that plane.
We landed in Las Vegas and said our goodbyes as we each headed off to our separate hotels. We had around 4.5 hours until our next race and around 3.5 until Mackelmore took the stage. The party was just about to begin.
Next Up:
Rock 'n' Roll Las Vegas Half (Race 3 of 3) – scheduled for Tuesday
* * * * * *
PHX Marathon (and half) discount: use code PAVEY10 for 10% off registration (biggest party of the year?).
* * * * * *
Pro Compression: I wore PRO socks for all three races, through the end of the November use code CYBER for 40% off your entire purchase, inlcudes FREE SHIPPING within the US.
* * * * * *
2 races in 1 day, would you ever consider it?