I'm thrilled to be able to offer something JUST for the guys. Road Runner Sports reached out to me to see if I would review some of their latest gear.
Saying "yes" was easy for a couple reasons:
I'm a runner and was already a fan and customer of theirs.

One of their store locations is already in my city, which means I can easily shop there or order online.
When they told me I was going to be sent a complete set of running clothes, I was even more enthusiastic. This would allow me to experience and review pieces from their latest line as an entire unit. It would be an opportunity to see how each piece of clothing worked together. When I found out that one of the items would help me to be seen better AT NIGHT, I was all for it. With my training for the 50-mile event, there were a lot of runs that started in the dark. Having to attach blinking lights, head lamps and put on reflective clothing means carrying multiple things you wouldn't typically bring with on a lunch run.
Let's start with the piece I was most excited about.

Men's ROAD RUNNER SPORTS NIGHT WATCH JACKET
I love running in jackets — especially ones with thumb holes. This jacket was lightweight enough that I could wear it without fear of getting "too warm." It has zippers on the pockets, perfect for holding your keys or credit card or anything that you don't want to fall out during a run. It also has a third pocket above the chest right next to an LED light. THAT'S RIGHT. There is a reason it is called the "night watch" jacket. There is a thin 10.5″ LED strip that goes from the left chest over the shoulder to provide visibility at night. It has two settings — a solid light and a blink function. To add to the visibility, it has reflective strips along the front, arms and back to improve reflectivity.
Features & Benefits:
Be seen at night with LED technology

Removable battery pack

Choose your perfect fit with two LED settings — blink and solid

Mesh lined for beathability and mobility

Three pockets for storage

Chin guard at center zipper

360-degree reflectivity

DRYROAD fabric for moisture management

100% DRYROAD

Men's ROAD RUNNER SPORTS BASE RUNNER SHORT SLEEVE
The first thing that stood out about the shirt was the heathered charcoal pattern. Paired next to the modnight blue, the two worked well together. I'm never a fan of solid color shirts and although this has nothing printed on it, it provided a nice, smooth design. The shirt was soft, but it did have some weight to it. It worked out well for me running in the city as there is typically a chill in the air and some pretty constant wind. Sticking with visibility, the shirt has reflective details built into the seamless design.
Features & Benefits:
No center side seam to avoid chafing

Flat seams for comfort

Side storage pocket

Reflective details

51% nylon/41% polyester/8% spandex
Men's ROAD RUNNER SPORTS 7″ HYBRID SHORT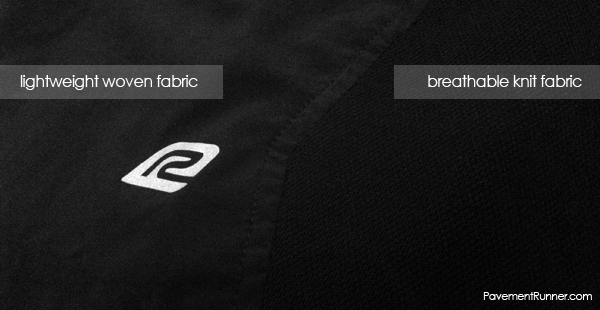 I'm hard to please with shorts. I don't enjoy running in shorts with sewn in liners. Since these DON'T have them, that was a plus for me. Although there is only a single color to the shorts, there is a difference in texture and materials that I found intriguing. The front of the shorts are composed of a lightweight wicking materiel and the back is a breathable mesh material. Usually, you are given one or the other and these were "thinking out-of-the-box" in offering both. Since the front catches most of the wind, it works to protect you from the elements and wick away any sweat. The back of the shorts is lightweight and feels really soft, which is nice. It also has a zipper pocket in the back about the size of a credit card, perfect for holding and small things you may need to bring with you.
Features & Benefits:
Two side zip pockets for storage

Get the best of both worlds with lightweight woven fabric and breathable knit fabric

Stretch fabric for mobility

Drawcord for a customized fit

Reflective logo

DRYROAD fabric for moisture management

100% DRYROAD
DRESS UP YOUR MAN giveaway
This contest is CLOSED — the winner was announced here.
Since the holidays are coming up, quickly followed by the new year. Now is the perfect opportunity to land some great workout gear for your man. OR for the fellas, score some super sweet digs for your next trip to the gym or trails.
Road Runner Sports has been kind enough to offer up a complete package of Men's workout gear. Everything that I reviewed today is up for grabs. One lucky winner will receive these three items (before Christmas):
(1) ROAD RUNNER SPORTS NIGHT WATCH JACKET
(1) ROAD RUNNER SPORTS BASE RUNNER SHORT SLEEVE
(1) ROAD RUNNER SPORTS 7″ HYBRID SHORT
Here is how you enter to win
Mandatory:
Sign up for the Road Runner Sports newsletter. Enter your email address on their home page here and that's it. Leave a comment saying you did.
BONUS Entry:
Tweet out the following. Leave a SEPARATE comment saying you did.
I entered the @PavementRunner "dress up your man" giveaway. http://pavementrunner.com/dress-up-your-man-giveaway — a chance to win a complete set of men's @RRSports gear.
Guys, if you are entering to win for yourself or a friend, try this:
My boy @PavementRunner is gonna hook it up with a complete set of @RRSports gear. http://pavementrunner.com/dress-up-your-man-giveaway — enter for your chance to win.
ALSO — don't forget to check out your local RR Sports store. This week (most) are hosting a HOLIDAY event complete with special offers and in-store giveaways. The Bay Area location's is Thursday from 6-8 p.m. — see you there!
Good luck everyone!
I was not compensated for this review. Road Runner Sports allowed me to keep the items sent for review. The opinions and sweat generated was 100% my own.
Advertisement: