I'm excited to bring back my "An Easy 10 with…" interviews. Today, we have an easy 10 with fellow FitFluential Ambassador Angela of Happy Fit Mama fame.
Name: Angela
Location: Seacoast of NH
Race History:
5k: 1
5 Miler: 1
10k: 1 – Loved the distance but it's really hard to find those races ( PR 50:14)
Half Marathon: 7 (PR 1:50)
Full Marathon: Hoping to get there in 2013 if my knee cooperates!
Ultra Marathon: Maybe someday…
I started running… seriously in 2007. I ran infrequently through high school, college and afterwards. During the summer of 2007, I decided I really wanted to do a half marathon before I turned 30. I didn't know anything about pace, distance, fueling, or tempos. I felt so awesome during that race that I knew I wanted to do more. I caught the bug and wanted more.
When I'm not running, I… do yoga, walk, hike, and snowboard. I "play" Mama to my twin toddlers and Chocolate Lab, Cooper. I knit. I bake. I work as a Clinical Exercise Physiologist in Cardiac Rehabilitation. I read way too many blogs. ;)
One time when I was on a long run… I saw a black bear. He peeked his head just far enough out of the tall grass along the side of the road for me to stop and SLOWLY back away. Once I felt I was far enough way I BOOKED IT. It's amazing how fast you can run when you think a bear might be chasing you.
I choose to run without… music. Most of my runs are in the early morning. I need to be aware of my surroundings at all times. I rarely listen to music during races either. I like to pick up conversations with other runners. With music I feel out of touch. 
The question I am asked most about running is… Most often I get statements concerning my knee health. Just because you have bad knees from NEVER running doesn't mean I will need a knee replacement from running. Just saying people…
After an event or tough run, I… really want to take a nap but that hasn't happened in over 2 years. Life with kids after a race or tough run usually means business as usual. No resting allowed!
Running is… my ME time! Even if I am running with a group or a buddy, it's still my time where I can sort out problems and just leave it out on the road. It makes me a better person, wife, mother and friend.
When I'm on the road… I think of some really strange ideas. My hubs is always amazed at what things I talk about when I get home from a run. "Let's gut the kitchen and paint it black." It sounded like a really cool idea at mile 14 of a long run.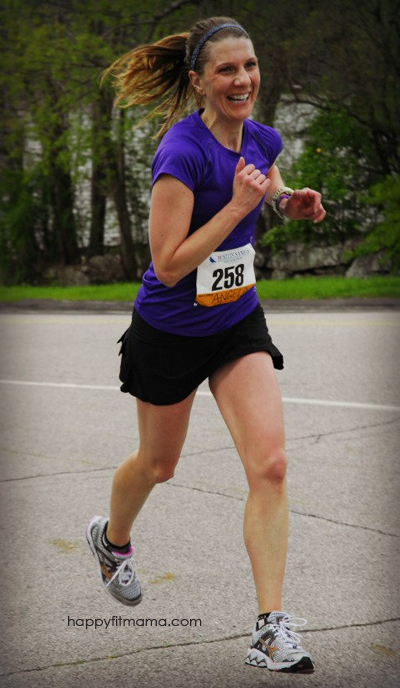 I wish other runners would… ditch their music while running.  The first time I ran without music, I thought it would be the hardest run of my life. It was one of the best things I could have done. There's something to be said about listening to your own rhythmic breathing and foot falls.
If I could run 3-miles with someone famous, it would be… There's so many! I did get to run with Joan Benoit Samuelson recently. That was AMAZING! She was on my Fitness Bucket List. I'd have to say Deena Kastor, Kara Goucher, Shalane Flanagan and Chrissie Wellington are all on my wish list. So many fierce ladies! Maybe Bill Clinton, too. I'd wonder what he'd like to talk about…
For more of Angela check out her links:
Blog: Happy Fit Mama
Twitter: @happyfitmama
Facebook: Happy Fit Mama
Pinterest: happyfitmama
Instagram: Happy Fit Mama
* * * * * * *
Thanks Angela. Since you are all the way in New Hampshire, running an easy 10 miles with you would be tough, but I'm glad we could get an "easy 10" in the virtual world. Thanks again for taking the time to help us get to know you a bit more. Loved your comment on "brilliant ideas" during a long run… those are always the best. I remember one time me and buddy talked about running from San Francisco to LA. We had it all figured out with our "mid-run brains."
I know the East Coast is going through some intense weather and I'm sending positive thoughts to you and to everyone being affected by Hurricane Sandy.
What's the best idea you have come up with during a run?
Advertisement: