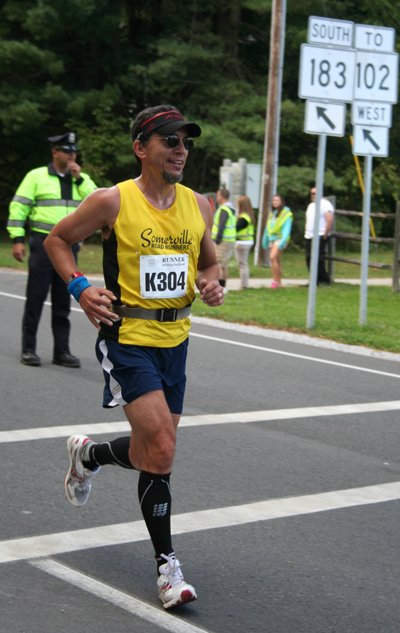 I'm glad to have another runner and author here on the blog. I had the opportunity to read a book by Ray Charbonneau, "Chasing the Runner's High"… what peaked my interest about reading Ray's book was that he offered to send it to me in digital format. I'm old school. I enjoy holding a book in my hands and enjoying the tangible experience of being somewhere lost in a book, (there are hard copy versions of both Ray's books), so reading the ebook was a new experience that I was more than happy to try.
But first, let's get to my interview with Ray. Don't forget to enter the GIVEAWAY at the end.
Name: Ray Charbonneau
Location: Arlington, MA
Race History:
209 races (not counting hundreds of SRR Thursday Night 4 Milers)
5K PR: American Canyon 5K – 18:49 (2002)
Marathon PR: Cape Cod – 3:13:28 (2002)
Age-graded marathon PR: Cape Cod  – 3:25:36 (68.43%) (2012)
50 mile PR: 9:49 – Bull Run Run (2005)
100 mile PR: 27:29 – Vermont 100 (2004)
* * * * * *
I started running… when I was very young.  One of my earliest memories is running into the corner of a fireplace and poking a hole in my skull.  Later, in my early 30s, my belt began to get tight so I started running more and I found I liked it.
When I'm not running, I… write.  So far, I make enough money writing to feed our two cats.  Someday I hope to be able to feed my wife, too.  Cross-country skiing, biking, and kayaking are fun too.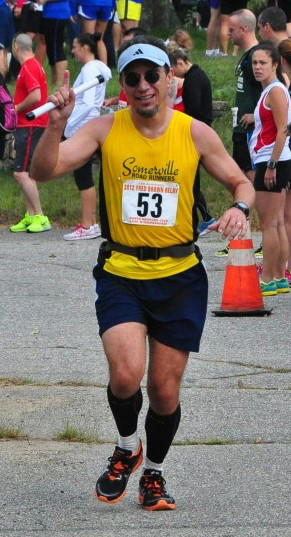 One time when I was on a long run… I crossed Interstate 5 in San Diego on the narrow maintenance catwalk high in the air next to a set of exit signs.  That's not the dumbest thing I've done.
I choose to run without… fear.  Toenails aren't required, either.
The question I am asked most about running is… "How do I run a better marathon?"  (I hang out with runners a lot.)  The answer is, "A 26 mile long run is not enough."  Non-runners often ask if I've run a marathon.  They have trouble imagining that there are greater challenges.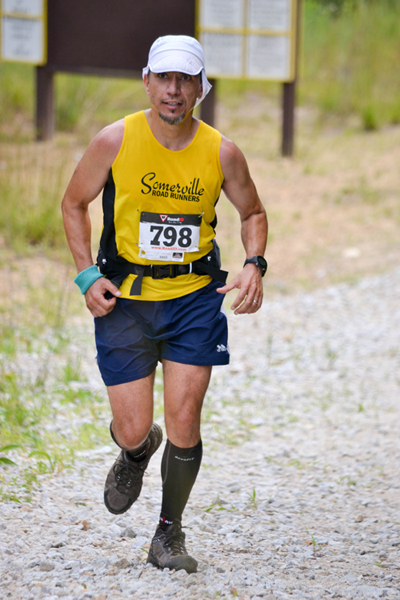 After an event or tough run, I… start getting ready for the next one.  As much as I'd like to be a zen-runner, my goals are still my main motivator.
Running is… an addiction, but there are worse ones.
When I'm on the road… I fall into a "Flow state", where I experience an intense and focused concentration on the present moment, a merging of action and awareness, a loss of reflective self-consciousness, a sense of personal control over the situation, and an altered subjective experience of time.  And sore quadriceps.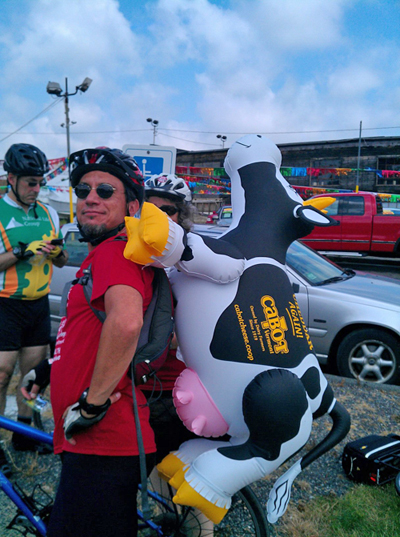 I wish other runners would… buy my books.
If I could run 3-miles with someone famous, it would be… someone who's not a famous runner, because I'd spend the time thinking about how I was slowing them down.  John Lennon or Robert Heinlein would be great, because that would mean they were still alive.  Joe Posnanski says he's taken up running.  How about you?  What are you doing tomorrow?
* * * * * *
Thanks Ray. I couldn't help but drop my jaw at 209 races… wow. At any distance, that is impressive.
* * * * **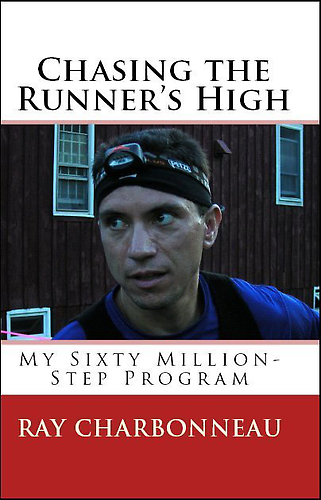 Chasing the Runner's High — reading the ebook was a lot of fun. It was kind of cool to flip through the pages on my ipad. I know. The rest of you have been doing this for years. Forgive me, I'm a caveman.
The book reads as if someone was walking around a runner's brain and explaining how it works, functions, thinks and survives. It really is a step inside of how we runners behave on a daily basis. Whether it is how we can get started, how we can get addicted and well into training, gear, injuries, running and running further. There is even a chapter called "Maybe a Little Too Far" — one I was wrapped up in with my furthest race (50 miles) being two weeks away.
Ray does a really great job of laying out the details in all of his stories. It's as if they just happened and he is telling you how last weekend went over a beer. Except last weekend was 50 miler through mud and the mountains in Vermont, you know, a typical day for a runner.
I'd recommend this book (ebook or paper back) for all kinds of runners:
Those starting out. It's a great look at what you can expect, regardless of what distance you climb to. Pay close attention to the gear and injuries section so that you can learn what to do and what to avoid. There are some general rules, but also remember that each runner is different.
Half-Marathoners and Marathoners. Learn from Ray's race recaps and find ways to improve upon your race experience. There are plenty of examples and recommendations from training to race day tips to recovery. Also, take a look at the "Ultra" chapters, you know you wanna.
Ultra-Marathoners. You know we all love stories of running farther than most people consider "sane."
Non-runners. Look, we know you think we are crazy. It's okay, we get it. We wake up at weird hours and run for the fun of it. We dress funny and speak a weird language, but you kinda like us and understand that we "have to talk about it" with someone. Here is a great example of what it is like to be a runner and discover why we think the way we do.
In honor of Ray allowing me to read his book — in this new fancy digital way all the cool kids are doing it — I'm going to purchase an ebook version and give it to one lucky person.
There are two ways to enter the giveaway:
1. Ray's other book (available on y42k.com) is titled "R is for Running." For fun, in the comments make up an example based on the first letter of your name.
Example: Since my name is Brian, it could be "B is for Bonking"
2. Tweet out this — it's exactly 140, but I find it funny — leave a separate comment saying you did.
I just entered 2 win a digital copy of "Chasing the Runner's High" by @raycharbonneau — http://pavementrunner.com/easy10-with-ray/ — @PavementRunner is futuristic
Contest ends on 11/22 at 5 p.m. (PST) One winner will be chosen and announced on 11/23.
Please note: This is for a digital copy only.
UPDATED: Giveaway closed. Congrats to the winners. I'll be contacting you about claiming your digital book. Ray graciously offered to match my giveaway, so we selected TWO winners.
Jill of jillconyers.com
Shauna of pleasurenotpunishment.wordpress.com
Advertisement: