When it comes to reaching your fitness goal, steps are just the beginning. Fibit tracks every part of your day – including activity, exercise, food, weight and sleep – to help find your fit, stay motivated and see how small steps make a big difference.
Disclosure: "Disclosure: Compensation was provided by Fitbit via Mode Media. The opinions expressed herein are those of the author and are not indicative of the opinions or positions of Fitbit."
Tracking A Runner's Life
And just like that, the fitness-watch game has changed. With the advancements in technology and the runner's desire to get instant feedback, the bar has been raised in the GPS and wearables market. From function to fashion, Fitbit has been leading the way in wearable technology and that continues with the debut of their latest product: Surge —a fitness super watch.
What It Does
Surge meets the runner's basic needs with built-in GPS, current pace, average pace, elevation, routes and splits. It also includes the popular tracking ability of its other wearable products: steps, distance, floors climbed, and calories burned, as well as all-day activity tracking and sleep monitoring.
The Fitbit Surge tracks your continuous heart rate through a wrist-based optical heart rate sensor, Pure Pulse, built right into the watch. It delivers instant feedback with all-day tracking when you are working out, sitting, and even while you are sleeping.
The Surge also displays text messages and caller ID notifications (as well as offers music control) when paired with your smartphone. In the middle of a workout, or throughout the day, you'll receive a gentle vibration and the information will be displayed on your watch when someone calls or texts (this feature can be disabled if desired).
The Surge gives you several options to track your run. "Free Run" tracks distance, pace, HR, elevation, mile splits, calories burned, steps, and most of what the runner has become accustomed to when analyzing data during (or after) their typical run. There is also a "Lap Run" setting that allows you to manually track your splits, and a "Hike" option to track your adventures on the trail.
Along with the previously mentioned options, there is also a "Treadmill Run" setting that allows you to record the same data while running on a treadmill. In the "Exercise" category you will also find other settings to track various workouts including: elliptical, spinning, yoga, and weights.
Monitoring your continuous heart rate can help you train smarter. By determining your optimal heart rate range based on your fitness goals, the Surge can give you instant feedback within three desired preset heart rate zones: peak zone vs. cardio zone vs. fat burn zone. You can also create a "custom zone" if needed.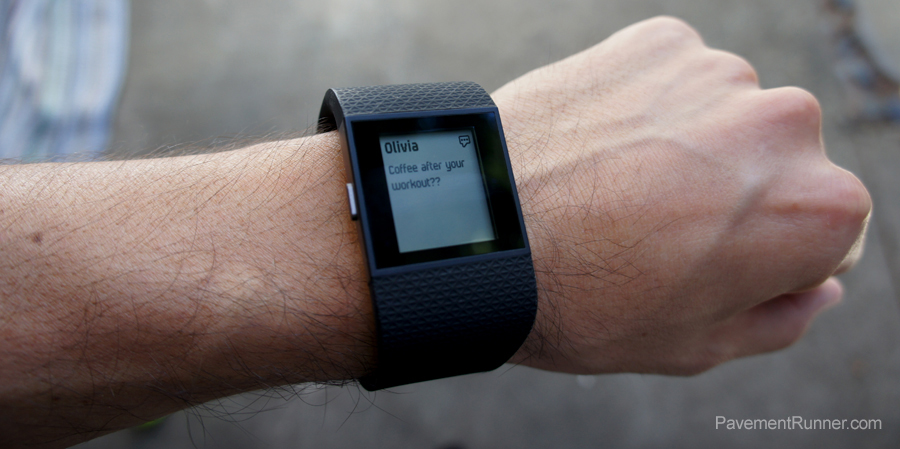 If you are like me, then your phone is not always with you after you walk through the door. Setting it down on the counter or leaving it in the other room happens from time to time. After pairing the Surge with your smartphone, it will gently vibrate and display notifications on your wrist of incoming calls or text messages up to 30 feet away — just like it does while you are working out.
The sleep monitoring also happens automatically without the need to place it in a special setting. You can adjust the settings based on your sleep sensitivity and review your sleep patterns to determine how you slept: sleep vs. restless vs. awake.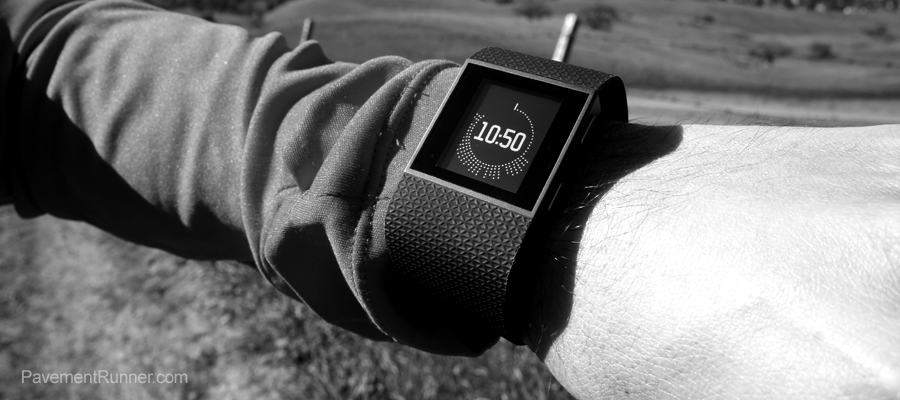 What Else Can It Do?
We've covered a lot of what the Surge can do functionally, but the Fitbit Surge provides some additional features that make it more interactive and enjoyable. One of my favorite features is the option to adjust the clock face. There is one called "Flare" that displays how active you have been every minute of the hour. It creates an interesting display of activity.
If you pause your workout, there is a gentle vibration that occurs when you initially press pause and again when you resume. It's subtle, but I found it comforting to know that the timer had continued and it removed my need to look down again 5 seconds later to double-check that it was still tracking my workout.
Knowing your current heart rate zone can be valuable information in helping you train smarter, but having a continuous heart rate tracker also provides you with a very useful resting heart rate — an important factor in helping to determine the health of your heart.
Don't Just Start. Surge.
The Fitbit Surge delivers on its ability to give back accurate and important information while running. From day one, I was able to incorporate the new device into my demanding running schedule without complications and appreciated the additional information that was being delivered. The fact that is has freed the runner from strapping something around their chest is a welcome advancement for those interested in heart rate training.
Its ability to also track the popular step and sleep functions found in their other wearable products allows the user to avoid the need to acquire additional products. Having one device that tracks your daily activities, allows for various workouts, delivers text and caller ID notifications, monitors your heart rate continuously, and fulfills your GPS tracking needs is a game changer.
As I mentioned in the first paragraph, the bar has been raised.
How would this watch change how you track your lifestyle?