I wanted to keep it easy and simple for a Friday. I'm going to share some recent photos and exciting things.

I've been rocking some new kicks recently. I've logged a single run (5 miles) and am looking forward to more. They are the new Saucony Virrata shoes (with a zero drop). "Our lightest and most flexible training shoe and allows your foot to move naturally." I'm used to stability shoes, so this is something new for me that I will have to transition into, but I was able to log an easy 5 comfortably in them. More to come.
I'm having fun creating images for @RunThisYear — the brain-child of Tiffany and I in hoping to run 2,013 miles in 2013. We are two months in and a LOOOOONG way to go. Literally. Check it out on Twitter and Instagram for more photos and inspiration.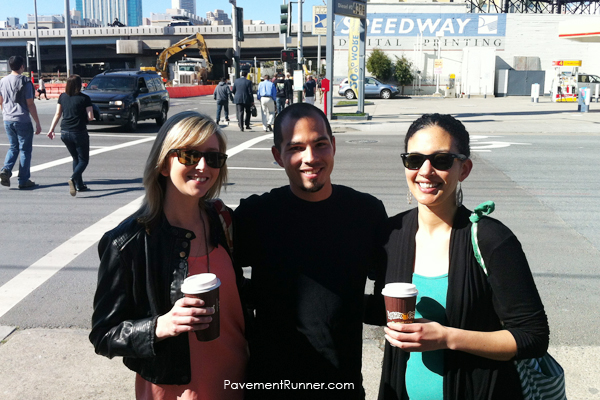 Having coffee with new and favorite friends. I met twitter pal Andie on her recent visit to SF and enjoyed a cup of Phillz with running friend Renee. By the time this photo was taken I had already finished mine. I also find humor that a photo with three runners has a sign that reads "SPEEDWAY" in the background.
Having coffee with new friends AND doing something silly. I met up with Christine on her recent trip to SF and we chatted over a cup of Blue Bottle Coffee. There seems to be a coffee-drinking trend with friends that visit with me in the city… just saying. Afterwards, we decided to do something silly and pose for some spontaneous yoga poses. Christine is a rock star with yoga (see her on Instagram) and we are both in jeans… i know, the rocket totally photo bombed us.
This was a complete surprise to me. I received a couple tweets that I had been mentioned in an online article on Men's Health and I was shocked to see the sentence that mentioned me. Am I in the same sentence as Dean Karnazes? Say what? Check out Pavement Runner… and Dean Karnazes… Totally cool. Hey Dean, looks like we are representing the Bay Area.
And finally, I can't get over how amazing it is to finish a race and see this happy little face. Any fatigue or pain you may have suffered over a race is immediately replaced with pure joy and happiness. And in this case, the joy from after an amazing race is multiplied when you get to celebrate it with the person that has your heart wrapped around her little finger. Ok. This may be more true FOR me, but it's my blog, so I'm sharing it.
I posted Playlist Thursday kind of late, but here it is: SONGS BY DUDES!
What are some exciting things going on with you?
Weekend plans?
Advertisement: