The next couple weeks are going to be pretty big for the #WeRunSocial crew. With a couple big races coming up the last two weekends in July, we are doing big things.
RnR: Chicago
First up, we have Rock 'n' Roll Chicago this weekend and @maxfitgirl29, @nycsweat, and @runtrimom are going to be holding it down with massive social meet up on Saturday, July 18 at Protein Bar off State/Lake (just a few blocks from The Bean and the 5K finish). There will also be #WeRunSocial, ProCompression, and other giveaways happening as well. Also, @thecookierunner and @justrunchicago will be helping host.
Location: Protein Bar off State/Lake
When: Saturday, 7/18 from 9-11Sponsors: Protein Bar, Pro Compression, We Run Social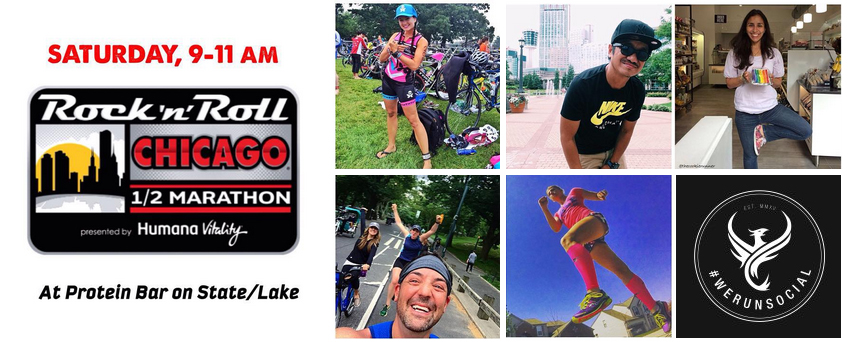 San Francisco Marathon
As if that wasn't enough, we'll be throwing down at the SF Marathon this year. I ran the 52.4 mile ultra challenge last year, which means I get to take this year off. But @nycsweat is going to be taking on the Ultra Challenge this year. That means he'll start at midnight and run the 26.2 mile course from finish line to start line, then run the 26.2 mile course with everyone else from start to finish at 5:30am. It's an epic journey and I'm excited for him.
I'll be hosting a one-man cheer station when he starts at midnight, going to various points where he will be coming through. I'll also be tweeting and sending out updates to most of you who will be sleeping, but I'm doing it anyways. Once the sun comes up and the SF races start (1st half, 2nd half, full) I'll position myself in Golden Gate Park at the mile 13/16 area. This gives me chance to see everyone running, no matter which race they select.
Want to join the #WeRunSocial Cheer Squad?
I'll have a #WeRunSocial banner, cowbells, all the cheering station glory. If anyone wants to join me, shoot me a message in the comments below, or tag me on social. Let's DO THIS!
#BLOGFEST
Also, if anyone is going to BlogFest down in Southern California, there is a fun run happening Thursday morning at 6:45am. Details are here. It will be hosted by @CoachHenness and @SharpEndurance, but I know that the #WeRunSocial crew should be showing up pretty strong.
#WeRunSocial Gear
There is still some gear available — some sizes and styles are sold out, but whatever is left is in stock and can ship out within a few days after ordering. It's unlikely that we will reorder new gear until closer to the end of the year, so if you want it, grab it now  >>> #WeRunSocial Store
What about the hats?
I know a lot of people have been asking about the trucker hats being sold separately. As of right now, they are only shipping with the Black Box Collection — includes the hat, wristband, LOVE hoodie, and Pro Compression socks. In the future they may be available in some other fashion.
Our social channels are following back – share the love.
Follow @WeRunSocial on Twitter
Follow @WeRunSocial on Instagram
Like WeRunSocial on Facebook

What's on your schedule for the next couple weeks?