I'm excited to say that I will be attending my very first blogger conference. Yep, I've run marathons, ultra marathons, raced in the middle of the night, but have yet to try one of the several famous BLOG CONFERENCES.
Venturing into new territory here ladies and gentlemen.
I'll be down in Anaheim for IDEA WORLD FITNESS BLOGFEST starting on Thursday through the weekend. I'll be down there as a part of the RunGo team and helping out with an unofficial fun run Thursday morning.
What is RunGo?
It's an app that essentially does for runners what an in-car GPS does for drivers. You can download running routes and it will give you turn-by-turn directions. There are a few cities available now, including San Francisco, New York, Seattle and more (including international). It works very similar to a GPS system for driving giving you a heads up that a turn is coming in 300 ft., then tells you to make a left/right on the name of the street (or trail — YEP! Trail directions for the win).
>>Check out this FUN video to see it in action<<
Provides voice-navigated, turn-by-turn directions along popular running routes
Allows runners to discover new routes without relying on maps
Alerts users if they go off-course
Option for additional information including restroom locations and points of interest
Listen to your music and take calls while being navigated
Tracks all the top running app stats including time, distance, pace and calories burned
FUN RUN details
Thursday at 6AM (

in front of the Anaheim convention center)

3 miles through downtown Disney, turnaround near Park entrances (PHOTO OPP!)
With Tiffany, of RunningHutch.com, Jamie of Fit Approach/#sweatpink fame, and myself.
ANYONE can come — it's FREE and you don't have to be attending the conference… this is a unoffical run.
The course will be a fun route and at a comfortable pace for everyone. We will run as a group, talk, take selfies and have a great time. I'll be running using the RunGo app so that we have a comfortable, easy time not needing to worry about where to turn. The route is set up already through the FREE RunGo App and you can download it in advance.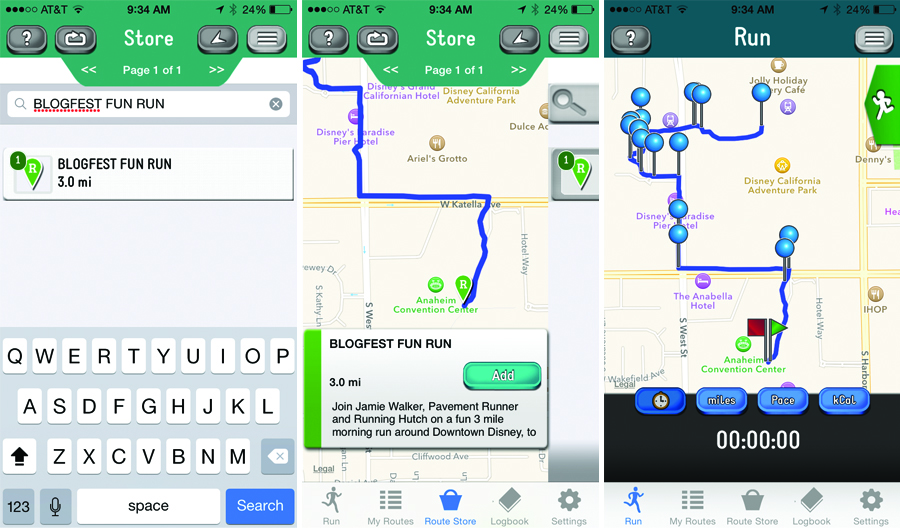 Ready to RUN?
Search "BLOGFEST FUN RUN" on the ROUTE STORE tab
Click ADD
and it's saved under MY ROUTES ready to go for Thursday morning.
I'll have some cool swag items to giveaway and if you have the app all set, you can share the route afterwards and make the interwebs jealous with our awesome route… so make sure you have the app ready to go on your phone. I'll be around before and after the run to hangout and talk with everyone (but first, let me take a selfie – HA!).
I'm planning to be around all weekend and attending the BLOGFEST workouts, lectures, and panels. I'm excited to see what happens this weekend and to get a chance to meet all of you.
Will I see you at the run?
Will I see you at BLOGFEST?