This post is sponsored by New Balance

That was the New Balance HI-VIZ Beacon Jacket — it combines performance and safety for us runners that OWN THE NIGHT. I took some photos of the "one-of-a-kind glow in the dark luminance," but it didn't do it justice compared to that video. Let's take a look at the description from New Balance before we dive right into the review:
New Balance HI VIZ Beacon Jacket

New Balance's HI-VIZ running jacket integrates three key elements for achieving improved visibility during all low light conditions:
The first is using high visibility color that can help draw attention to the athlete during low light conditions, such as the men's green gecko and the women's fiery coral.
The second element is using reflectivity in key areas so light from outside sources such as a car or street light can ensure visibility of the athlete.
The third element that makes the Beacon jacket an important part of any athlete's kit is a one-of-a-kind glow in the dark luminance. In only 10 minutes and under any light source, the jacket will fully charge and glow, making sure that the athlete can get through their workout safely.
Since the men's jacket was not available in my size for this review, wifey got to give the jacket a spin. She tends to stay more to the darker colors, so the fiery coral color was something different for her and shhhh… I think she liked it. The color looked really nice on her and she immediately commented on how it felt "comfortable and easy to move in."
The first time she wore it out was on a walk during her lunch hour with friends.
Here is how she tells the story:
I was outside walking with my friends for maybe 20 mins., then when we went to the parking garage, my friend commented "did you know you're glowing?" and I looked down and thought "that's cool."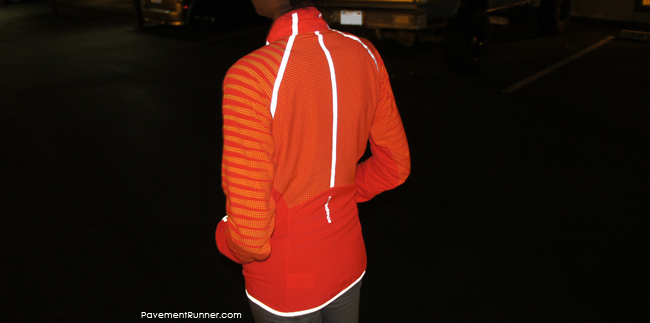 Here are the features and specs on the jacket:
Material: 86% Polyester Stretch and 14% Spandex
Glow-in-the dark gradient dot screen print graphic at sleeve, back panel, and logo
Reflective center front zipper and trims
The surface of the garment incorporates glow-in-the-dark technology the must be charged prior to each use through clear exposure of all glow-in-the-dark material sections to bright natural or indoor lighting. It is recommended that the garment be charged for at least 10 minutes prior to use to endure its effective performance; then wear and glow!
Welded secure front zip pockets
Wind-resistant
Wifey also received a comment from a cyclist along the lines of "You're jacket looks cool. It's very reflective… I bike and it doesn't look heavy." She couldn't remember EXACTLY what he said, probably because she was busy thinking about her awesome and amazing husband, but she thought it was pretty cool that a complete stranger (and athlete) would take notice of the jacket.
She also really enjoyed the zippers on the pockets. In her words:
They are perfect for my phone or keys. It is also perfect for holding the First Lady's toys… they were able to be zipped up and kept safe.
Noting worse than a lost toy. The pockets also have a tiny hole on the inside for you to slip through the wire on your headphones. Ideal for not having to worry about the headphones cable flopping around on the outside of your jacket or getting it caught when you swing your arms.
Additional comments by the wifey included:
It feels very light weight, almost like you are wearing nothing — in a good way.
It's great for working out or walking the dog in the morning.
If you are using it for recreation, it does need to go with layers because it is so light-weight.
Women's New Balance High Visibility Beacon Jacket
Men's version, or view the entire High Visibility running line
What do you think of the New Balance Hi-Viz Beacon Jacket?