The San Francisco Marathon is this Sunday. Two weeks after my Rock 'n' Roll San Diego Marathon finish, I'll be aiming to receive my 4th San Francisco Marathon medal. This year is different than previous years. The fastest I've done this marathon is around 4:45… I've struggled on it. Mostly due to injury before or during, but I've finished every time I have started it. I know the course like the back of my hand. But no matter how well you think you know it, doesn't change the fact that it's a tough course. Look at that elevation above? Yep.
Game plan:
Keep it calm and controlled for the first 11 miles. That's along the Embarcadero, through the Marina, the out and back across the Golden Gate Bridge, and the downhill scream through the Presidio.
Manage the Golden Gate Park, miles 12-19. This section is tricky. You've run the glory that is the Golden Gate Bridge and you are working your way through Golden Gate Park which is deceitful in how it rises and falls. This is also the section where we merge with the Half Marathoners (there are 2 options for a half marathon, the 1st and the 2nd half). Be careful not to get swept up in the 2nd half runners speed. Don't burn out here, miles 14-20 is subtle consistent climb .
Finish Stronger, mile 20-26. Here is where my race begins. My focus will be to run a smart race until I exit Golden Gate Park (mile 12-20) and start the run down Haight Ashbury. It's the last six miles of the course and is relatively calm (see map above). Don't scream out of the park on the decline those first few miles, you've still got a 10k to run.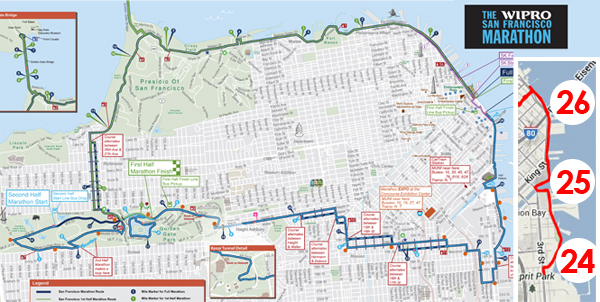 Look at the map above. See the far right side with the number 24, 25, 26. See how the red route lines up almost perfectly with blue route right next to it? That red route is a part of my lunch run 75% of the time. That's right. For the past 5 months I've been preparing myself to be extremely comfortable with those few miles. When the tag of this blog says:
Run Strong. Finish Stronger.
…I mean it. My race begins at mile 20, but I know the last few miles like no one's business.
I'll be shooting for anything below 4 hours (**cough 3:45**). Sub-4 was my goal when I originally registered back in October. But you know I want more.
You know I have something to prove… whether it be to myself, this race, the water station at mile 5, the guy clapping at mile 18, anyone and everyone. I've never been so calm, scared, confident, nervous and excited to race.
The Spirit of the Marathon II played in theaters on Wednesday and I know many runners were excited to see it and get inspired for race weekend. Know what I've been doing? Watching the Die Hard series from start to finish. Yep. I've watched Die Hard, Die Hard 2: Die Harder, Die Hard with a Vengeance and Live Free or Die Hard. Friday, I'll watch A Good Day to Die Hard, which I have not seen yet.
I've got a John McClane frame of mind and I just won't quit. Nice hair cut McClane.
If you happen to see me at the start or at the expo on Saturday (meet up/tweet up at noon at tech center), say hi. I'm giving away high-fives for free and would be excited to meet you.
Welcoming anything you have to say.
Advertisement: