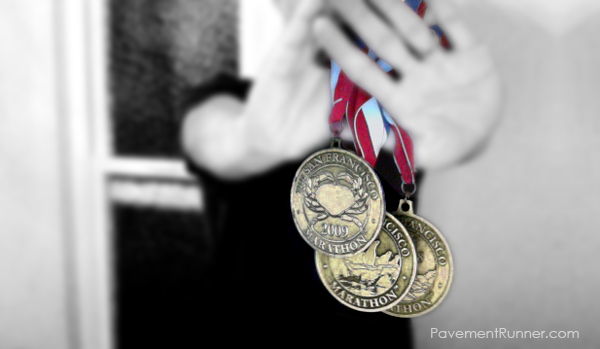 The 2013 San Francisco Marathon is upon us. I'll be racing the full marathon 14 days after finishing the San Diego Rock 'n' Roll Marathon, my shortest time frame between two marathons.
I've been racing a lot for the first half of 2013, running:
2 Half Marathons
4 Marathons (includes SFM)
1 50k
1 50 Mille
That's an intense five months and a schedule that I wouldn't normally have even considered possible a year ago. There is clearly an underlying motivational factor.
I submitted my application to be a 2013 SFM ambassador last year in the fall. Knowing and interacting with some people involved, being a proud promoter of our city and having an online presence already in place, I thought it was a perfect match. When found out I wasn't included among almost 40 selected, it was a shot to the gut that made me question a lot of things I was doing, justified or not. I explain it better here.
A day later I registered for 2013 and set my mind on "proving myself." Somehow looking for vindication from a 26.2 race. At the start of 2013, I planned an aggressive schedule. Every training run turned into a way for me to get my disappointment, anger, and frustration out. I wanted to be stronger. I pushed myself on Tuesdays to be faster on Sundays. I ran. And ran. And ran some more.
I started using races as ways to train. Half Marathons as speed work, marathons as training runs. Everything was leading me to running this one race that I all of a sudden never really spoke too much about. This is actually the first time I've blogged about SFM since October and I blog about EVERYTHING and tweet about it often.
As if running wasn't already hard enough, I've been running with a chip on my shoulder for the last six months. The funny thing is that NOT being included has probably been the best thing for me. I've seen incredible improvements in my running, even if the time isn't reflective. I'm a more efficient runner, a faster runner and it also allowed me to do maybe one of the most significant things I've ever been involved with on a global scale. I know that I am being silly in the grand scheme of things. I know this. I've been told this by true friends and many whose opinion I value. I understand it.
Motivation, whether from an imagined slight or not, can be an amazing factor. I've been running with aggression and determination longer than I would like to admit. My mind and body need a rest. I can feel it. I stuttered in San Diego and know that my body needs a break.
I'm asking for ONE MORE race.
I'll be proving myself to myself… if that makes any sense. When we line up this Sunday and everyone is racing against their own goals, I'm racing to overcome an event. To show that this race cannot stop me. That I will overcome all obstacles and come out stronger on the other side.
Proof?
When I registered back in October, I put my finish time as 4 hours. A goal that at the time was an aggressive one that I was willing to use as a motivational goal. I was going go for my first sub-4 on the SF course… want to know how hard I've been training? I reached that goal in March, again in May and again in June. I want more. I want faster.
All roads, trails and pavement have led me to this one race… this one race on Father's Day where I'm determined to give it my all.
Just one more race.
Thoughts?
Advertisement: