The weekend is here. As I'm writing this we are days away from what will be another fun-filled journey in the running challenges of 2015. This time, we are looking at 2 races, 2 states, all in one day. Here is what the running/traveling will look like
The Races

7:30 am, Silver Strand Half (or 5:30 am Disneyland Avengers Half)
Fight (or drive) to Las Vegas
4:30 pm, Las Vegas Half Marathon
Note: there are multiple other races happening on Friday/Saturday that quite a few people are taking on, which makes our Sunday look really easy.
It all looks fairly manageable, but factoring in travel time to/from the airport is always the variable. @carleemcdot, @fitfam6 and I will be on a plane at noon (unfortunately #teamHarber, aka: @pointonemiles and @andreabarber won't be joining us in SD due to a schedule conflict). There will also be some sort of "fun obstacle" that pops up, it's bound to happen. But this will be my 3rd year in a row having Vegas be the 2nd race of the day and it's something I always look forward to.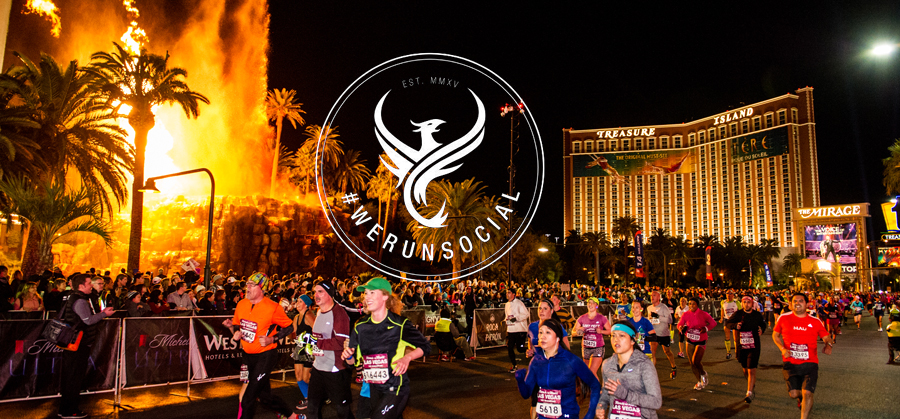 Silver Strand Preview
It's an out-and-back half that looks reasonably flat. It looks like there are a couple of bumps in the elevation chart (30 ft up/down) along the way. I have a half PR of 1:37 and I'm aiming to better that time. I've been training for a full and ran 23 on Monday, so I'm not sure what my legs will have left, but we are making a go at it. Let's think of it as a tempo run for marathon prep.
Start Line Photo: meet us at 7:05 am in front of gear check.
Las Vegas Preview
This race will most definitely be purely for fun. There will be a good group of us running together, a handful who also raced in that morning (Silver Strand or Disney), and the pace will be extremely comfortable with lots of pictures and laughing. That's what I love about making Vegas the 2nd race, it's such a fun atmosphere and it just adds to the experience of running the strip.
The Socks
Sunday Morning: This is the fun part. Some of us racing in the morning are going to be rocking the official #WeRunSocial sock – the black and white BOOM from Pro Compression. We worked with PRO to come up with something unique that we could debut that morning.
Note: This sock is only available in the VIP pack and can be picked up at the WRS meet up Monday, Thursday 11/12 is the last day to reserve yours. Sizes will be limited at the meet up. Good news? It will be made available through PRO after Vegas.
Sunday Night: had to be #thegibblers. The rainbow sock from Pro Compression has swept across Instagram with a flurry. They sold out awhile back (and are no longer available online, but they'll be back soon). The good news is that if you are going to be at the LV or Disney expo, they will be available at the Pro Compression booth.
The Shirt
The #WeRunSocial Las Vegas edition is available in limited sizes. It can be purchased and shipped from the store. A handful will be taken to Las Vegas and made available at the meet up on Monday, whatever is left can be shipped AFTER 11/17. If you can't make the meet up and want a shirt, your best bet is to order it now and your order will be confirmed after 11/17 that your size is still available.
#WeRunSocial Meet Ups
Disneyland:
When: Friday, 11/13, 5pm
Where: Downtown Disney, Starbucks Patio
Hosted by: @ivieanne, @a2thej44, @pinkcupcakegirl
Las Vegas:
Post-race (everyone welcome)
When: Sunday, 11/15, 9pm
Where: Under the Eiffel Tower, Paris Hotel/Casino
Hosted by: @WeRunSocial crew
Attire: Casual (ie, jeans, shirts, etc).
Note: since some folks won't be able to make Monday's meet up, we decided to host something semi-official. Everyone is invited to gather, then we'll just find a bar/lounge close by to have a drink and celebrate the race. If you are still running, or want to join us after 9, check @werunsocial or @pavementrunner on twitter for location updates.
Official VIP Meet Up (everyone welcome)
When: Monday, 11/16, 11:45am
Where: In front of the Bellagio Fountains
Hosted by: @PavementRunner
The fountains start at noon, and we'll take an epic photo with the water going off behind us. The photo will happen without you, so please show up on time for what will be Instagram GOLD.
After the photo, we'll walk over to Spanish Steps in front of Ceasar's Palace (next to Serendipity3). We'll hang out there, hydrate, hand out the VIP packs if you pre-ordered and there will also be some #WeRunSocial items available of you didn't get a chance to order.
Follow the fun on social:
Twitter: @pavementrunner
Instagram: @pavementrunner
Facebook: /pavementrunner
Twitter: @werunsocial
Instagram: @werunsocial
Facebook: /werunsocial
Hashtags: #werunsocial, #sd2lv, #disney2lv, #stripatnight
Good luck to everyone running, racing, watching on social.