As I looked at the clock tick down to its final seconds on my third and last opportunity to register for Seawheeze 2017, it finally sank in: I'm not going to make it. I sat there stunned. Defeated. I looked back at what had happened over the last 20 minutes, I had done it all right. That IS my name. That IS my credit card. That IS the right address. I should have been in. What went wrong?
For those of you that are unfamiliar, Seawheeze is a Yoga-Run-Party-Festival that happens in Vancouver and is put on by Lululemon. It is insanely popular within the Lulu community and the race has sold out ridiculously fast over the past few years. When you hear about other races selling out in days or even in hours, that is a LIFETIME when it comes to Seawheeze registration. It had pretty much sold out in 20 minutes Wednesday morning, most of the "hold" spots were taken up before that and the race site "officially" sold out around 10:30, but most of us had already figured out if were "in" before that happened.
I thought back about how I had taken the right steps beforehand: minutes before 10am my alarms had gone off as reminder to get ready. I had reached out to past registrants for tips on how to be ready, how fast I needed to be, and how to be prepared for what was going to be the moment of all moments. I knew I wasn't going to make 2016 with my second child due in September, so I was all in for 2017 and had pre-approval from Wifey to attend (truth).
After hitting refresh a bunch of times, the little green button that said REGISTER showed up on my phone first—I had both my phone and laptop ready to go. A few seconds after that, the desktop was ready and I hit register on that one as well. I now had two spots that were on hold ready for me sign in.
I started filling out the information on the phone first since it was the first to go. I clock let me know I had 7ish minutes to get it done. Filled out that. Check that box. Type in the CC. Choose my shorts size. Submit. That little grey circle started to go and I was like "yes, I"m in."
Then it happened.
ERROR processing the credit card.
I went back through, it looked like everything was right. I double checked. Submitted. ERROR. At this point a little bit of panic starts to set it. Something's not right. I move to the desktop which still had time on the clock. Maybe it's my phone. I'm ok. I'll do it here.
Submit. Error.
Now it's full on panic mode. I start pulling out other credit cards. Maybe mine got messed up in Vegas over the weekend, so I try a different one. Error. I try the debit card. Error. By this time the initial time on the phone's registration has closed "your session has ended." I'm watching the time on the desktop get lower and lower. I am able to get in through with the registration a third time on the phone. Nothing is working on the desktop. I try again, triple checking all the info. Analyzing every key stroke, every number on the credit card, holding it up to the light to make sure I'm not hitting a 6 or a 9. The desktop timer runs out. The clock on my phone—what is now my third opportunity—is getting down to seconds and I have tried every card in my wallet and checked every line on the form. There is nothing I can do. I mumble to myself: "I'm not getting in," and slouch back in my chair… defeated.
With the Eventbrite website saying "unavailable" I know that means that all "hold" spots are spoken for and only a few registration spots are possibly available. My opportunity to register is based on one of those "holds" not happening. I'm hitting refresh. Hitting it again. I ask a friend sitting next to me "hey, super random, but can I use your credit card for something? Mine aren't working." I'm literally, one step away from standing up and screaming to the entire room: SOMEONE GIVE ME A CREDIT CARD!
I launch twitter, send out a tweet with an appropriate GIF and realize my hopes of running Seawheeze 2017 are pretty much over. @Seawheeze on twitter had been doing a good job of letting people know that registration had not closed, and that spots may still be open, prior to officially being sold out.
The next thing that happened started to seem strange. People and friends started saying that they experienced the same problem. Several devices, several credit cards, same story. Some of those people were able to get in on the third or fourth try, others were not so lucky. A few hours later, @seawheeze started replying to those that shared issues they faced. They replied appropriately saying that they would pass along the information. At this point, all the registration spots had been filled… the registration process was over in 20 minutes, everything was gone and over.
But then something magical happened. A reply tweet was sent out expressing acknowledgement that an error had occurred and they would be following up with an email. My mind started racing: there is no way they can get all of us back into 2017. Maybe they get us in to 2018? No. Maybe it'll be a discount code to Lulu, or a jacket, or some swag item. That would be nice.
Then 3 hours later… bzzzz…. bzzzz. I get a text message, then another. It's a screen grab of an email that starts off with 2 simple, perfect words:
We're sorry.
And it is followed up with one paragraph that says all the right things and prove that customer service does still exist. Here is the letter for your viewing pleasure: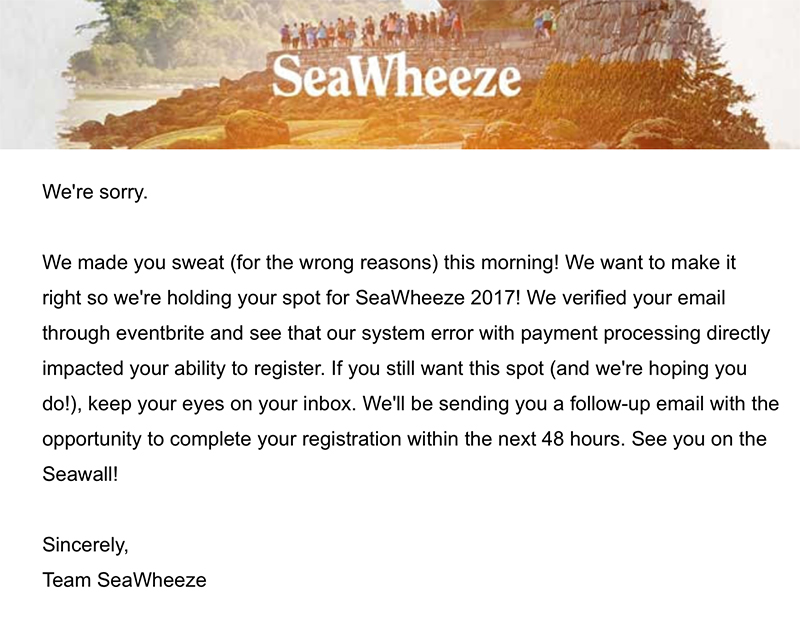 Here is the thing. Registration launched at 10am. Through social, the race kept people up-to-date and notified about what was happening. They were replying to people who were expressing concerns—maybe it wasn't what we wanted to hear, but it was professional and timely. Now-a-days, some brands fail to do that minimum courtesy. Within 6 hours, they had responded to people on social letting them know to be on the lookout for something in their inbox. Another step that goes above and beyond. They could have just sent out the email. With junk box filters, it was a nice touch to let people know: hey, we are gonna send you something, get ready for it.
Then, there it was. The right step that can build lifelong relationships with consumers, or strengthen ones that already exist: we acknowledge it was a mistake on our end and we are fixing it now, this year, you are in for 2017 if you want it.
Wait, what?
Did that just happen. Did a race listen to runners' concerns, address it, reply appropriately, and make everything ok in LESS THAN 24-hours? Actually, in less than 8 hours.
That. Doesn't. Happen.
Until it did.
Thank you Lululemon and Team Seawheeze. I'll see you in Vancouver, or more accurately, on the Seawall.
How did you experience Seawheeze registration day?