It's really all about the people around you. I've run the Mesa-Phoenix Marathon (formerly the Phoenix Marathon) the last three years and every year is a completely new experience, yet entirely so much the same.
Let me explain.
The first year I did it was 2015, and it pretty much boiled down to @runemz constantly saying "hey, come run the PHX marathon." I said yes. A bunch of friends said yes, and it pretty much turned out to be a huge running party. When 2016 came around, we decided to do it again. Some friends came back, some new ones joined in. And it pretty much turned into another running party.
2017 would be no different. Most of the friends from 2016 came back and some new friends joined in on the fun. But the formula stayed the same: Arrive. Meetup. Eat. Run. Party.
The arrival
I landed Thursday afternoon and stayed pretty low key. I grabbed lunch with @hereforthewine and we just sort of looked for things to do with an occasional beer in the mix. We also saw The Great Wall… um, ya, no need to rush to the theaters for that one, but I had popcorn, so that's a plus. We also did an IG chat spur of the moment and had some fun with it.
Friday morning, myself, @hereforthewine, and @fitfam6 grabbed some Starbucks and headed about 30-miles out-of-town to hit up the Lululemon outlet. I mean, if you are going to swim the credit card, might as well do it with friends and at a discount.
The meetup
Each year, a meetup is hosted by @procompression and @werunsocial (in fact, the "first" WRS meetup kind of started here. It was great to see so many familiar faces and to finally meet some social friends for the first time in real life. We gathered, we took selfies, we gave some stuff away (including a debut product from @MomentumJewelry), and of course, took the group pic.
Eat
It has kind of become tradition to have pizza at La Grande Orange. They have great pizza, dessert, and of course, beer. The fun with photos continued and a small group of us enjoyed catching up on things including life, running, and family.
Run
This would be my third time running the full at this event. I know what to expect, but somehow I always seem to hope that it is going to go better than what my legs can actually do. Maybe I'm an optimist. Maybe I'm in denial about my fitness level come February each year. This time around, I had some hope with a strong 22 miler earlier in the month (9:14 avg. pace). But I have a feeling I didn't allow enough recovery time after that run and my legs just never got going on race day.
Here is how it broke down:
First 13.1: 1:56:03 (8:52 avg.)
Through 20: 3:05:50 (9:18 avg.)
Final 10k: 1:16:01 (12:16 avg.)
26.2 miles: 4:21:51 (10:00 avg.)
In breaking it down further, I had a strong 17-ish miles running non-stop. Miles 18-20 were likely closer to the 9:30-10 pace. Once I started walking, my legs pretty much called it. The last 10k were sluggish and I was aboard the struggle bus. I was walking longer stretches and my pace slowed significantly. The pattern was very similar to 2015 (4:12) and 2016 (4:18) — OMG, I'm getting slower at this race.
I stayed with @carleemcdot the whole time—actually, she stayed with me. I think I told her at least 5 or 6 times that she could go on without me. She could have easily continued on after 18 and came in close to, if not under, 4 hours. I know I was holding her back from a faster finish time, but as she had repeatedly told me (and spoke about in her blog), it wasn't about the finish time. She is a good friend, a good runner, and I'm fortunate to have had her by my side to keep my spirits up and legs moving forward. One year, I'll get this thing right McDot.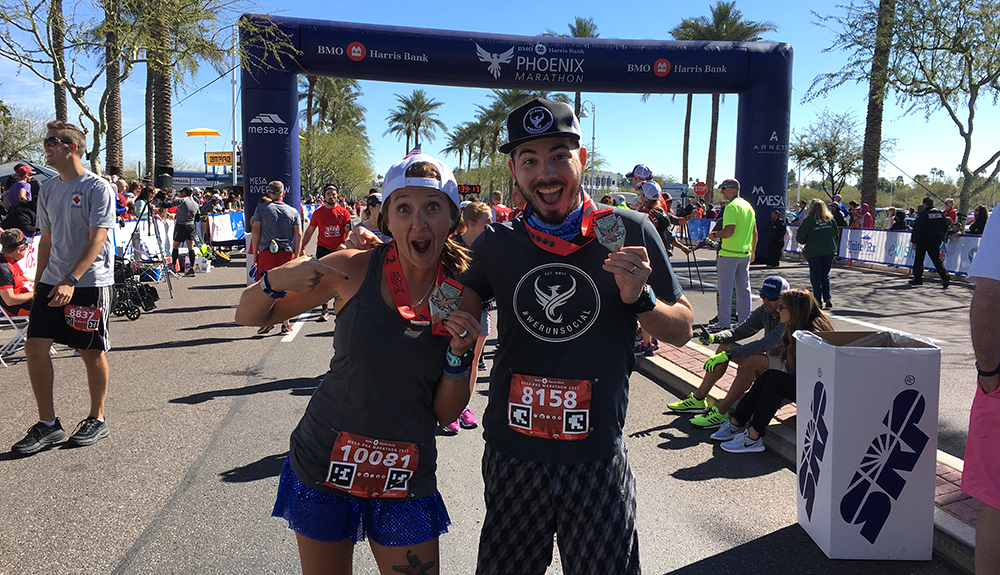 The party
It officially starts once we land in PHX, but for the sake of this post, we'll say it starts after we cross the finish line. We snapped some pictures together with our newly earned bling. Some of us PR'd. All of us had fun. And we were ready to celebrate with food and drinks (after a nap, am i right?).
@ProCompression hosts a small-ish party with the ambassadors and it's always great to see people post-race. We talk about how our race went, what we have lined up next, who is coming back next year, etc. All the fun things with amazing food and well-earned adult beverages.
2018?
Registration is already open for 2018. I know I'm going back, and the plan is likely to be the same. Three years in a row, we kind of have this thing down (except for the running well part, clearly).
See you in the desert?