Race Distance: 50 miles — changed to 47 miles due to weather.
Elevation Gain:  10,059 feet — changed to 9,077 feet due to weather
.
Finish Time: 12 hours 5 minutes 43 seconds
First Half: 6 hours, 4 minutes, 55 seconds
Second Half: 6 hours, 48 seconds
As you can see, there was a change to the course due to a really bad storm that hit the Bay Area leading up to race weekend. The new course was announced less than 24 hours before the start of the race and we were re-routed to do a single loop of 23.5 miles twice.
I was running with two of my really good friends, Lori and Chris, and going in we knew it was going to be an adventure, hence me saying "we" a lot.
5:00 a.m., pitch black

This was my favorite part of the race. It was raining, it was cold, it was muddy and it was EPIC. For the first couple hours, all you could see was what was directly in front of you based off the light of your headlamp. It was raining so you could see the rain drops coming straight towards you (or from the side) hitting you in the face. The cool thing about this was that as you reached an elevated portion of the course, you could look behind you and see a string of lights curving up the road. It was hundreds of other runners' headlamps coming up the trails. If you looked off into the distance, you could see other runners headed up a mountain. It looked like someone placed Christmas lights on the side of a mountain. To say it was beautiful is an understatement.


Click here to view 20 photos of race day and the course from Weather Channel.
Amazing — but come back to finish reading.
Safety

I couldn't help but think that this was not safe, for any of us. I'm thankful that I am a conservative trail runner and my only goal was to finish injury-free and not face plant. It was pitch black, muddy, rainy and we were on the side of a mountain climbing steep elevations. Thankfully, it wasn't single track and there was plenty of room for error, but still. You know those cartoons where all the animals are following one another and they go off the side of a mountain one-by-one? I'm glad the runners in front of me didn't decide to do that because I would have likely followed them.


Sunrise

After the first couple hours, the sun started to come up and we were able to see the conditions of the trail and our surroundings. It was wet, muddy and making an extremely technical course, even more difficult. Most of the trails gave you two options: slippery mud or a giant puddle. My shoes were already soaked and caked in mud and I could feel the water sloshing around inside of my shoe. I tried to avoid the puddles when possible mostly because you don't know what's at the bottom and if it's flat. A sprained ankle would be nightmare and end my day immediately. As for navigating the slippery sections, I tried my best to maintain my balance and move forward as quickly as possible.

Muir Beach

As we headed down to Muir Beach after (one of) our 1,000 ft. climbs, it was almost comical to try to run down it. Some people flew down recklessly, while others did their best to stay vertical. I'd say I was somewhere in the middle, but on the safe side. Again, trying to finish injury-free and not face plant. Oh ya, the best thing about this? After navigating down the mud slide, you had to come back up it. Ever tried to climb UP a mud slide? Much easier on the way down.


Lap One: Complete, the Half-way Point

Sadly, Lori had to call it a day at this point. Her ITB was acting up and it was best for her not to push it any further. She was already battling the flu during the week, nursing her achilles and in order for her to "call it" means it was a big deal. I just listed two things that would have sidelined most runners for a shorter race. This was an extremely difficult 50-miler and she showed up to start it. TOUGH.

We finished the first lap (23.5 miles) in just over 6 hours. Since it was two loops, it helped to know what to expect on the second time around. As we started the 2nd lap, a friend, Larry joined us and the weather was reasonably nice. I started to get a little warm actually, but I knew it would be short-lived as we still had another 6-hours of running to do.

We tackled the 2nd lap the same as we did the first. Walked up the steep climbs, ran where we could, trekked where we needed to. We were flying on the downhills, but not being reckless. We were also having fun with Larry telling him "you haven't reached the bad part yet."

At mile 31, I decided to stick with what I was wearing. Putting on new socks and changing clothes seemed like too much effort. My super fancy poncho was keeping me dry and breaking the wind nicely, keeping me from getting cold. Best $1.29 I ever spent. I did however, ditch my beanie/ear warmers for a dry hat.


Muir Beach Round Two

If we thought it was bad the first time, we didn't know how much worse it could get. We were pretty much sliding down. Any traction that was there the first time had been trampled. Every runner that had made it this far had gone down and up TWICE before us. I almost fell a couple times and the soles of my shoes had pancakes of mud about a half-inch thick. Thankfully, I didn't fall or hurt myself.

Furthest Personal Distance

As we approached mile 41, I knew wifey would be there along with the Lori, "Mannimal" and our 2nd pacer, Gard. Everyone was there with smiling faces and cheering loudly. Larry was happy to be done with his pacing segment and everyone commented on how "good" we looked — all things considered. The rain was starting to pick up again and we were on the home stretch. I had stashed a 2nd beanie in my drop bag and decided to put it on as the hat wasn't keeping my head warm at all. When I slid that dry beanie over my head, it was a little bit of heaven, I'm not gonna lie.

Sunset

The last few miles (6) went by pretty quickly. Half way through, it was getting dark and we were approaching the finish. I decided to ditch the poncho for the final 10 minutes and embrace the rain as it was getting heavier. I was soaked in 30 seconds. That poncho saved my day. I know I looked like a combination between the Kool-Aid guy and a trash bag, but that thing worked.

I finished with a smile on my face and surrounded by friends and family. I was happy to be done and happy to have survived and conquered the weekend and weather. It never crossed my mind to stop and I felt strong the majority of the day.


What am I taking away from this adventure?
12 hours is a long time to be running. But when you are with friends and surrounded by magnificent views of nature, it's wonderful.

Peanut Butter and Jelly sandwiches are delicious! But if you try to eat one at 41 miles and your throat is dry/parched, you might choke and make funny faces. Just saying.

Hearing your pacer laugh joyously behind you as you fly down a muddy mountain is fun.

Negative splits! I've never had negative splits in my entire running career. Apparently it takes me a 50-mile race to slow down in the beginning. Noted.

I couldn't have done it without my friends and family. From training, to social media, to pacing, to just being there.. thank you from the bottom of this little runner's heart.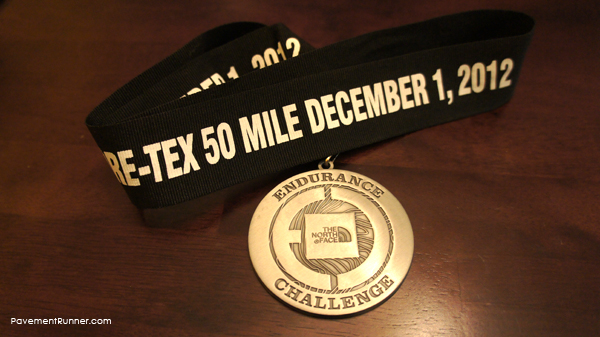 If you have any questions about my experience, ask in the comments and I'll answer them in the next post.
Ask away and I'll answer.
Advertisement: