I arrived in New York Thursday afternoon and it has been a whirl-wind ride since I landed… and I haven't even run the marathon yet. I'm running the TCS New York City Marathon with Team ASICS and they have tasked me with recording my experience leading up to race day and the actual race itself. I'm fully stocked with a video camera and will be checking in every 2 miles throughout the race (read more about it here).
Shakeout Run with Team ASICS
Since I'm running the race with ASICS and the Blogger Challenge runners, we have had quite the experience leading up to race day. Friday morning, we met up with the entire Team ASICS group including social media personalities, editors, staff and elite runners. Coach Andrew Kastor lead the group on a 2-mile shakeout run through Central Park — Ryan Hall and Gwen Jorgensen joined us, of course. The park was crowded with runners doing the exact same thing that we were. Afterwards, we took photos, had breakfast and listened to some amazing words of inspiration and advice from Deena Kastor, Ryan Hall, Andy Potts, Gwen Jorgensen, Lauren Kleppin, and last-minute tips from Coach Kastor. Most races don't begin with this type of shakeout run, and I was honored and gracious to be included in such an event.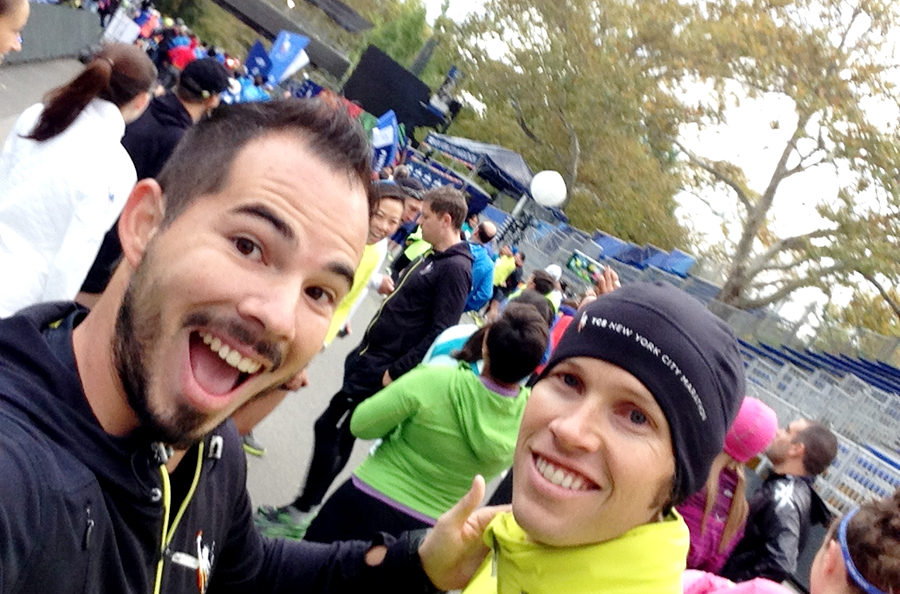 The Gear
After that, some of headed to expo to pick up our race bibs, shirts, pace bands and any last-minute things we needed. Thankfully ASICS had set me up with a couple outfits that social media voted on for me to rock over the weekend. Black was the winning selection and I wore it on the shakeout run and at the expo. On race day it is projected to be cold and windy (30-40 MPH winds), so I'll be going with a long-sleeved version of the shirt, black shorts, black gloves, yellow arm sleeves, black skull-cap and the NYC Edition GEL-Kayano.
The Tweet Up
The Blogger Team and myself organized a social media meet up and tweet up Saturday morning. There was a slight drizzle, but we were mostly safe under the roof at the top of the Public Library steps. It was a good mix locals and those of us running. There were plenty of familiar faces and it's always great to introduce yourself by name, then say your social handle and get the "ohhhhh" reaction as you realize who it is that you are talking to. We keep joking that we need name tags with our social handles on them… one of these days. ASICS was kind enough to donate some items for us to handout and I think everyone walked away with gloves, a beanie, or socks. Thank you ASICS.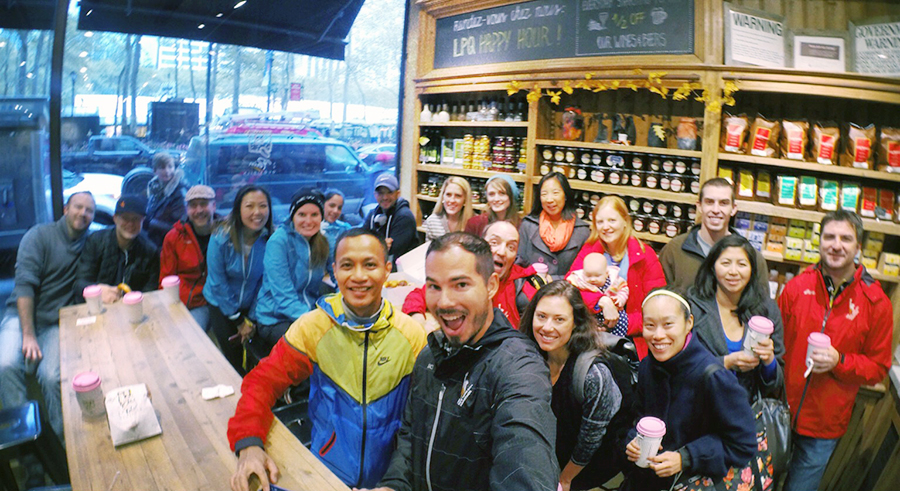 After we chatted for a bit and embraced the rain for a couple of group shots, we walked over to a coffee spot to warm up and grab some pasties. We quickly took over a little corner and continued our social mingling. Additional people came and went throughout the morning and we eventually made our way over to the ASICS store off Times Square for more photos and cheer. The subway car inside the store was a success and of course, MORE instagram gold was created. Check out a few of the favorites:
@RunGiaRun "just hanging out."
@NYCSweat with the collage
@IRun4Wine showing off her pose
@mommyrunfast with holding a special guest
@cytkrussel with the ASICS window shot
@runmikerun with the epic subway selfie
Ready to Race?
Now that the shake outs are done, social meet ups are behind us, it's time to start thinking about the race that happens Sunday morning. Having done this race in 2010, I feel a little more relaxed about the morning since I know what to expect. Most of us will need to be on a bus/ferry around 6 in the morning to be transported to Staten Island, which isn't too bad, but it all depends on when your wave starts. I begin my adventure at 9:30 and I've heard some runners won't be starting until 10:30 — that makes for a very long wait BEFORE you begin your adventure through the five boroughs.
I remember how exciting the race was the first time and how energetic the crowd can be and how ALL OF THAT ENERGY can be exhausting to a runner, if you are not used to it or prepared for it. Since I'll be recording my journey and checking in every 20-30 minutes, the plan is to run 2 miles, then take a short walk break to check in with the camera, record my surroundings, how I'm feeling, state-of-mind, etc. This should help keep me at a comfortable pace throughout the race and prevent me from going out "too strong." I'm projecting my finish in the low 4-hour range. I would obviously be thrilled with anything below 4, but I don't think my legs/training has me in a position to achieve that without the risk of "blowing out" in the later miles. Although that might be worth the risk in some races, I really want to enjoy the experience of running NYCM. Last time I was nursing an injury and remember being "done" around mile 18, way too early, and the most enjoyable miles towards the end being difficult.
This year is all about soaking in the atmosphere as I'm not sure when I will be running it again. It took me 4 years to come back, so I want to do my best to ensure that it's an experience to remember, and so far it has been nothing but memorable.
* * * * *
If you are interested in tracking there is a TCSNCM app.
Bib number: 13519
You can also follow me on social and I'll be updating that morning and (maybe) throughout the race.
Twitter: @PavementRunner
Instagram: @PavementRunner
Facebook: /runpavementrunner
Pinterest: /PavementRunner
Hahstags: #TeamASICS #TCSNYCM #TCSNYCMarathon
Thanks for all the love on social, it's almost that time.