"You can't walk, you have to keep running. You fell apart last time… not THIS year."
Last weekend I finished the New York City Marathon — my second running of NYCM and I experienced it in an entirely new way. Four years ago, I was coming back from an ITB injury and was slowed to a cramp-like-walk-run late in the race. This year I was running as a part of Team ASICS and strapped with a camera to record my entire experience (read more about it here).
The morning started off later than most of the other runners, we were fortunate enough to have a police escort via bus to the start line. I walked into the corrals around 8am and sat on the floor surrounded by other runners doing their best to stay warm. The temps were in the low 30s (?) and winds were expected to be around 30-40mph. The time quickly flew by and with two cannon blasts at 9:40, our wave was off.
The Verrazano–Narrows Bridge is mile 1 and your first "holy crap" moment of the race. It's probably the photo that everyone sees and are shared the most — the wide-shot of runners taking over the bridge heading into Brooklyn. The wind was intense blowing us sideways and at times causing one leg to blow directly into the other. I think most of us were looking forward to being protected by the buildings. I didn't want to pull out the camera until around Mile 3, but I had to capture the moment.
Note: I'll be mentioning the video throughout this post. Once it is finalized by ASICS, I'll be sure to create a new post to share it out.
The plan was to run 3 or so miles then pull out the camera and record my thoughts and mindset. I figured my pace would be around 9 or so minutes per mile while running, then additional time to record each video segment. I was projecting my finish to be somewhere between 4-430, but the goal was to enjoy the race and not crumble in front of the camera by going out too fast/reckless.
My pace felt really good in Brooklyn. I was averaging around 9:30 through the 10K mile marker and we were definitely more protected from the wind. There were points where it would hit you, but it was nothing compared to the force on the Verrazano–Narrows Bridge. Even though it was cold and I wasn't thirsty, I was taking in water/Gatorade at all of the aid stations to make sure that I was properly hydrated.
The second half — a different mind-set
I crossed the halfway point at 2:04, perfectly on pace. The first 13.1 miles FLEW by… the crowds, the energy, the volunteers were amazing. There were 50,000 people running and there were very few points on the race where someone wasn't cheering for you. It's an experience that I'm not talented enough to put into words, but I was getting goose-bumps every few miles. If you run marathons, or ever wanted to, THIS is a race that must be experienced. Enter the lottery, it's worth it.
When I was going across the Queensboro Bridge around mile 15, I came across a runner named Sara in her November Project grassroots gear. We had been leap-frogging each other since mile 12 and I told her I was a part of the SF tribe. We chatted for a bit and she mentioned that this was her first marathon and she had been using me as a pacer for the past few miles. I let her know that I was keeping a 9-10 minute pace, but would be stopping more frequently in the later miles to record video. I told her to try to stay comfortable until around mile 20-22, that way she had enough energy to finish strong. Although I never came across her again, I received a nice message on Facebook from her thanking me for the encouragement/advice. Based on her finish time, she must have just finished seconds in front of me, but it was one of those "NYCM race moments."
I could tell that my pace started to slow around mile 17 and my legs were starting to get tight.  This was the same point in 2010 where my race fell apart and I was determined not to make the same mistake. I wanted to enjoy the miles after 20 and run through Central Park with a smile on my face. I decided to record some video running down First Street (mile 17-ish) since it's one of the most energetic portions of the course. I pulled off to the side to put the camera away and stopped right in front of Greg of NYCSweat.com, a fellow Team ASICS runner that was sidelined because of injury. He was like "hey Brian" and it was completely random and equally funny. He gave me some great energy and was hyping me to the cameraman who was next to him. Thanks Greg. It made me smile and I was laughing about it for the next mile.
At this point, I started making small goals for myself. I knew Jess was going to be around mile 19, so I thought "just get to mile 19." After we chatted for a bit and she grabbed the photo above, I knew I had a couple more key points to record and just a 10K to run. At mile 20 as we were coming into the Bronx, Jay-Z was playing over and I stopped to record the moment. It was definitely the pick-me-up that I needed and it carried me through mile 21 as we headed back into Manhattan.
Miles 21-24 were filled with thoughts that I wasn't going to give up and start walking and beating myself up like I did back in 2010. Even if I was running at a slower pace than I'm used to, I wanted to keep running. I was only going to walk if I needed to record something… I wanted to finish this race on my own terms and finish knowing that I left it all out there. To me, "leaving it all out there" for THIS race didn't mean sprinting through to the finish. It meant battling the "I'm tired" thoughts and just moving forward one mile at a time. It's true that your finish time is never indicative of the effort put into it. Every marathon is different. At mile 24 I recorded a message dedicating the last two miles to my wife and daughter. I got a little emotional at this point, but I'm glad I was able to capture the moment — I can't wait to see it.
I crossed the finish line at 4:24:55 averaging just over 10. min miles. Ideally, I would have loved to have been in the low 4's, but I was thrilled that I hit my window of coming in below 4:30. It was a 16-minute improvement from my 2010 race, but it was such a DIFFERENT experience. I enjoyed the race a lot more, soaked in the energy more efficiently and just ran a much smarter race. I remember running down first street after mile 16 in 2010 that I let my pace pick up too much and it cost me in the later miles. This time around I stayed more aware of my pace and ran much more consistent. My splits were 2:04 for the first half and 2:20 for the second with more frequent recording breaks in the second half.
I'm really happy with how well I ran the race and just continued to move forward in the later miles. I definitely would not have been able to do it if it wasn't for all of the love and energy given to the runners by the spectators. The last five miles were embraced with the thought that it might be another 4-years until I'm back and I will most likely never experience NYCM the way I did with Team ASICS leading up to race day.
At the biggest Marathon in the world, I was lucky enough to be a finisher and even more fortunate to have run it with Team ASICS. I know I say this often, but it's forever true: I'm humbled to be a part of this amazing community and thankful for every cheer, well-wish and high-five that happens in real life and over the interwebs.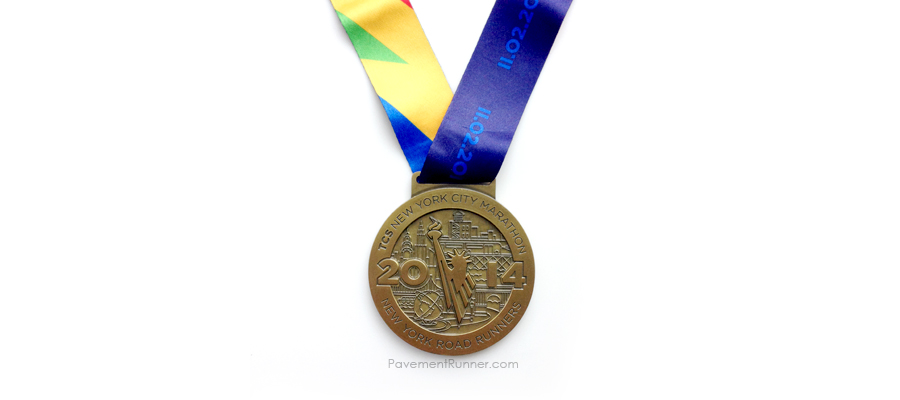 Are you entering the NYCM lottery next year?