If you are like me, you've been reading about the Winter Olympics on social and watching it as well. It's amazing to see athletes at various stages in their career competing at the highest level. I might not know the athletes participating, but when I see that tiny USA flag next to their name, I'm rooting for them.
As I'm sitting there on the couch watching people race down mountains, climb into bobsleds, do tricks on a half-pipe, I can't help but think: "Where do they train?"
In California, we have some pretty gnarly mountains, but in San Francisco the snow level is always pretty low. And what if there are no mountains near you? What if there is no snow near you? And even if you DO have a mountain and you DO have snow, you definitely need the right equipment. As a runner, I can throw on some shoes, head out my door and I'm ready to go. Basketball players can always find a court. Even fans of baseball can find a friend to play catch with, but the Winter Olympic sports are a whole different side of things.
Citi has teamed up with 9 athletes to help 9 programs in need. A $500,000 donation from Citi has been made to the U.S. Olympic Committee to help these programs, visit the Every Step of the Way here: http://citi.us/1ek5E7S
One of the athletes is Ted Ligety who recently became the first U.S man with two Alpine skiing Olympic gold medals. His first came in 2006 in Torino and his second just happened at Sochi. It's amazing to think that those two medals are 8 years apart.
Ted is teaming up with the Youth Enrichment Services to help kids in urban areas learn how to ski, snowboard and participate in some of his favorite winter sports. And it's pretty easy to help his cause (and all the others).
Simply go to Citi's Every Step of the Way: http://citi.us/1ek5E7S
Click on the athlete of your choice
Learn about the athlete and the program in a cool interactive interface
Help award a portion of the $500,000 from Citi to their program.
Done and done.
Here are some screen grabs of Ted's page… and you even get a thank you at the end.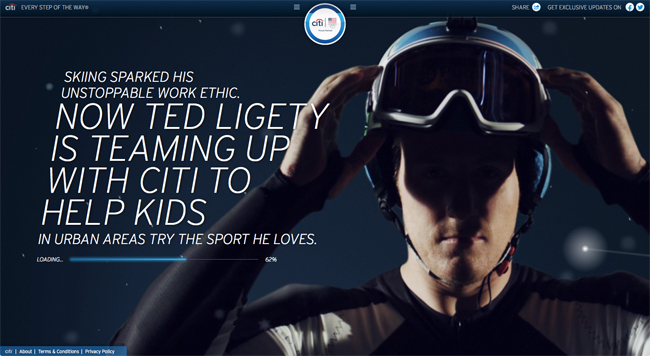 Click here to see the 9 athletes and help award a portion of Citi's $500,000 to a program of your choice: http://citi.us/1ek5E7S
I received an email from Citi to help spread the word on this amazing program. There is a possibility that they will send me a Visa gift card for doing so, but it is not guaranteed. Either way, I was happy to spread the word on a program that helps the youth. Not all of us are able to spare a couple of dollars — and we are not being asked to — but I love that fact that Citi is allowing us to participate in deciding where THEIR money is being donated.
This post was created in partnership with Citi®. All thoughts and opinions are my own.
If you could do one Winter Olympic sport, what would it be?