As always, I'm pleased to have my good friend Geo share with us one of his many adventures. This time, we throw it back to earlier this year in April when he tested his mohawk in the Orlando humidity and joined 18,000 other people for a 5K. Take it away Geo!
* * * * * *
IOA Corporate 5k (2015)
I landed in Orlando, Florida (USA) and took the bus to the down town business district. Lake Eola was being transformed into Orlando's largest office party, the IOA Corportae 5K. The weather was rainy, hot, and extremely humid. I was impressed on how organized the set-up of the event was going, plus the local activity at businesses in the area.
I walked to Track Shack to check out all the cool stuff. Owners Betsy and Jon were finalizing details for the day's race and helping customers. I enjoy greatly visiting this local running store because I feel at home. I was chatting with Betsy and the topic of all the cool t-shirt quilts in the living space was mentioned. She showed me all the quilts, told me about the runners, and she shared stories about the races shirt we were looking at. I felt like I was in the coolest trophy room ever because you could literally wrap yourself up in the moment. I got some new compression running socks and my friend Natalie helped me choose a cool Run Orlando sleeveless athletic shirt.
Next, I made a visit to my friend Hector at TRI Peak Athletic. The interesting story about our friendship is that we meet at the Gay Games in Cleveland, Ohio in 2014. We were both in an article in LOGOTV.com's NewNowNext titled: 7 Gay Games Athletes We'd Like To See On A Wheaties Box, and have been friends ever since.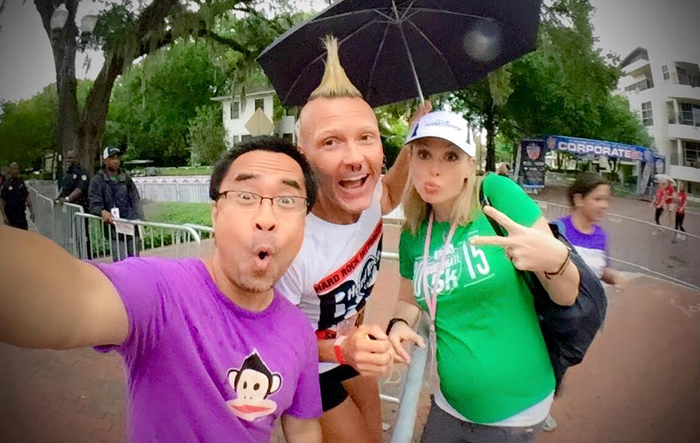 2 hours till the race started and I was in full party mode. I rocked a well cemented humidity proof mohawk and went back to Lake Eola to meet my coworkers and athletic comrades. It's sooooo cool to see over 18,000 5k participants athletic lifestyles supported by their companies. I run with Team Hard Rock International for this 5k race. I got to see local running friends Dave and Keith, plus people remember me as the guy who wore the shirt with the Hard Rock Pins in 2013. I had fun talking with everyone like it was a rock star family reunion. I headed to the start line and got caught-up briefly with athletic comrade Orlando Mayor Buddy Dyer. The rain started lightly, but the races spirit was not dampened!
I was in the 1st Coral with Hard Rock International's CEO Hamish plus my running buddy Katie. I like how the race highlights the CEO's in the race by giving them a special bib. The race started and athletes had a chance to run through tree covered neighborhoods, and some brick and paved streets. The water stations had a lot of volunteers. Local homes and businesses offered Florida Oranges, pretzels, and Swedish Fish candy. I met a lot of people who were doing their first 5k race.
The distance went by fast because the race was a great opportunity to meet new people and chat as you run. I crossed the Finish Line and went to the team tent to socialize. The catering done by my comrades at the Hard Rock Live Orlando was DELICOUS! I took lots of #Selfies, met coworkers I did not know and other teams 5k participants. The #IOACorporate5k was a great race experience. The best part of the experience… in addition to seeing friends and crossing the Finish Line… was the sense of pride I had by running with Team Hard Rock International.
* * * * *
Thanks for taking us on your adventure Geo. As always, keep running strong and bringing this community together.
Have you ever participated in a Corporate 5K?