I've been doing some recent speed-work in an effort to get faster. It has not been a lot, but more than I typically do and this Sunday I'll have the opportunity to test out the legs. For the majority of the year, I have been working on getting faster at the full marathon distance (with not much success) and with a couple of half marathons coming up this fall season, I decided to see if I could speed things up.
Giants Half Marathon
It's called The Giant Race, but most of us refer to it as the Giants Half Marathon because it starts outside and finishes inside the Giants ball park and is all the Giants everything. From Giants player's bobbleheads (Buster Posey this year) to a runner's night at a Giants game, to a Giants-themed finisher medal (this year it's Lou Seal).
Race Gear
With the Giants theme, I had to represent The City. November Project (SF tribe) grassroots gear, black ASICS shorts, Giants Hat, one black PRO sock and one orange PRO sock, orange/black/white Mizuno Wave Rider 17s… and of course, the secret weapon, SF Giants branded eye-black stickers
which came in a 4-pack.
Race Goals
It's always to run a strong race and finish with a smile, but I'll be testing the legs to see if they have a 7:30 pace in them. My current PR is 1:37 and I'll be chasing that down this month. This course has a couple incline/declines, but the majority of it is a flat course that I am very familiar with. The plan is to hold a 7:30 pace for the first 9 miles, then drop back and clock some low 7's. If everything goes according to plan (because they always do, right?) then I should come in around 1:35.
Not a drastic PR change, but reasonable. I've been targeting RnR Philly (on 9/21) as a PR race and if I can run a strong race this weekend, then it will definitely be a confidence booster. I would love to get my half time to 1:30-1:35 in Philly.
In the Ears
With any chance of setting a new land-speed record, I've got to have some new tunes. I just put together a playlist for this weekend, and in typical fashion, it has 1:37 minutes of music. 24 songs… think about that: just run your a** off for 24 songs. Doesn't sound that long — I guess we'll see.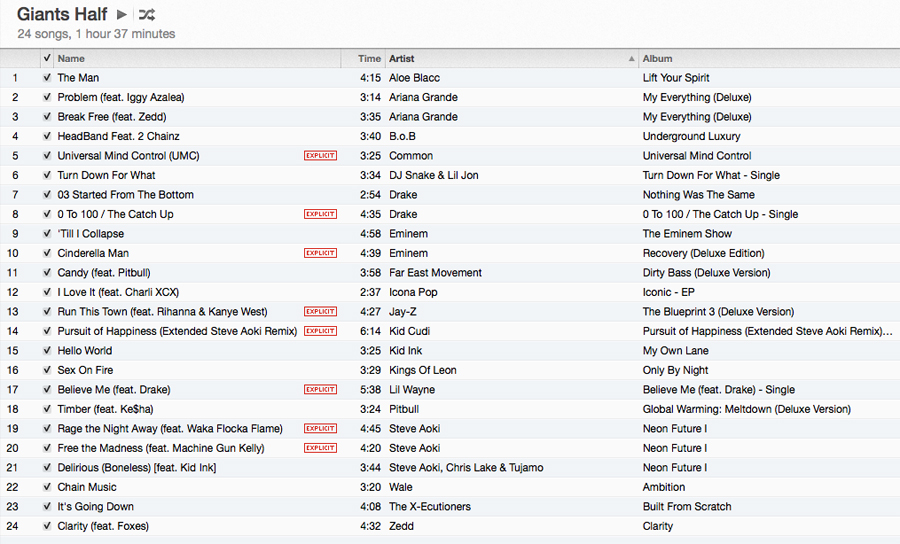 Are you planning on running or racing this weekend?