I decided before the race that I was not going to look at my watch until I was on the very last mile. I was trying to break my 1:37 half marathon PR from almost exactly 1 year ago. When I pulled back my arm sleeve I was not sure how close or how far I was going to be.
Let's rewind to what this particular Sunday was going to include. It would be the third year in a row that I would take on the 2 races, in 2 states, in 1 day challenge. In 2013 it was San Antonio to Vegas. In 2014 it was Disney (Anaheim) to Vegas. And in 2015, it was San Diego (really Coronado) to Vegas.
Read more about how this year's #SD2LV breaks down here.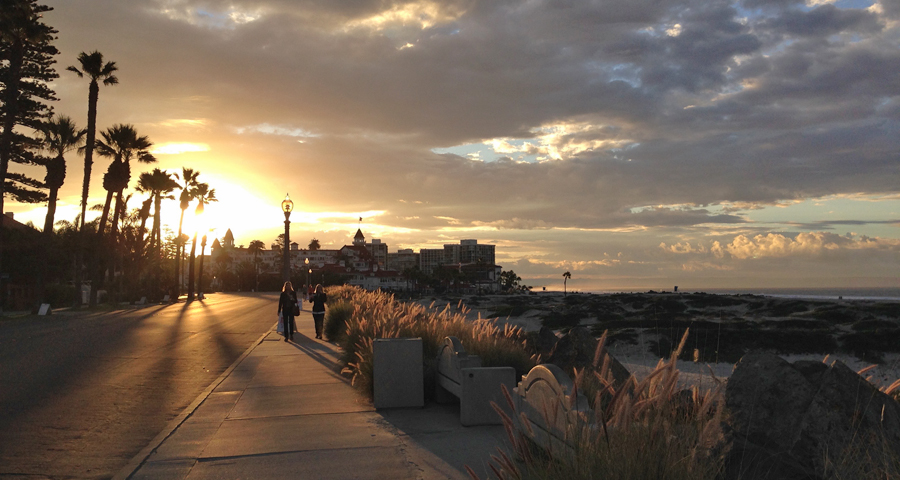 Race morning, I walked over with @Fitfam6. We were staying about a mile away from the start and it was a super convenient location. The day before we had a beer by the beach at the legendary Hotel del Coronado (because hydration is key), then saw the new Bond film Spectre (because staying off your feet is key), and then got lots of sleep as we were both doing the #SD2LV challenge.
We met up with @carleemcdot (also doing #sd2lv), @runningwithsdmom, and @stuftmama. We were all repping #werunsocial and debuting the WRS BOOM socks (available at ProCompression.com  – use code WRS for 40% off the WRS BOOM sock until the end of the month, and free shipping within the U.S.).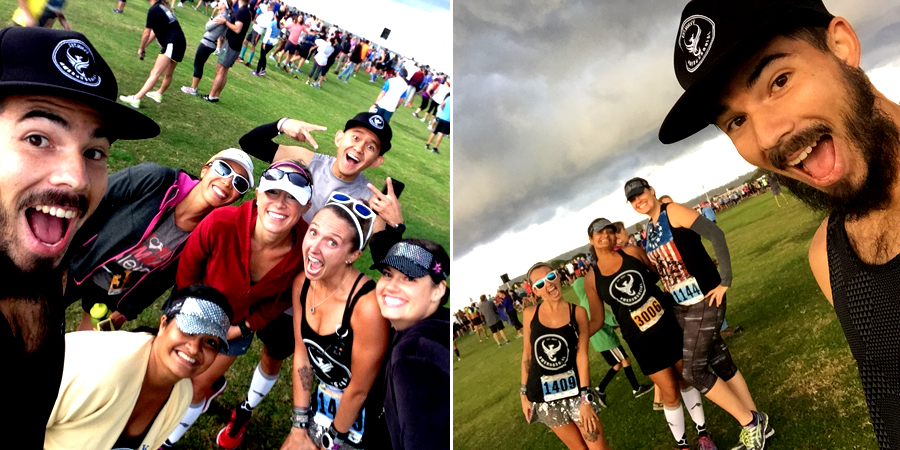 After lots of photos, some selfies, high-fives, and well wishes, we were off.
Mile 1: 7:49
Mile 2: 7:25
Mile 3: 7:35
Mile 4: 7:34
Mile 5: 7:34
Mile 6: 7:32
Mile 7: 7:34
I ran with @stuftmama for the first 7-ish miles. We chatted and caught up on what had been going on in our real people lives. The course was mostly flat with a few small rollers throughout. Definitely a PR-able course. I think we separated around 7-8, but I know that she was right behind me.
Mile 8: 7:27
Mile 9: 7:26
Mile 10: 7:26
Mile 11: 7:30
Mile 12: 7:20
Around mile 8 I wanted to see if I could pick up the pace. I have been training and targeting a full marathon closer to the 8's, so it was a weird balancing act of trying to pick up the pace on what already felt like a pushed pace. I mostly wanted to maintain what I had since I wasn't sure what splits I was running, but also pick up a few seconds — which in looking at the splits is exactly what I did. There was a beautiful (sarcasm here) incline during mile 11, but I just keep thinking that I get to run down it on the way back.
As I passed the mile 12 marker, I looked at my watch for the first time and it read 1:30:xx. I was hoping to reveal something in the mid-to-high 1:20s, giving me a chance to run a low 7 and PR, but it just wasn't in the books. That last mile I was aiming for a sub-7 pace, but I was running as fast as I could in hopes to make it happen.
Mile 13: 7:15
13.1 miles: 1:38:45
It was everything I had. I can honestly say that I left nothing in the tank. I kept pushing those last few miles and am glad the splits show it. I didn't walk away with a PR, but I walked away with a 13 mile tempo run below marathon pace (and negative splits).
@stuftmama, @runningwithSDmom, @carleemcdot and @fitfam6 came across the finish line pretty quickly after me and everyone had smiles on their faces, that's a win in the runner's world.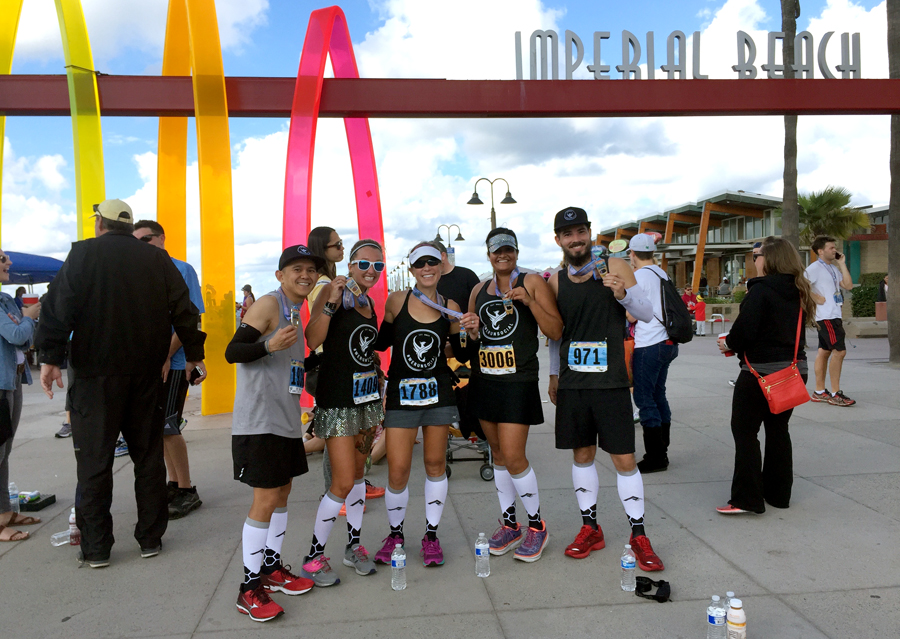 We chatted for a bit, snapped a few photos, then @carleemcdot, @fitfam6 and myself had a plane to catch. We changed before we got in the car, wiped down with some ShowerPill and baby wipes and were on our way.
Bags in hand, boarding a plane, we were on to our next race in Las Vegas.
Race 1 of 2 complete.
The race recap for RnR Las Vegas is here.
Have you ever run a race without looking at your watch?
Or without a watch? Did it work?