Last weekend was full of so much excitement. On the schedule were 3 half marathons in 2 days. The first was the Revel Canyon City Half Marathon, a mostly downhill course that starts in the forests and canyons of the Angeles National Forest and finishes in the foothills of Azusa (in Southern California).
I played this one pretty close to the chest and didn't tell too many folks that I was aiming for a PR. This race was a couple of weeks after New York and I hadn't been doing much speed work since I bonked in Philadelphia. There were a couple of things in my favor:
Downhill Course (see map below)
Michael and Andrea waiting at mile 12:
Since it's a point-to-point race down a two-lane highway, there are no spectators until 11.5-ish. Michael and Andrea decided to wake up way early and cheer me on. They were the only two people aware of my PR-dreams. The pressure was on to be at mile 12 on pace.
My last "race" for the year:
Going into this weekend I was all in for Saturday. I couldn't think about Sunday's races. If it meant struggling through two half marathons in one day to get a year-old PR, I was willing to do it.
At the start line, I ran into David (a SA2LV crew member) and he was aiming for a similar pace. I let him know my plan (to pace with the 1:40 a 7:30 pace,  then make my move at 9-10 to low 7's). He was on board and soon enough we were getting ready to fly down a hill
Mile 1: 7:05
Mile 2: 8:00
Mile 3: 7:57
Mile 4: 8:27
Wow. 1:40 just took off. I never even came close to the group, even with a 7 minute start. This is not uncommon as some pacers start off fast then ease into their pace. I knew the first mile was fast and took note. The first 4 miles had some climb in them in between the down hill. I made sure not to "attack" the uphill knowing I would make it up on the down.
Mile 5: 7:28
Mile 6: 7:01
Mile 7: 8:14
Mile 8: 7:31
David had studied the course well and was commenting on how most of the climb was behind us and these miles were downhill. We didn't talk much, but what David was saying was exactly what I needed to hear. He knew 1:40 was going too fast and thought we would catch him around mile 8. He also said we were exactly on pace and where we needed to be. It was the perfect reassurance I needed and with him running next to me, there was no way I was going to slow down or be tempted by a walk-break.
After mile 8, I decided to start chipping away at 1:40. It was probably a mile earlier than I would have liked, but I needed to catch him before Mile 11 if I wanted to give myself a chance. I knew after mile 8 that there were no more climbs and it was either downhill or flat remaining. This was my moment. This was where I needed to make my move.
Mile 9: 6:38
Mile 10: 6:57
Mile 11: 7:04
I took advantage of the downhill and just kept falling forward. I stopped looking at my watch and I'm glad that I did. If I had seen that I just clocked two sub-7 minute miles, it probably would have burned my confidence: "You can't hold this." I was creeping up on 1:40 and slowly picking people off to catch him. David could tell that I was making my move around 9-10 and gave me something along the lines of a "go get em." I couldn't hear what the words were exactly, but I knew what he was saying.
I was tired at 11. I was ready to call it. Not because I didn't think I was on pace, because I had been pounding my legs for 11 miles down a hill, then up a hill, then down again. My legs are not used to that type of running. "Michael and Andrea are at 12. Get to 12. Get to 12." That was my thought process for most of mile 11. "They made signs. They got up early. I said I would be there. Be there. C'mon" I passed 1:40 somewhere in mile 11 and I was where I needed to be at this point in the race.

Mile 12: 7:05
I knew exactly where they were going to be. There was ONE turn on the entire course. One left hand turn to the finish line. I saw the signs. I heard the cowbell. I wanted to say something. I may have. I was pretty much out of it at that point. If I had the PR made I would have gone over and high-fived or hugged, but I was down to minutes. I think I threw a thumbs up. But I know I was smiling and feeling all the warm fuzzies inside.
I had about 7 minutes to get to the finish line if I wanted to PR. Once I hit mile 12, my body almost called it a race. I was so focused on getting to 12 on pace that my mind did a tiny celebration. I'm looking at my watch and thinking, can I do it? Judging the distance, trying to figure out if it's possible. This is going to be really close.
Mile 13: 7:14
Half Marathon: 1:37:04 (a 49-second PR)
Overall: 49 out of 888
Age Group: 7 out of 42
Unofficially, I knew I was under my previous 1:37:XX, but I never put the seconds to memory. I knew they were high, 45 seconds? 50 seconds? I actually had to pull up the blog post from my previous PR to see what my official time was. I always just referred to my half time as 1:37. It's funny that even though I PR'd my half time is STILL 1:37, but I'll take it. I accomplished my goal of setting a PR and I was smiling from ear to ear.
The success of this race is broken into two parts. Miles 1-8 with David. We had no plans of running together, but he helped me keep my "ish" together for the first 8 miles. He was the perfect voice the entire way. With a "we're right on pace" or a "these next few miles are downhill" he was exactly what I didn't know I needed to get me through it.
The second and most important part of the equation was Michael and Andrea. I told them that with a 7 am start time, I needed to be at mile 12 by 8:30 to have a chance. I also told them that if they see the 1:40 pass before me, I busted. With the 1:40 flying, I made it a personal goal to catch them BEFORE 12 so they didn't freak out or look disappointed. No one wants a disappointed cheer crew. Miles 9-11 (6:53 avg. pace) happened because I needed to get in front of 1:40 before 12. THAT is where the PR happened. Those three miles is why I was able to be successful… and that credit goes to two runners who woke up early to cheer me on.
With Saturday done. I found comfort in the fact that Sunday would be for fun. I had accomplished my goal and had heck of a time doing it. Saturday will be one of those races that sticks in my memory for how the running community played a HUGE role in my success. If I'm not running with David and if Michael and Andrea are not out there, the PR doesn't happen. FACT. The right people, at the right time, in the right place. It couldn't have been staged any better.
FYI: David finished right behind me with a 5-minute PR. I saw him cross the finish line with a huge smile.
Next up:
Disneyland Avengers Half (Race 2 of 3) – scheduled for Monday
Rock 'n' Roll Las Vegas Half (Race 3 of 3) – scheduled for Tuesday
* * * * * *
PHX Marathon (and half) discount: use code PAVEY10 for 10% off registration (biggest party of the year?).
* * * * * *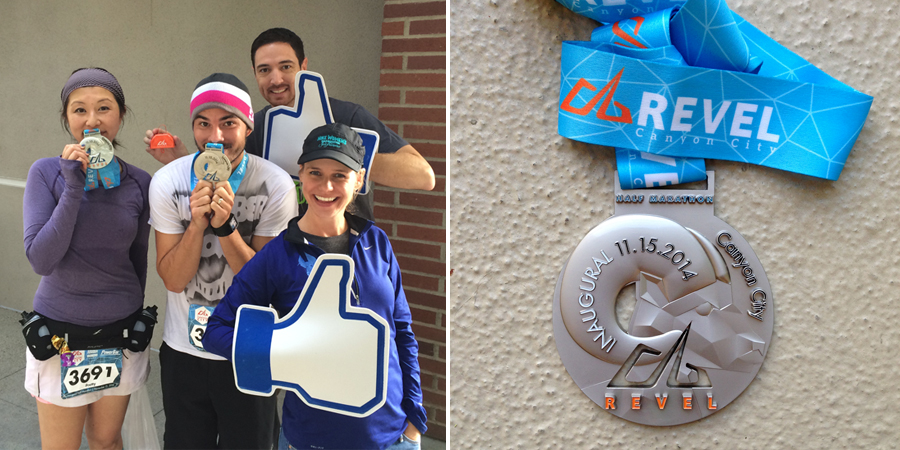 When racing, does a pacer of cheer crew help motivate you?