With the fifth and final California Rock 'n' Roll race for the year, I wanted to simply enjoy it. It was Halloween weekend and fresh off a PR in San Jose, I wasn't really looking to race and enlisted the help of Lisa of RunWiki.org. I reached out to her to see if she wanted to run a "fun" race and possibly dress up in costume. With some last minute brain-storming and a trip to Target, we settled on Batman!

This photo we took at the start line, pretty much set the tone for how much fun this race was going to be.




The weather was overcast and mist was in the air for most of the race… it was almost perfect running weather. Almost everyone was in costume. There were some really elaborate ones and some really simple ones, but everyone seemed to be into the spirit of the race. I started with Lisa and Linzie and we stayed in a comfortable pace most of the way. Maybe a mile or so in, Michael joined us and we stayed together for pretty much the whole course.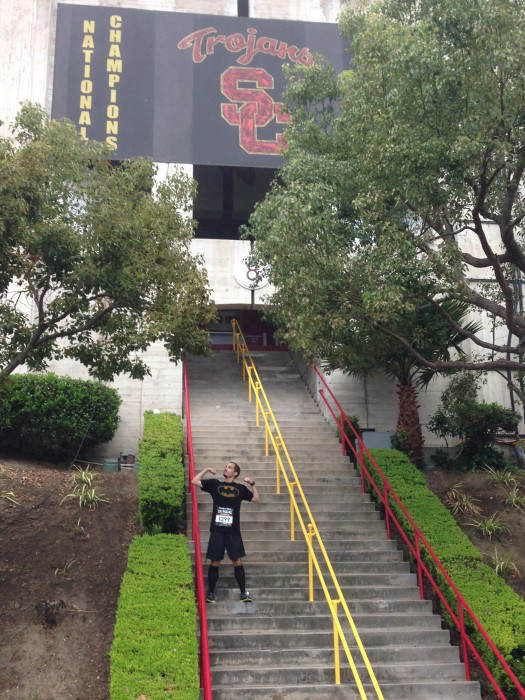 A few miles in, we found ourselves doing a lap around LA Memorial Coliseum and home of USC. This was a pretty fun section of the course as I had never been there and it also included a trip past the Natural History Museum and Exposition Park. Since the first few miles were an out and back, it was nice to see all the costumes on the course going both ways. It was fun to point people out and say "superman" or there goes "quailman" and even laugh at some groups that got into the mix such as several runners that dressed up as the cast of the Wizard of Oz or characters from Mario Kart. It really kept you smiling throughout the race.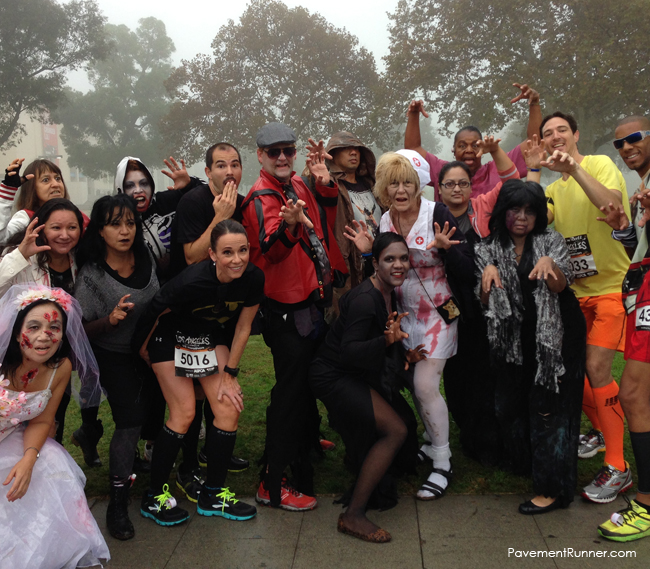 And I just couldn't resist stopping to get a picture with a group of people that were doing the dance scene from thriller. They had just finished I asked if we could get a picture as a group. This may be the single greatest photo op in race history. I'm glad that Linzie was able to make it in the picture as there were A LOT of us. Where is my wide-angle lense when I need it? Next year, I'm dressing up as a photographer. HA.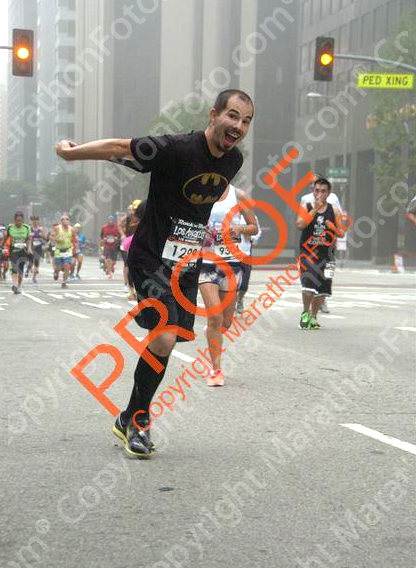 The four of us walked when we wanted to. Stopped and took pictures, made videos and even had fun trying to jump for the cameras as a group. I don't think we ever mastered that move, but it didn't stop us from trying. And yes, I know Batman doesn't "fly," but I had a cape and I wanted to use it. LOL.

There were a couple fun areas as well, including a tunnel that had a DJ at the entrance and a light show inside. The tunnel, lights were on since it was a longer tunnel and still overcast, but you could see the fun colors and RnR logos projected on the walls.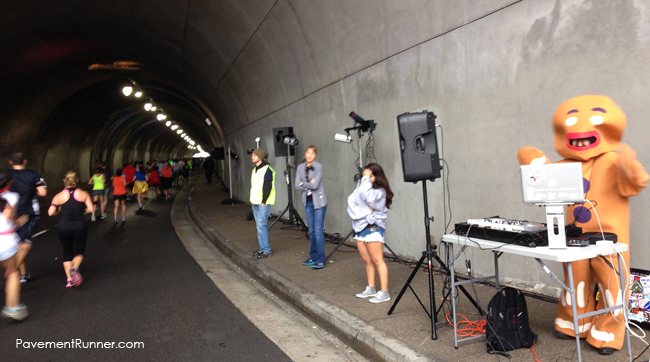 There was a pretty steep climb that went up a hill… I could see that it was taking it's toll on some of the runners. But we walked some of it and enjoyed the DJ in the middle and the band on the stage that was rocking out.




We even took this really cool video on the way back down. Click on the instagram URL to view the video (or here)

After we crossed the finish line, we took one final photo and commented on how much fun the race was. It really is all about getting back to "enjoying" a race and remembering that running can be fun. It doesn't always have to be serious or about PRs. It can be a great way to just spend time with friends and get some miles in.

Lisa also did a great race recap here.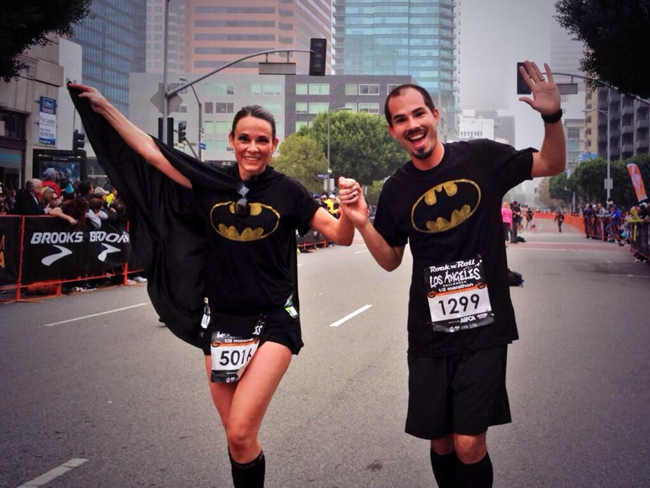 I also got to take a picture of some runners that dressed up as Siracha bottles… they were being interviewed at the end of the race and with how much our fellow bloggers love putting rooster sauce on everything, I couldn't resist taking this photo.




I also got to meet @asheejojo at the end of the race. She ran Nike Women's Half a week earlier and missed her out on the course in SF. She said she was going to be running as Robin, so it was pretty much mandatory that I spot her. We took two photos:

(1) an awkward one where we are scared to touch arms (ha) and
(2) where we show how cool our capes are… because we are that FRESH!
(read her race recap here)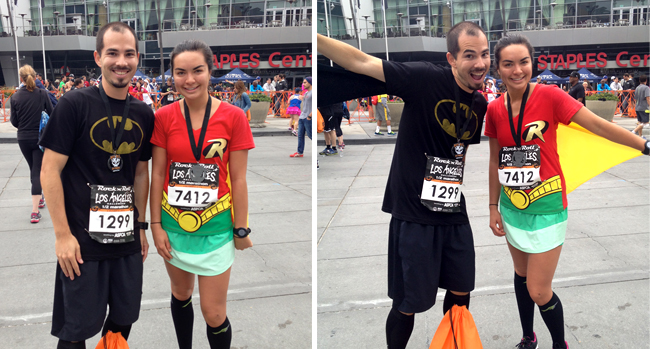 All in all, RnRLA was a success. I had a great weekend meeting so many twitter and blogger friends in real life and had a fun time. Our finish time was around 2:19, but I really didn't pay any attention to my watch or worry about pace. We sort of just ran it with no concern, which made the race (and pace) really enjoyable. 13.1 miles in perfect weather dressed as my favorite comic superhero and running next to friends… priceless.

And scoring some nice hardware doesn't hurt either.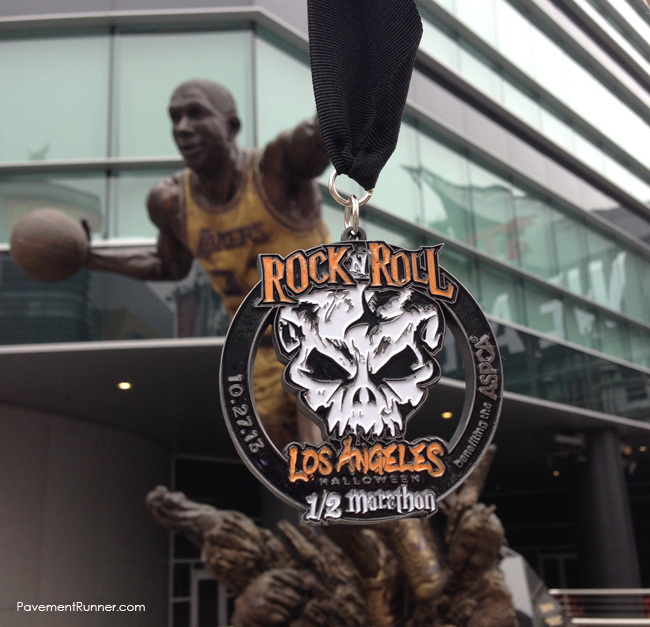 If you could run a race in ANY costume, what would it be?