As if running a single race in a day wasn't enough, we are at it again. This will be the second year in a row that the 2 race challenge at Rock 'n' Roll Los Angeles goes down. You might be asking yourself, but RnR doesn't offer 2 races in a single day in Los Angeles… and I would say, well, ya, they kind of do.
Let's backtrack a bit. This "crazy" idea started last year when someone looked at the map and realized that the start and the finish line for the 5K and the half marathon were merely blocks apart. Even though both races start at the same time, in their runner-brain logic, someone said "if we run the 5K "fast" and make it back to the start line when they are still releasing corals (say in under 25 mins?), we could run BOTH." I don't know who originally thought of it. I don't know if drinks were involved, but I do know that 4 of us took on this made-up challenge in 2014. I'm not sure who else is doing it THIS year, but I know myself and @pointonemiles (who also did it last year) are doing it again.
The #WeRunSocial Meet Up
It's not a race without a meet up. I'll be teaming up with @SharpEndurance and hosting a #WeRunSocial meet up on Saturday close to the expo. If you are around, it's a couple blocks aways and we would love to see you for a group photo, a selfie, a high-five, a drink, and a hello.
When: Saturday, Oct. 24, 2015 at 12:30pm
Where: Staples Center, Magic Johnson Statue
What: Photo opp in front of the statue, then we'll walk over to The Mixing Room at the JW Marriot at LA LIVE across the street around 1pm for drinks, food, and good times.
Note: WRS trucker hats will be available for purchase, $20 each, limited QTY.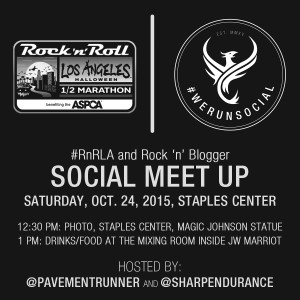 Race day: the plan
The 5K: all guts, maybe some glory
Last year, I finished 8th overall in the 5K and took home 3rd in my age group (20:53). It's a small 5K, but I'll take it. I would love to come close to or better that time. I haven't been doing too much speed work lately, but have been logging some 7-ish minute miles on longer runs during recent training. I think I can pull off 21 minutes, but it's going to be all guts and with no consideration for how much it wrecks my legs for the half right after… sounds good? Let's go with that.
The half: all the fun
I know last year, my legs were pretty tired from busting out a sub-21 5K. I'm assuming this year will have the same feelings. Just like last year, I'll start the half with @pointonemiles and we'll just go out and have some fun. It'll be great to catch up with him (in person) and just run some miles like old times.
I'm looking forward to seeing lots of familiar faces, and sharing all the good times on social. Be sure to follow the @ tags and hashtags to see what happens.
Twitter: @WeRunSocial, @PavementRunner
Instagram: @WeRunSocial, @PavementRunner
Hashtags: #WeRunSocial, #RnRLA
RnR Las Vegas
Are you going to do Las Vegas? Then you might want to see what was added to the store. GASP! 
Will you be at #RnRLA?
Will you be following our crazy on the interwebs?