This past weekend, I was in Philadelphia for the Rock 'n' Roll 5K and Half Marathon. With the half being on a "fast" course, I had high ambitions for setting a PR and coming in at less than 1:37. I was running the race as part of Team Chocolate Milk and excited about a flat course — which we don't get many of in San Francisco. But before that, I was taking part in the Remix Challenge to run the 5K on Saturday AND the Half on Sunday.
Saturday's 5K
No plans of speed, all plans of fun. I was using this as a shake-out run and was out there to just loosen things up for the following day. It was a good size crowd and it included the last 1.5 miles of Sunday's half, so it would be a great preview. I finished at 27:30 with 9:21, 9:15 and 7:51 splits taking the first two really easy and picking it up a bit on the final mile. It was exactly what I needed and Saturday morning was full of hanging out with friends and taking memorable photos, including the one above with Kara Goucher — could my smile be ANY bigger?!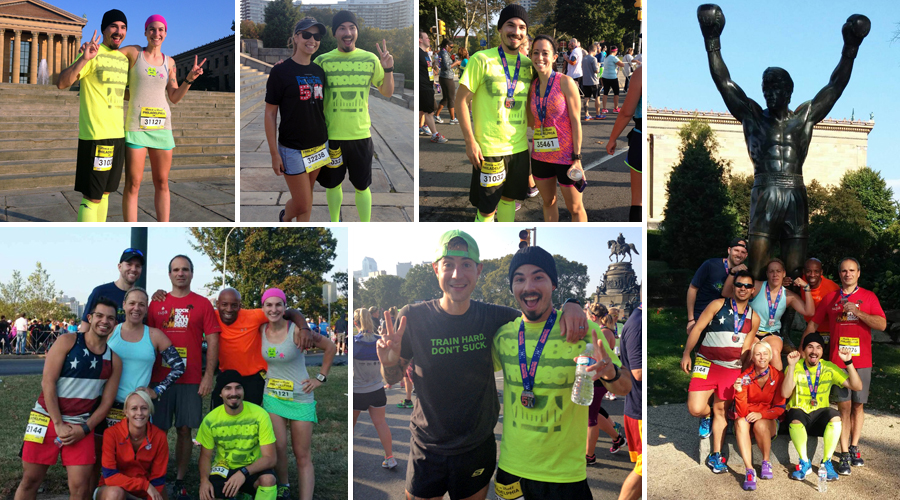 Sunday's Half Marathon
I felt good. I felt REALLY good. I had been a "smart runner" the couple of days before and was off my feet leading up to the race. On Saturday, I took a nap, stayed at the hotel most of the afternoon and made a conscious effort to NOT be on my feet. I got in a good warm up Sunday morning, a good stretch and felt REALLY ready to go.
Strategy: Start and stay at a 7:20 pace (1:36 finish), pick it up at any point after mile 10 if so inclined.
Mile 1: 7:13
Mile 2: 7:16
Mile 3: 7:17
The splits above look GREAT, right? But I was off with each mile marker. At some point, perhaps through slight weaving or not taking the tangents, I picked up extra milage. I crossed the first course mile marker at 7:30 according to the elapsed time on my watch. Second mile was the same. Third was as well. This basically means I am running the above splits, but crossing the course markers 10-15 seconds later. The official time at the first 5K according to my shoe tag was 23:13 (7:30 pace), but my watch has it at 21:46 (7:15 pace). I'm essentially outputting a 7:20 pace, but getting 7:30 results.
This begins to beat me up mentally. It was like trying SO hard to get something, DOING IT, but not seeing the results.
Mile 4: 7:16
Mile 5: 7:24
Mile 6: 7:30
When the course opened up at mile 5, I was able to start running the tangents and getting closer to each mile marker, but at this point, I'm already close to 2 minutes off pace and it's killing me mentally. Official 10K time had me at 46:23, but according to my watch's milage I was closer to just above 44 minutes (which is an avg. 7:20 pace). I told myself to try to keep the pace, but my PERFECT pace wasn't delivering official results.
Mile 7: 7:37
Mile 8: 7:47
The wheels are starting to come off and I'm losing the mental battle. It's been 6 miles of me crossing each mile marker thinking: TOO SLOW, YOU'RE OFF PACE, YOU'RE NOT GONNA MAKE IT… essentially just beating myself up and slowing down. By mile 7 I had unofficially given up.
But it's only 2-3 minutes off pace!
This is true. At mile 9, I needed to be at 1:06 for a 1:36 finish… when I crossed the mile marker, I was at 1:08-1:09. If I was trying to keep a 1:36 pace, 2-3 minutes off would put me at 1:39, which is fabulous, but I knew that I didn't have a second gear in me. Every mile leading up to this felt laborious even if the results were only 10-20 seconds off. At mile 9, I officially threw in the towel and dialed it back. I had no desire of stressing out my legs for a "strong run." I was ALL IN for a PR and once that wasn't possible, I was just going to be happy with a finish.
Mile 9: 8:25
Mile 10: 8:14
Mile 11: 9:15
Mile 12: 8:53
Mile 13: 9:09
Official Half Marathon: 1:45:22
The last 5 miles were at a much more calm pace and just the mentality of "bring it home."  I don't really remember what I was thinking through the last 5 miles. I was trying to figure out what happened early on that put me off the mile markers THAT early. It's typical to pick up some extra milage over the course of the race, but not that early in the game. And I don't blame the course mile markers in any way… in fact, course records were broken. I think I was just too "into my watch" and was relying on it to bring me reassurance that I was on pace, rather than deflate me.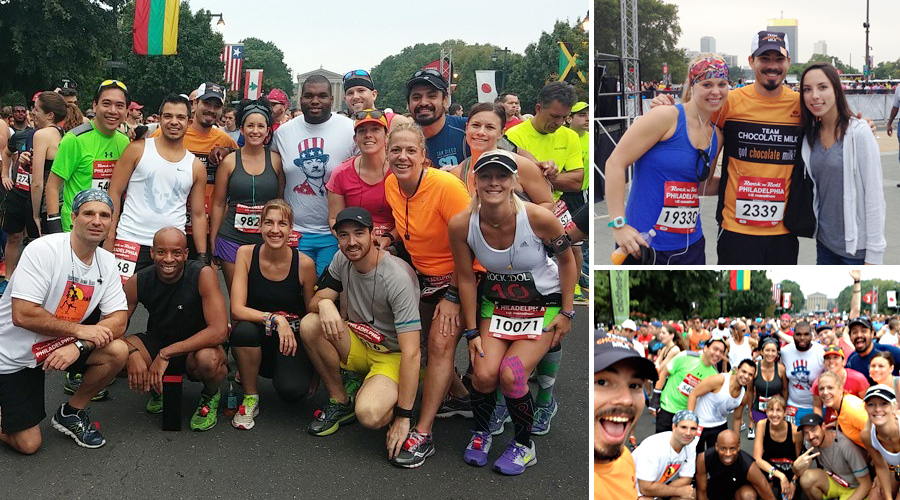 The course and weather
Completely a PR course. It was exactly the course that I needed to break 1:37. It didn't have too many turns and although there were slight inclines/declines in the road, it was nothing that would affect your pace significantly (except maybe the incline up the last .1 to the finish line). The sun never came out and it was overcast all morning… but it was humid. I was told it was around 89-91% and I was soaked in sweat by mile 4. I'm clearly not used to humidity, but I don't think it had anything to do with my results. I stayed well hydrated before and during.
The Aftermath
This one hurts. Usually I can point to something when I don't hit a PR goal… I was either on my feet too much, or didn't get a good warm up, wasn't fueled properly, wasn't hydrated… something. BUT this one was perfect. Everything was in place, all I had to do was run. I was even hitting my splits on point each mile. If I had crossed each mile marker seeing the 7:15-7:20 pace, I know I would have held it and smashed the PR. But crossing those markers 10-15 seconds later did a number on me mentally. It was like a punch in the stomach (fitting with the Rocky theme in Philly) at every mile marker.
It was the right decision to call it by mile 7… I already ran a 1:38 a few weeks ago and having to catch a 6-hour flight 4 hours after a finish was not going to pleasant on trashed legs that didn't result in a PR. It's not always about time… but this time, it was.
Thank you to everyone that wished me luck before and sent love post-race. I always hold myself to high standards in trying to achieve my personal goals and when I don't reach them, I feel like I let people down. I know that this isn't the case, as many of you had said, but it's who I am and how I feel. I love this community of runners and I'm honored to be a part of it.
Thanks again.
Advertisement: