Last Sunday was the San Francisco Rock 'n' Roll Half Marathon and the goal was to run with friends, take pictures and have a good time. With this being a hilly course and making sure that I fully recover from my "wonky" knee syndrome from pushing it on my last couple marathons, the pace was going to be as comfortable as could be. It would mean some running, some walking, some dancing, some standing around and taking photos, but most importantly, remembering that running can be fun.
Originally, the plan was to meet up at 6 am at the start line for a group photo. With corrall 1 being more crowded than anticipated, it was sort of a free for all in trying to locate everyone. After awhile, I was starting to get worried that the race was about to begin and we had missed our opportunity for start line craziness. Then slowly, people started to come around and a few people turned into more people, which turned into more people. You can see the evolution in these first few photos.
I really wish that I could tag everyone, but as you will see, there are a lot of people and a lot of photos about to be thrown at you.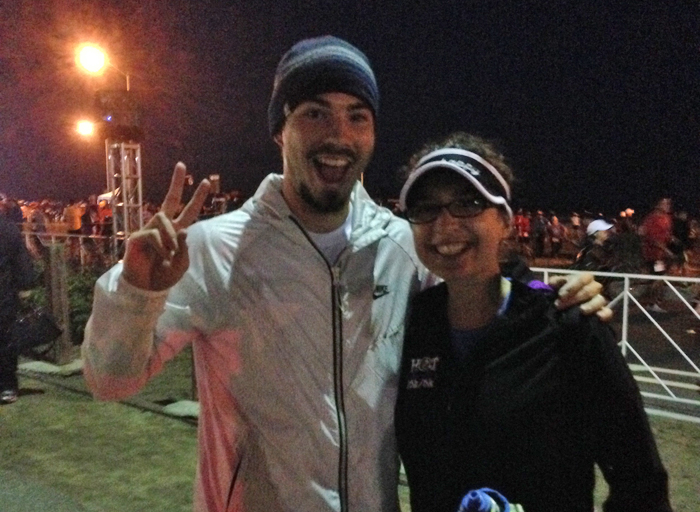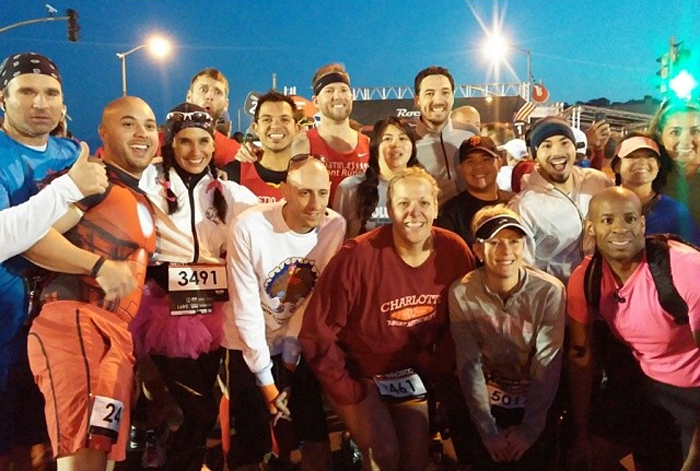 At this point, I think we were driving corral 2 kinda crazy because we sort of started to take over. It's clear in this last two photos as we had already taken a couple, but then people we know come running in… "one more, one more." That happened a lot.
I then decided that it was time for some selfie photos.
And then it was time to run. We started out with a group of runners and got spread out quicker than I had anticipated. I knew that there were some hills coming up in the early miles, so we of course had to keep the party going.
Huge shout out to Michael Hawley for snapping these pictures. This 4-shot sequence might just some up the race:
HAVE FUN. BE SILLY. STRIKE A POSE.
WE CLEARLY BE RUNNING THE STREETS OF SAN FRANCISCO, YO!
And it didn't stop there. It pretty much just went on the entire race. At some points there were 2 of us, then there were 4 of us, then we all met up for larger packs. It was just a good time all around and I'm thrilled that the everyone in our group was just out to have a good time.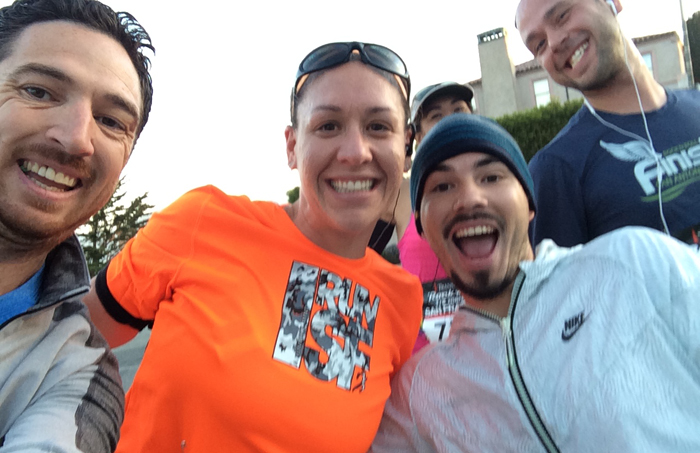 Then we got to the Golden Gate Bridge and this was where the party was about to be broken down. Before the race, our group made up largely of runners that met each other on the #SA2LV run (where we ran RnR San Antonio in the morning, then flew to Las Vegas to run again at night… all in one day. Bonds were formed and we rock, clearly.) joked around that we should take a group picture in front of the Golden Gate Bridge. Someone mentioned music. Then someone mentioned dancing… one thing led to another, and we decided to do the "hustle" to the Bee Gees. I knew exactly where we could do it… and we did.
Here is a video of the #SA2LV crew and friends doing the Hustle in front of the Golden Gate Bridge during a race like it's no big thing.

Someone had to record it, so I volunteered, which meant I only had to dance about half the time. I shot 30 seconds of it, then jumped in at the end. Nicely done everyone. Now back to taking pictures… because we have to do that before we start running, of course.
Eventually, we had to finish the race.
Finish time: 2:40
I was surprised when I looked at my watch at the end. I hadn't been paying attention to it throughout the course and was unsure of how long it would take us. It was honestly the most fun I have had running a race. I recognized a lot of local runners at the race and it was great to meet new and old friends along the course. But just because the race is over, doesn't mean the fun has to stop.
MORE PHOTOS!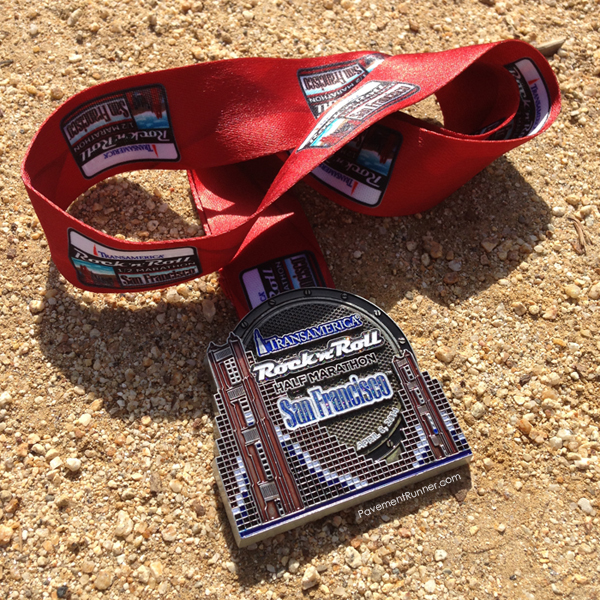 A HUGE thank you to everyone that made this race a great one. My apologies that I couldn't mention everyone in the photos above and I know that I took some more photos on other people's phones that didn't make it into this post. I think over 25 photos on a single post, especially on a 13.1 mile race says a lot… this race will go down in the record books as one of my most memorable runs of all time. It has nothing to do with time and had everything to do with the running community and the people who make it so amazing. The fact that it happened on my home turf makes it all the more special.
Thank you everyone.
THIS is why running is so much fun.