For the second year in a row, this race was exactly what it needed to be. Not all races are for time, or for challenges… sometimes they can simply be for the enjoyment of it. The San Francisco Rock 'n' Roll Half Marathon has been that for me over the past two years. Last year I ran the race with friends, stopped and took selfies, danced and just enjoyed being in good company. This year, it was a very similar plan, but with some slight variations.
The Shopping
With this race being in San Francisco, I had to get something from the expo. Rock 'n' Roll always has some great items available and Brooks was kind enough to hook me up with something to represent the city year-round. Available at most RnR events this year is the Brooks LSD Lite Jacket IV customized with each city (shown above and here on Instagram). The jacket is semi-fitted, windproof and water-resistant. It is also incredibly light, has reflective elements, a hood in the collar that can be ticked away and… wait for it… can be folded and packed into an invisible zip pocket.
With some other RnR races on the calendar, I can't wait to see what other cities' versions look like.
The Party BEFORE The Party
As usual, there were tons of selfies and group shots that happened before the race even started. With the course having some serious hills, the plan was to hang with these crazy folks for the first 3-4 miles, then open it up a bit and see how my legs felt along a very familiar, but challenging course.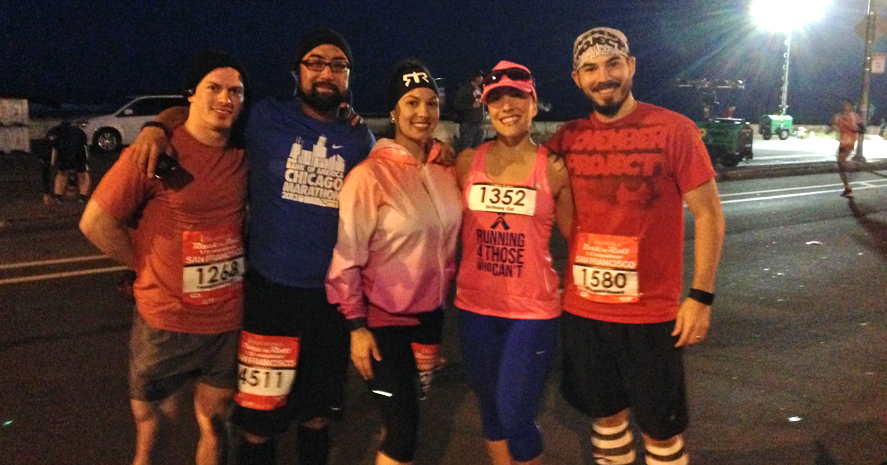 Mile 1: 10:20
Mile 2: 10:28
Mile 3: 9:28
The Party DURING The Party
November Project San Francisco was on top of Lincoln Blvd., aka that giant hill we all ran up, and threw down with the BEST cheer station out there (in my unbiased opinion). I pulled over for a bit and chatted with the NP crew, gave some solid hugs, high-fives to runners.
Mile 4: 20:36
Since we had a race to run, we kept moving forward along the course. Last year we danced in front of the Golden Gate Bridge and what might become a tradition, we did it again. It is clearly a crowd favorite when people run by and some even jump in to join our crazy… but no, our dancing has not improved.
Mile 5: 11:34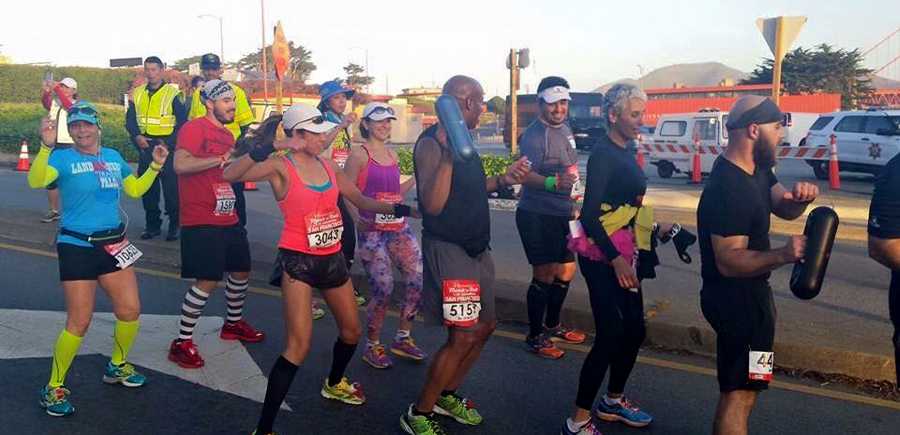 The Running
With the fun and games behind us, it was time to actually do some running. The next 4 miles were mostly an out-and-back across the Golden Gate Bridge. It can get crowded on there as we are running in single lanes each way. There was a lot of weaving, but I'm very familiar with maneuvering across the GGB. I decided to pick up the pace here and get in some quick miles. Last year I stopped to take selfies, but this year I just ran by feel. This is actually the first time I am seeing my splits and am very pleased.
Mile 6: 7:44
Mile 7: 8:17
Mile 8: 8:27
Mile 9: 7:44
Mile 10: 8:19
Finishing
Coming off the bridge, we were now directly in the sun along the Marina green and heading back towards downtown. With 3 miles left, I drifted back to a comfortable pace.
Mile 11: 8:58
Mile 12: 9:57
Mile 13: 9:10
Half Marathon: 2:13:24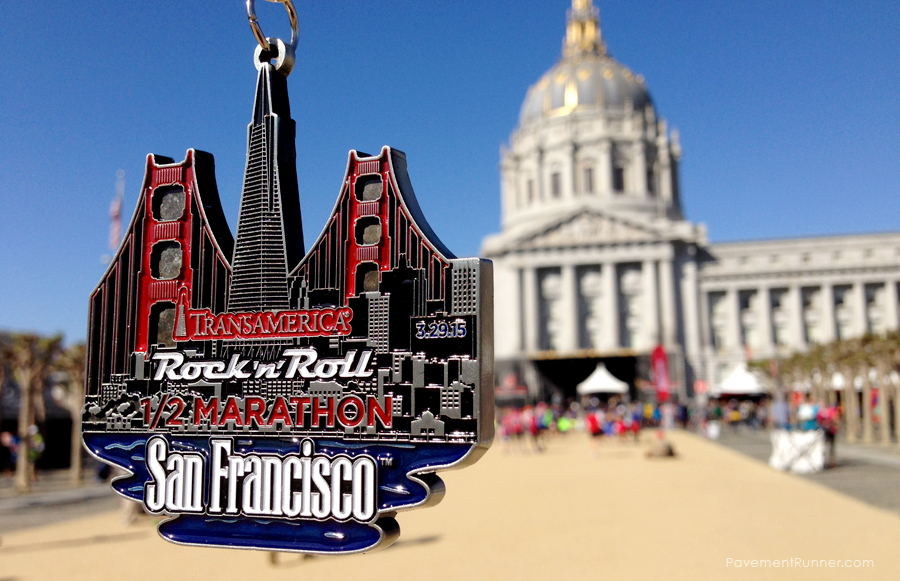 I was pleased with the overall time. Considering mile 4 was 20 mins., and mile 5 was close to 12 mins., I ran a pretty strong race on a challenging course. I finished Oakland last weekend in 1:55 and my guess is that without the stopping/dancing it would have been a similar time on a harder course.
From what I saw along the course, it seemed like everyone really enjoyed themselves and it makes me happy that people are enjoying running in San Francisco, which may be their first time experiencing the city that way. I'm looking forward to seeing everyone again next year and all of you as well… you know you want to.
* * * *
$15 off Rock 'n' Roll races: PAVEY15
See where RnR is going next.
Offer is good on all RnR half or full marathons in the U.S., except Las Vegas, or races with promo pricing.
* * * *
See you next year?