Last weekend I laced up my shoes, grabbed my phone and ran the San Francisco Rock 'n' Roll Half Marathon course. This year, they have given us a new route, which still includes the Golden Gate Bridge and is a point-to-point race with plenty of climb. After all, what's a race in San Francisco without some UP.
2015 Race Day: March 29
$25 off code: NPSF (expires 3/22)
The race starts on the edge of Golden Gate Park next to Ocean Beach. I'm not sure what the weather will be, but it is usually foggy and cold next to the water, so a throw away top for the start line might be a good idea. The windmill and Beach Chalet will be right there, both are staples of reference for San Francisco runners.
The good news is that the race starts out FLAT… for the first quarter mile. Then you make your first turn and get to see THIS:
For the next mile or so, you'll be running up little hills like the one above. They go up, then they level off, then they go up again. It may be in your best interest to approach the course as an uphill race. There are some small downhill segments, but there are few and far between. But at least you get to see cool houses like this one:
No joke. Pay attention to the houses you are running next to. There are some great buildings and so many different styles of architecture. You'll see more photos of houses as we go along, but I'm not doing the scenery justice. This is most likely not going to be a PR course for many, so I suggest taking a look around and soaking in all of San Francisco's diverse style. As you approach mile 2, you are entering an area known as Sea Cliff. It's a really nice (read wealthy) area and you'll enjoy large, quiet neighborhoods. Around the 2.25 mile area you are going to run right by a house that Robin Williams' once owned. We basically run right up to it, then make a right turn. You'll miss it if you are not looking for it.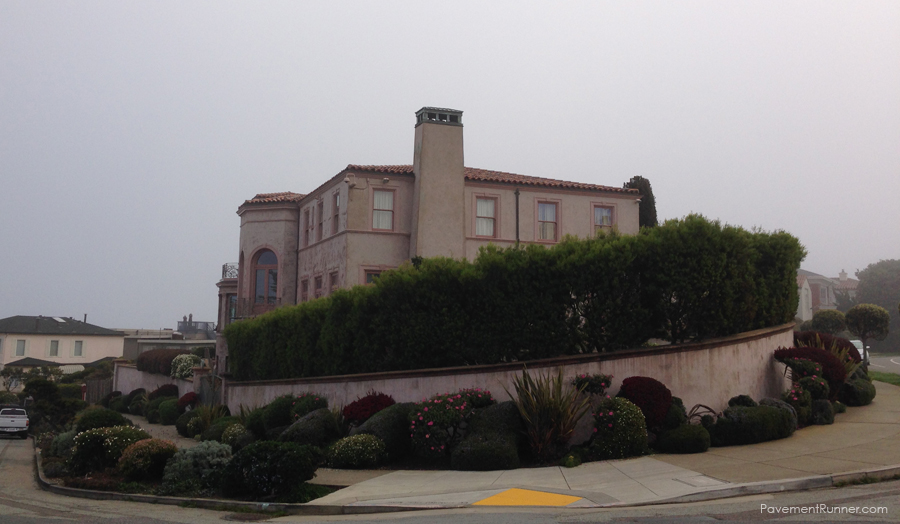 As we exit the Sea Cliff area and enter into the Presidio, you are going to come across the biggest climb of the course. DON'T FREAK OUT! But be ready. It's an intense climb that lasts roughly 1.5 miles. Just keep that in mind. It may seem like it goes on and on, but it's a reasonably "short" steady climb. On the day I was running, you can see how foggy it is, but you should begin to see the Golden Gate Bridge peaking out behind the trees (you may also get a glimpse in Sea Cliff if you look between the houses). In the open areas along the Presidio (miles 2.5-4), to your left is Baker Beach and the bay (see pictures below).
OK. Now you have made the climb up Lincoln Blvd and after another quarter mile through the Presidio you are ready for the reason you are running this course: THE GOLDEN GATE BRIDGE. It's going to come up quickly and you may be surprised when you make the turn and it's right there in front of you. The day that I was running the course there was a race — of course, seriously, all we do is race in the Bay Area. I wasn't going to cause any conflict with the race, so I didn't venture the 3 miles on the bridge (1.5 out-and-back), but have included some pictures from previous runs across it.
Here are my suggestions for running the Golden Gate Bridge.
If it's foggy, the road is going to be wet. DON'T SLIP and be aware of your footing.
If it's dry and clear, be prepared form some of the most amazing photo opportunities.
The bridge IS NOT FLAT. You are going to be caught up in it's beauty, but you are climbing/descending. Think of it as an arch (see 2nd pic below) that you go over twice. It took me several times running over this thing to realize that I wasn't paying attention to the up/down.
If you have your phone and are not local. Take at least a couple pictures. I suggest:
as you are getting on so that you get both towers and all the runners
a shot looking up at one of the towers (see 3rd below). Both towers are the same, since it's an out-and-back, you'll have 4 chances.
A shot from the Marin side looking at the bridge and SF (the 2nd photo)
If you want to see my GoPro footage from last year's race, check it out here. I run the bridge between at 40-seconds. This years course wont take you that far out and you don't run under it, so don't be concerned with that.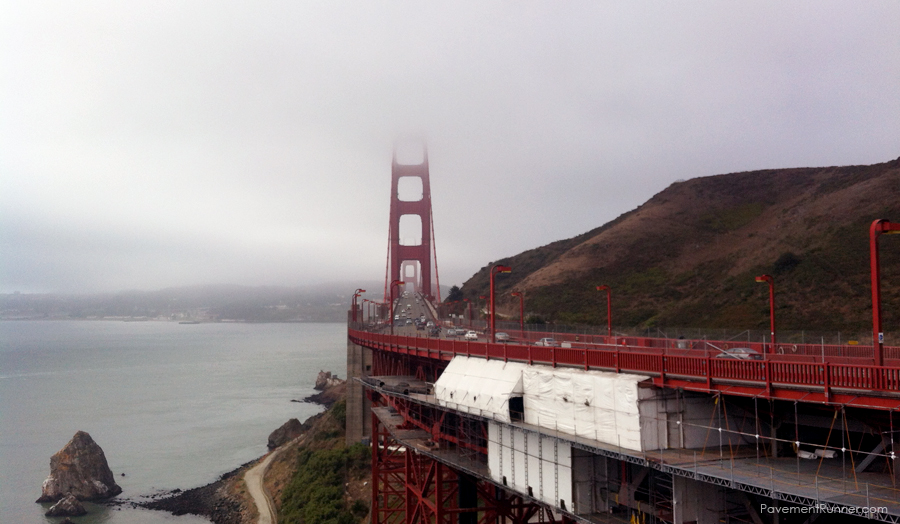 After exiting the bridge you'll be around mile 8. You are going to catch some quick downhill segments here and just in time. You are also going to get an amazing show of the skyline. You probably saw it from the bridge, but I love this angle.
Once you finish the downhill, you are going to get to the flattest section of the course along Crissy Field and the Marina (between miles 8-11). Take advantage and if you are looking to pick up some time, this would be the point. The big grassy area in the photo above is Crissy Field. There will be giant medal art sculptures that you'll either love/hate. They are an art installation that was put in place a year or so ago. You'll also be able to see the Bay to your left along with Alcatraz.
After Crissy Field is the Marina. Another really nice (read wealthy) section of the city. Before you see the boats pictured below, turn to your right and you might catch a quick glimpse of the Palace of Fine Arts. It will happen really quickly and you won't see it up close unless you turn your head 90 degrees to the right. The best way I can describe it is that it is JUST before the harbor where the boats are and at your very first traffic light after Crissy Field.
As you can see above: on your left you will have the Marina and Harbor and on your right you will have some really nice houses. You'll also get a closer glimpse of Alcatraz. Hopefully you also saw it form the Golden Gate Bridge, but here is another chance to snap a pic if you want.
You are down to your last couple miles and of course, it's time to start some climbing again.
You'll be running down streets that look like the above. It's similar to what you faced in the first couple miles with steady climbs. The one thing that is cool about mile 11-12 is that if you look to your left and right at intersections, you'll get some amazing views of the city. Take a look below. This is literally the left and right view of an intersection around mile 11.25.
The last mile has some turns and one really intense climb. It's a short block, but you can see that it's a pretty steep one. The good news is that you get to run back down it a few blocks later. After that climb/descent you get to run through a cool neighborhood with plenty of stores, coffee shops, places to eat and local flavor.
After that you begin a steady decline into the finish line area. At this point, your energy should be up and you'll be ready to finish. The finish line area should be pretty exciting, it's at Civic Center Plaza where you'll see City Hall, the Asian Art Museum, the SF public library and the famous Bill Graham Civic Auditorium. Behind City Hall is also the San Francisco War Memorial and Performing Arts Center.
And there you have it. 13.1 miles and run through San Francisco. Now you are able to get a glimpse of what to expect on race day and some of the sights that I get to see when I'm running around the city like a mad man.
One thing that I have to let you know… and I wouldn't be doing my job as a Bay Area runner and social-media-pop-culture enthusiast if I didn't tell you, but if you are up for a walk after you have rocked out a little bit and enjoyed all the finish line festivities — one mile East of the finish line is Alamo Square Park. Otherwise known as where the Painted Ladies are. You might not know them by that name, but look at the photo below and you'll know exactly what I'm talking about. It's a little bit of a climb to get there, but nothing as serious as what you just ran. It also offers a great view of downtown San Francisco, including the Transamerica Pyramid (you can't see it because I'm sitting while I took the below photo, but if you stand, you can see all of downtown).
To get there: Grove Street is right behind the Bill Graham Civic Auditorium. Just walk East down it until you hit the park (plus/minus 1 mile). It's that simple.
There you have it. My San Francisco Rock 'n' Roll course preview. If you are interested in running it, the code below works until the end of March when online registration closes. I'll be out there and I know tons of other runners that will also be running it. I'm expecting photo-madness to happen over the weekend, so you've been warned.
2015 Race Day: March 29
$25 off code: NPSF (expires 3/22)
Are you running #RnRSF?
Did you enjoy the tour?