In the Notes App on my phone, I keep a running list of races that I have completed (pun totally intended). It's broken up by distance and a line might read: #RnRSF: 13, 14, 15, 16 (being the years I participated). Sometimes I'm right on top of adding in a recently finished race, other times not so much. I just realized not less than two minutes ago that #RnRSF was my 40th Half Marathon as I updated my oh-so-important list. Yippie! Streamers fall from the sky and fireworks go off at the dining room table as I type this.
Let's take a look at what #RnRSF weekend looked like.
#WeRunSocial Shakeout Run and Meet Up

This was the first time that WRS partnered with a virtual race series and Fleet Feet SF to host a shakeout run and give people an option to earn a medal. Run Local Events is currently hosting a Resolution Restart for the month of April to get people focused or restarted on their resolution from the start of the year. Register and run/walk a 5K in the month of April, and they'll send you a medal (and it's a pretty fresh one). Since #RnRSF didn't have a 5K or a REMIX option, we decided to create our own (sort of). Signing up wasn't mandatory to be a part of the shakeout 5K and it was open to everyone.
Register for the Resolution Restart Virtual 5K ($25)
We had a great turnout. We started at the expo with a simple 1.5 mile out/back route. We finished at the expo and rolled right into the #WeRunSocial meet up. Medals were handed out, cupcakes were shared, and pictures were taken. I wish I had got a chance to talk to some more people, but there was so much going on and please forgive me if I didn't get to follow-up on my initial hello.
San Francisco Rock 'n' Roll Half Marathon

I'm a legacy runner for two races, and #RnRSF is one of them. As with previous years, I didn't have a race goal other than to run with friends and have fun. Before the race, I got to hang out with friends and fellow Rock 'n' Bloggers and before we knew it we were lined up and ready to run the hilly course.
I ran the entire race with @pointonemiles and @fitfam6 (which is always a guaranteed good time). We chatted, stopped and snapped a few pictures along the way, and the miles just clicked on by. The out-and-back portion of the Golden Gate Bridge is always a great spot to see runners coming/going across the epic span. I was glad that I got to see a lot of familiar faces, give/receive some shout outs, and of course, some high fives.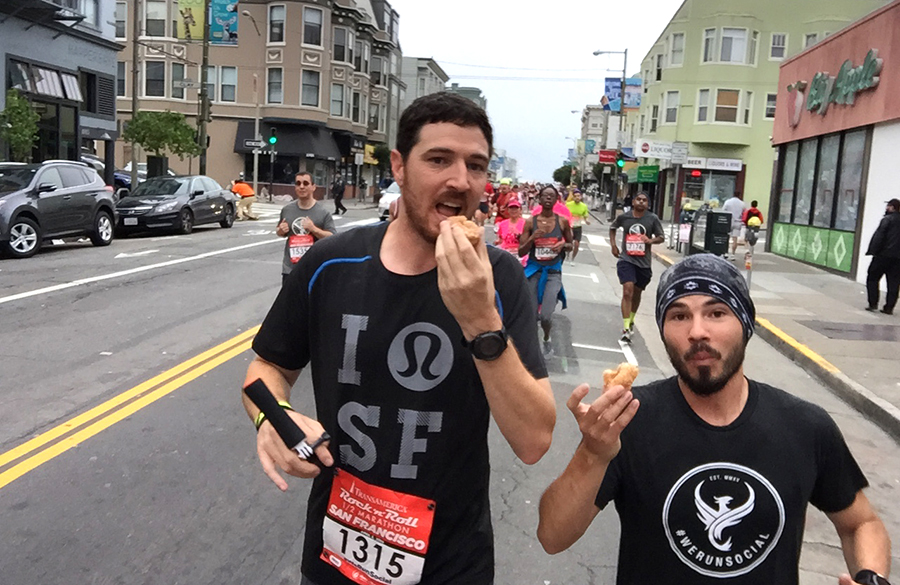 Somewhere along the last mile, a guy had a box of donuts and it only seemed polite to ask if I could have one. Then I heard @pointonemiles say "grab two." The guy said yes, so we had a last mile snack.
Also, @pointonemiles seemed to have a burst of energy at the end and when I commented about his sudden burst of speed over the last 400m, he says, "oh, you wanna go?" I, of course said NO. He claims to have heard GO and took off. I did my best to keep up with him, but he was off to the races clearly on a sugar rush from the donuts we ate not 5 minutes earlier. The below series of photos, kind of says it all, as we all are running full speed trying to chase down Hawley, with GIANT SMILES on our faces. Running can be fun, it's true.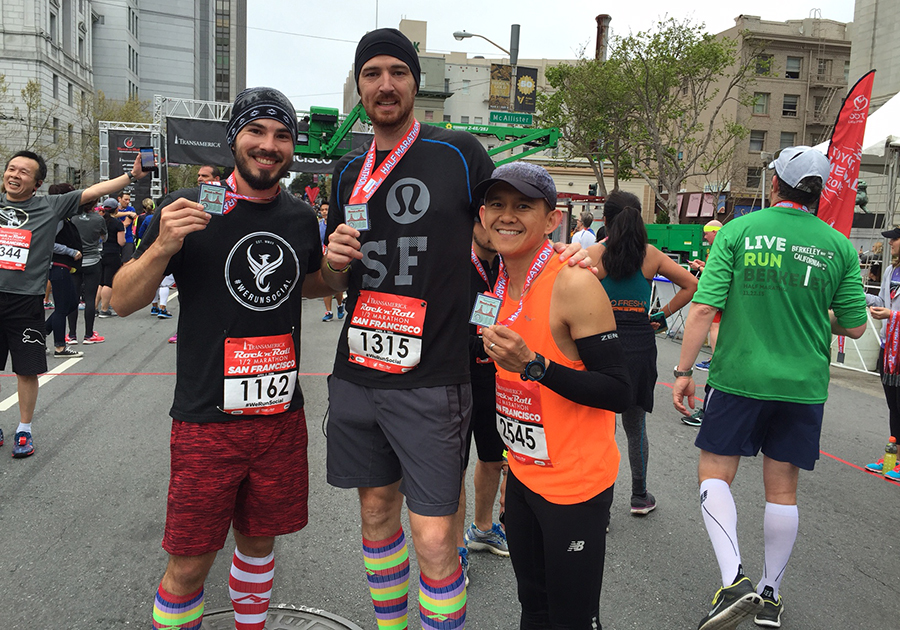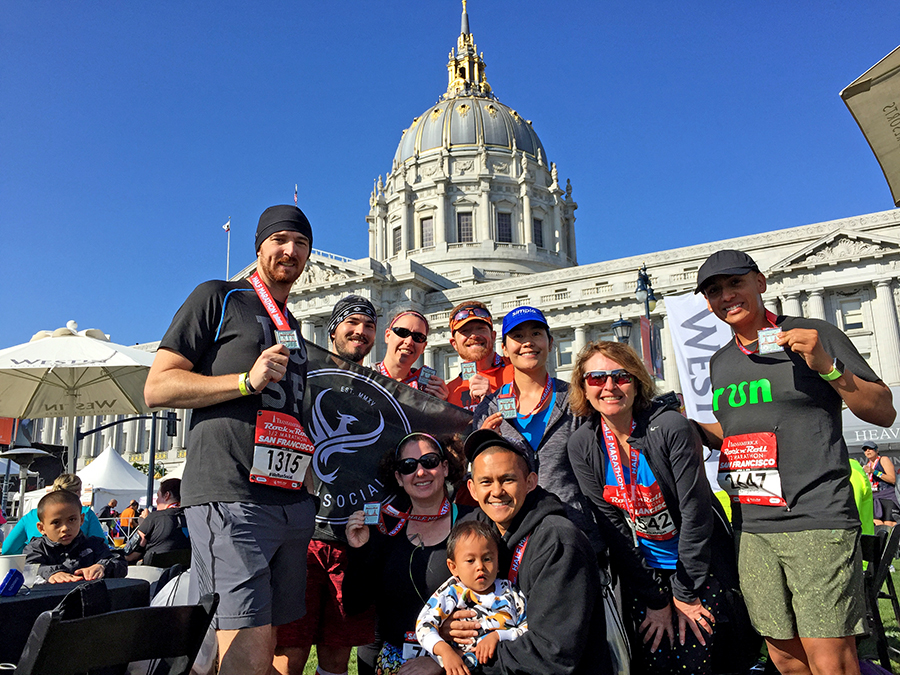 I've always finished #RnRSF with the same thoughts each year:
It's a hard course. Even being familiar with SF's hills, it's a lot of climb.
It's fun. We've always been fortunate with good weather and it always turns out to be a fun experience. You can't beat the view leading up to, including, and after the bridge.
Registration is only $50 right now for 2017 (3/26/17). I'll be there. #WeRunSocial will likely have a meet up, and $50 is an amazing price for a RnR event. Spots are limited for pre-sale and it'll close without notice. It always sells out too, so if you are kind of interested, might not be a bad idea to grab a spot now.
See you in 2017?