This is part 2 of the Rock 'n' Roll #SA2LV challenge, where I would run the San Antonio Half Marathon, followed by the Las Vegas Marathon all in a single day.
Previously on PavementRunner.com…
After a night of hanging and taking funny pictures with other crazy runners, I toed the start line at 7:30 a.m in San Antonio. Battling humidity and a couple of hills, I managed to finish under 2 hours leaving me 45 minutes to shower, change and catch a shuttle for my flight to Las Vegas (entire recap here).
We return to our recap at 2 p.m., on Sunday afternoon in Las Vegas — 2.5 hours away from the start of the RnRLV Full Marathon.
With San Antonio behind me, it was all about getting prepped to run 26.2 miles several hours after a half marathon and a couple of hours after a 3-hour flight. My biggest concern was how my legs would feel post-flight.
The original plan was to go straight to the hotel, eat and rest for an hour or so, then make my way to the start line. I got a ride from Jon (with some other SA2LV-ers) to the Tropicana which put me really close to the start line area. Because going to the LV expo clearly wasn't an option, SA2LV-ers could pick up their bib and leave their luggage at the LV start. Since I was so close, I decided to grab my bib.
It became apparent as time started to pass that I wasn't going to be able to make my way back to the hotel after picking up my bib. I had a mini-freak out moment and called wifey (who landed in Vegas that morning). I was feeling stressed and didn't want to be at the start line for 2 hours before my race. She calmed me down and talked me through it. Thankfully I had my luggage with me, so I had everything I needed to run. The only thing I planned on picking up before the start was Gatorade for my hydration pack. Wifey said she would grab it and meet me near the start. Crisis averted, stress level slightly increased.
With an 1.5 to go before the start, I got changed in a mostly empty parking lot as runners slowly started to file. I took my time and made sure that I had everything for the race and checked my bags at the SA2LV tent.
With me not going to the hotel, I wasn't going to be able to grab a bite to eat before the start of the race. I asked wifey to pick me up a turkey sandwich and it was sounding amazing as I thought about it stretching on gravel in a parking lot. I didn't ask her to bring it as by the time she met me near the start, it was going to be too late for me to scarf a sandwich. With a half in my pocket, the only solid fuel I had all day was that single slice of pizza. In between, I was snacking on peanuts, chips and hydrating. I wish I had found something more substantial at the airport, but nothing there seemed too appetizing.
When wifey arrived I had calmed down and was really happy to see a familiar and loving face. I'm grateful that she was (and always is) there for me.
With one last stop at the port-a-potty I started to make my way to corral 1 for my start line interview and a photo opp with the other SA2LV-ers.
As I exited the start area, there were TONS of people. I asked a volunteer "Is corral 1 this way?" He shook his head yes and wifey and I began to walk in that direction. I was cutting it close to my 4 pm interview and needed to hurry. Damn bathroom line. A few moments later, I looked around and something felt off. I didn't really see anything in front of me, but there were a bunch of people walking around me. Why are they all walking? Oh snap. I turned and faced the other way and realized we are walking the course. The half of the half (another race distance option) walkers started before the official start and we were currently walking in the wrong direction — AWAY from corral 1. From where I was standing, I could barely make out what looked like the start line. I looked at my watch and realized I had minutes to make what looked like a mile plus long run. I kissed wifey goodbye and said I had to sprint if I wanted to make my time slot. It sucked, because I wanted her to be with me in "my moment," but she understood. One more kiss and I was off… there I was, sprinting through runners like an idiot minutes before my marathon and hours after my half. Can someone say warm up miles? I'm sure I clocked a 6-7 minute pace.
I arrived at the start line a few minutes after 4 and made my way to the announcer to let them know I was "here." Luckily, they still had time for me and I was brought up on stage to talk to the crowd and answer a few questions. Wifey made it to the start in time and I could tell she has high-tailed it just for me. #blessed
A few minutes after that I was back with the SA2LV-ers to take some start line pics of race number 2. The second flight was also at the race, but were not going to be able to make it to corral one for the start of the race, hence the reduced numbers in this photo.
I also spotted a familiar face. Monica of RunEatRepeat.com always stands out in a crowd with her amazing smile and fiery red hair. She was with Sarah of SkinnyRunner.com (she also had a 39 mile day, but slightly different from the way I did it – read about it here), who I was happy to officially meet in real life. She would run the race I wanted to and finish around 3:45 – should have stuck with her pace.
I also got to finally meet Andrea Barber. We have been at the same races quite a few times recently and was excited to wish her luck before she conquered another RnR race. Fresh off the Nike Women's Marathon in October and a fun costumed run in LA, she was set to continue the good times in Vegas.
With high-fives all around for the Sa2LV crew, we were off to finish what we had started. The sun was still out, but it would quickly go down so that we could own the night and run around Vegas like a bunch of crazy runners… and it goes a little something like this:
Mile 1: 8:20
Mile 2: 8:30
Mile 3: 8:30
Mile 4: 8:47
Mile 5: 8:44
Look at that! Pretty good right? I wanted to try to hold 8:45 as long as I could. I wasn't too channeled into my watch and sort of just running by feel. I secretly wanted 3:45, which would have been a PR for me… ya, I'm that kinda crazy. Plan A was 3:45. Plan B was sub-4. Plan C was survive. One of those three was going to happen on race number 2. I knew my pace would slow to 9 at some point (and maybe more), but if by some miracle, 3:45 was a possibility on this reasonably flat course, I was going to give it a go.
Mile 6: 8:43
Mile 7: 8:51
Mile 8: 9:29
Mile 9: 8:43
Mile 10: 8:46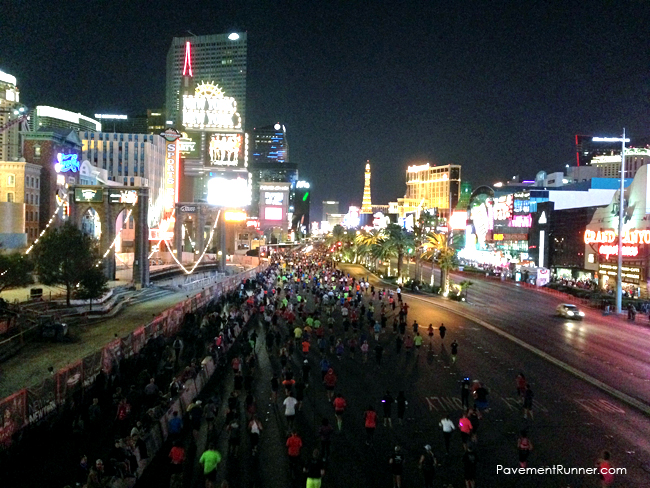 After mile 6 we were pretty much through and past the strip. It was pretty cool to be running down the strip with all the neon lights. The street is really wide, which makes sense, but I guess you don't really realize it when you are on the sidewalk. There were plenty of people along the strip cheering you on and enjoying the Las Vegas "night life." My pace was starting to slow a little bit, but I'm still on target. Around mile 7, I realized that I'm halfway through my 39 mile adventure… a weird thought to cross my mind, but I've got plenty of mile left in THIS race. Legs are feeling heavy and it's way too early for that.
Mile 11: 7:57
Mile 12: 9:13
Mile 13: 9:31
Total time at mile 13.1: 1:58:04
I have no idea what happened at mile 11. Like I said, I was running by feel and trying not to pay attention to my watch too much. Looking at the map, there is nothing significantly interesting at that mile that would have caused a sub-8 mile. Maybe the GU I had at mile 8 kicked in and I'm enjoying the boost in energy. I do know that as I approached the halfway point of the marathon, I could feel my pace really starting to slow… which makes mile 11 even more strange. When I saw the 13.1 clock, I made a mental note that I ran the first half at almost the same time as my San Antonio half (1:57) in the morning. That's pretty cool.
Mile 14: 9:52
Mile 15: 11:44
Mile 16: 11:20
Mile 17: 10:57
Mile 18: 10:33
These miles look exactly how I felt. You know how you get that "tired" feeling around mile 18 of a marathon? That feeling of "hitting the wall?" Well, I hit the wall around mile 8 and I've been having a mental battle ever since. I didn't want to admit it, but I knew after the first 7 miles that my pace was going to slow. For the last 10 miles I've been focussing on running as long as I can and walking when I need to. Once I took that walk break at mile 13.1, my body liked it a little too much and walking started happening more frequently. I'm in survival mode now and just continuing to move forward as best as I can. I've texted wifey at this point and let her know that sub-4 is not going to happen and will update her closer to the finish.
Mile 19: 10:52
Mile 20: 11:27
Mile 21: 10:51
Mile 22: 11:25
It's been an all out effort to hit the home stretch. The times are not showing it, but I would much rather have been walking these miles. I'm trying to keep moving forward and getting some solid stretches of running, but nothing that is lasting more than a 4-5 minutes. The walk breaks are helping and I'm feeling pretty good about how I'm continuing forward momentum. At no point in this race have I ever wanted to stop or call it quits… it's just a game of running when I can and checking off miles.
Mile 23: 10:22
Mile 24: 9:19
Mile 25: 9:56
Mile 26: 9:49
Finish time: 4:17:07
At mile 23, I texted wifey and let her know I would be coming in around 4:15. I knew I had a strong (all things considered) 5k left in me and I'm happy with how I finished the race. Obviously not the splits I wanted 1:56/2:21, but I finished both races and did so injury free and with a smile. Along the course, I had some people congratulate me on SA2LV (because we were wearing special bibs) and I came across a couple of friends from social media. It was a real energy booster to have people say hi and wish me luck and call me crazy.
When I realized that my day was finished, I was drained. Physically and mentally, I felt okay, but maybe it was just a sense of relief that came over me… now I could relax. My legs were definitely fatigued, but I was walking around fine. I knew that I needed to get some more fluids in me and definitely some fuel. 39+ miles on a slice of pizza, snacks and GU energy gels is not the way to do it.
After reconnecting with wifey post-finish line, I had to make my way to the SA2LV tent to get my luggage and my finisher swag. I picked up my official LV shirt, commemorative SA2LV medal and my Rock Legend Heavy Medal for this being my 7th RnR race of the year. When all was said and done, I had racked up 5 medals in one day.
Post race, I met up with Andrea again and her friend Lily. We chatted about how our races went (they ran the LV half in fishnet stockings and corsets — and you thought my run was tough?). I was happy to get some food in me, but wasn't as hungry as I thought I would be… although I did throw down 2 pieces of pizza and half a sandwich. The pizza thing wasn't intentional. I actually don't eat that much pizza, but I guess it was a theme for the day.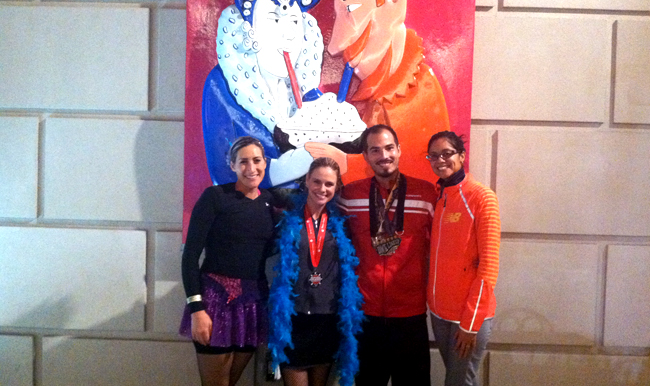 At the end of the night, I didn't throw on a bomb-diggity suit and go to an amazing after party at midnight or hit up a club or bar… it was back to the hotel for a much needed shower and some sleep in a comfortable bed. That's right… I party in Vegas like a rock star. HA!
The following morning, I was moving around better than I thought I would. My feet were tender and had some minor blister issues, but nothing serious. I think I expected to be walking around like a zombie, but I was walking limp-free and able to take stairs (up and down) like a champ. BTW, I consider that a win. I was able to meet up with some friends that were still in Vegas and it's always great to see familiar and new faces.
Other notable experiences in Vegas:
At 11 a.m. the following morning, I had a BBQ and bacon burger for breakfast. #RUNgry
Wifey had pancakes (we are the perfect team).
We did NOT go to a bar/club — a first for us in Las Vegas.
Although we did have one of those giant frozen margaritas, so I guess that's a bar visit?
Wifey lost $80 in slots.
I won $100 in blackjack (we are STILL the perfect team).
We saw a Cirque du Soleil show: Zumanity
And we were in bed before midnight on both nights.
All in all, it was the perfect way to end my 2013 year as Rock 'n' Roll Ambassador. I originally signed on to run all 5 California races and walked away with setting a PR at the 1/2 marathon twice. It then grew to the big finale with 2 more races and I accomplished something that only 79 other runners finished: run 2 RnR events, in 2 cities, in 1 day. It even got us into the official Rock 'n' Roll SA2LV Hall of Fame.
Special shout out and thank you to everyone on social that sent me well wishes before, support during and congratulations afterwards. Being able to read all of the messages and likes and shares over the weekend, really did make me feel like we are doing this running thing together. I can't believe the amazing connections I've made through running and social. It truly is amazing. Thank you. I'm continuously inspired and motivated.
Did you enter my GIVEAWAY that is perfect for those that love some BLING?
And that's a wrap. Thoughts?