Awhile back, I posted a review for Mondetta Performance Gear, or MPG. In the comments, a lot of people suggested that I should be a spokesman or do a photo shoot in their gear…

HERE IS MY CHANCE!

MPG is doing a "messenger search." The winner will go to Seattle for a photo shoot and be included in their 2013 Spring Catalog.

All I have to do is be among top  in votes and I'll be entered for a chance to move on to make the top 10.

All you have to do is CLICK on my photo on their FB PAGE: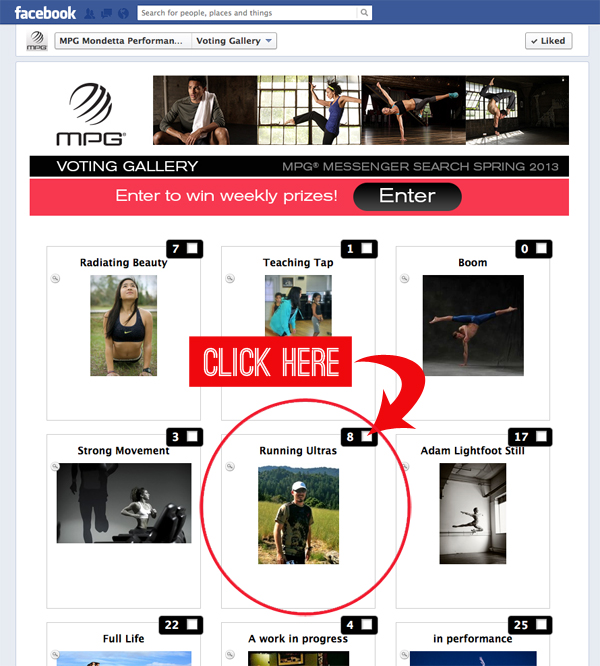 Here are 5 reasons I'm asking for your vote:
I already train in their gear. I'm wearing their SPIN bottoms right now after running 5 miles in their SOAR shorts.

You said I could do this, let's see if it's possible.

Last time I was in Seattle, I messed up my ITB at a marathon — let's make my next trip BETTER THAN THAT.

The photo shoot would take place before I run my next 50 miler. I'll most likely need a couple days of rest.

I'm an everyday person, just like YOU. I'm no super model — just a regular guy training to run far. Really far.

Voting ends Saturday!

I'm currently on page one with THIS photo (of me during a 50k) titled: Running Ultras




There are also some other familiar faces you may recognize. VOTE for them too! That's right. You can vote for more than one person, I did!

Thanks again. Hopefully you have a couple seconds to vote.


CLICK HERE TO VOTE!
Oh ya, if I am selected to be among the top 10, I get to make a video. For that reason alone, I hope I make it. You know those are always funny.
One week to go. I can do this, right?

Advertisement: