SPIbelt sponsored post: the messenger bag was provided at no cost and I purchased and have been using the SPIbelt a most of the year. All opinions are my own.
I've been running for almost 7 years and as my running world has progressed, I have gone through several iterations of what I use to carry my "needs." From hydration, to keys, to fuel, to phones to IDs and cash, there is usually something that I have strapped to me to carry what that specific run calls for. Currently for hydration, I have 2 hydration packs (small and medium) and I just retired my water belt a couple of months ago. Since the beginning of the year, I have been working on relying more on course hydration and it has been working well.
But that leaves me with  a question: Where do I hold my other items, like my ID, car keys, etc.?
I've been using a SPIbelt for a while. I saw it at an expo awhile back and it was the perfect size to hold my phone, ID and keys. It goes around your waist and doesn't take up much real estate. If you take a look at all my past race photos for this year, if I'm NOT wearing a hydration pack, I have a SPIbelt around my waist. It's where I keep my phone so that I can take selfies and photos along that race — yes, that's my secret. I had it on in Chicago this past weekend for BOTH races.
SPIbelt (Small Persanal Item) reached out to see if I would review one of their new products: a messenger bag. Since I was already a fan and was using their original product, it was an easy yes.
SPIbelt Messenger Bag
Essentially, it's a larger version of the original SPIbelt that goes around your chest with an additional (removable) pocket that goes in the front. The idea behind it is to hold larger items using the same "expandable" technology. I've used it several times when I'm out and about with the First Lady. It can hold her snacks, her jacket and then I can put my phone, keys and wallet in the front pocket.
"Cross-body, one-size-fits-all messenger bag inspired by the Original SPIbelt. Our messenger bag will expand to easily hold a wallet, water bottle, towel, snacks and most tablet PCs."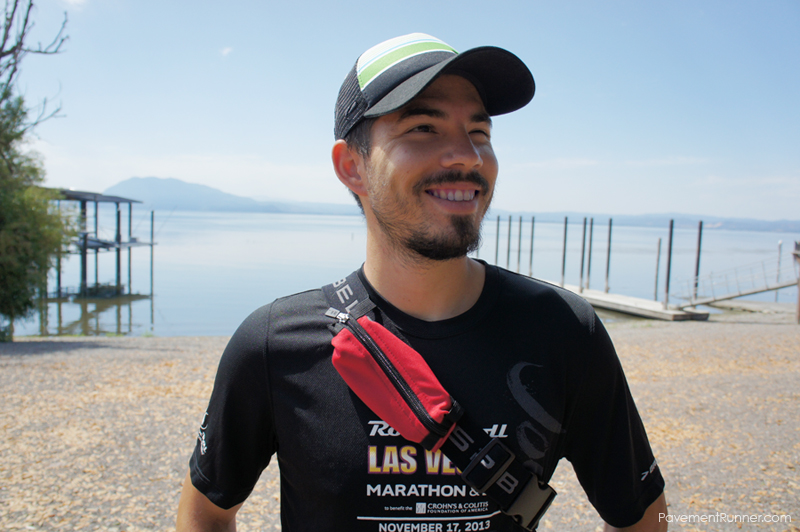 Here are the specs:
Large Pocket expands to 10″ x 8″ x 2″
Small Pocket expands to 7″ x 4″ x 1″
Chest straps extends to 35″ through 90″
Available colors: red, blue, black, gray
Photos and additional info here
Since I was already a user and fan of their original SPIbelt, it was an easy transition into using their larger messenger bag. As a dad, it's also a different way to carry around my daughter's essentials and my own. It also works out great when we only have a few items and we don't need to carry around a bulky backpack.
In the above photos, I was able to carry my phone/ID/keys in the front pocket and in the back: a water bottle, snacks and shirt for the First Lady. She's playing in the park and didn't want to be bothered for a photo opp. LOL. I really can't compete with the swings.
What do you use to carry around your needs?