When you look at a calendar and start marking down distances you plan to run in the upcoming weeks, sometimes there are certain days you just look at and say "ugh." It's just something you know you are not looking forward to, but understand that it must be run in order to get you that finish line.
When I built my calendar for the Phoenix Marathon, there were a couple of those "unfortunate" days scheduled. One was a couple of weeks ago when I had a solo 18-miler planned; the other was this past weekend when I had a solo 20-miler marked down.
The day after my 18-miler, I looked at Saturday's 20 like it was the plague. With a quick search on the interwebs, I found a local trail race in the Marin Headlands through Coastal Trail Runs. The cool thing about trail races in the Bay are that they are reasonably priced. So, instead of doing a solo 20-miler, I signed up for a trail marathon 6-days out. Makes sense to me.
Leading up to this race, my longest distance was 18 miles and I was a couple of months removed from the CIM training and finish line. This distance was going to be a test to the legs, and with the elevation gain/loss (almost 5,000+ ft), this day was going to be all about getting in the distance and crossing the finish line safely.
Disclaimer-thingy
In all fairness, I have been running a long time, am very familiar with how my legs respond during the training cycle (although race day is another story), and know what my body can handle. Jumping from 18 to 26 and adding elevation is something I would never suggest. One of those "what I say, not what I do" type of things. With this being a 13.1 mile loop done twice, knowing some of the course, and understanding that walking/hiking would be done, were important factors in making the decision. And yes, a decent 20-miler is better than a struggling 26.2, but for me, the latter was a better option on this particular weekend.
Golden Gate Trail Run
With little fanfare and exactly on par with the trail running scene, a semi-large group of us gathered at a gate entrance to start the race. It was a mix of people doing the half and the full, with the majority doing the 13.1 mile option. Those doing the 50K option had already left 15-minutes prior. We were hit with an elevation gain right away and the race pretty much started out with a walk. In looking at the course elevation there were two big climbs/descents. I kept my typical trail strategy and ran when I could, and walked when I needed to.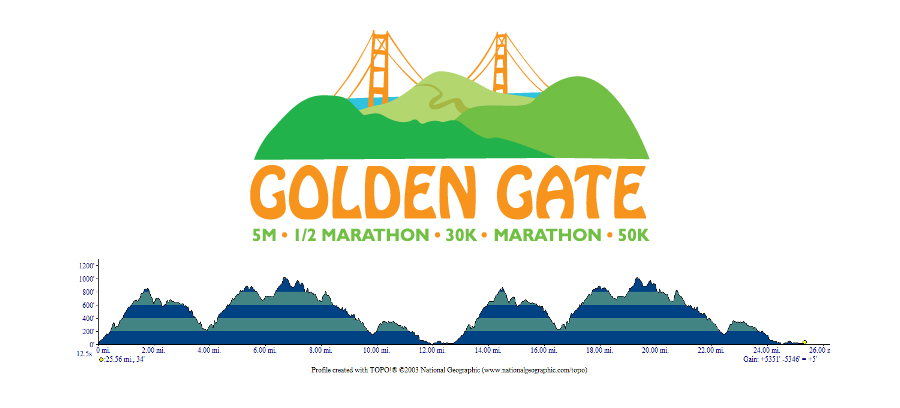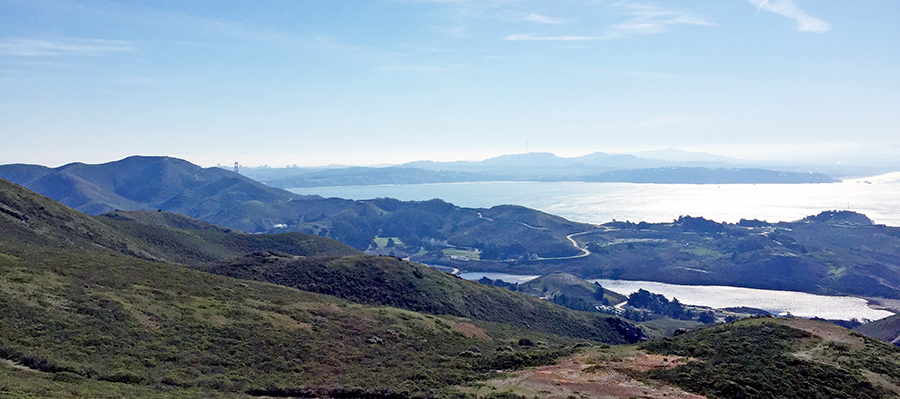 The first loop went by pretty comfortably. The start of the race was cold/windy, but once we were further out on the trails it turned out to be a gorgeous day: sunny with a little wind. There were 2 aid stations along the course and a third being at the end of the first loop. It was a great way to break up the course: essentially run 4 miles, aid station, run another 4, aid station, then the last 4 and an aid station before you did it all over again. Shout out to the dude holding the beer with his medal that said to me (paraphrasing) "it must suck to have to go do that loop again." I offered to switch him places and even hold his beer, but he wasn't having it. Next time maybe.
The legs felt good at the halfway point and I was feeling semi-confident heading into the second loop, but understood that we were approaching uncharted territory with the distance and elevation. The "ups" pretty much stayed the same (walking when needed), but the "flats" and the "downs" were the ones that slowed in the later miles. I could feel my quads starting to whimper from the beating on the down, so I pulled it back a bit to make sure nothing was too thrashed, remembering that this was a training run and the focus should be on Phoenix.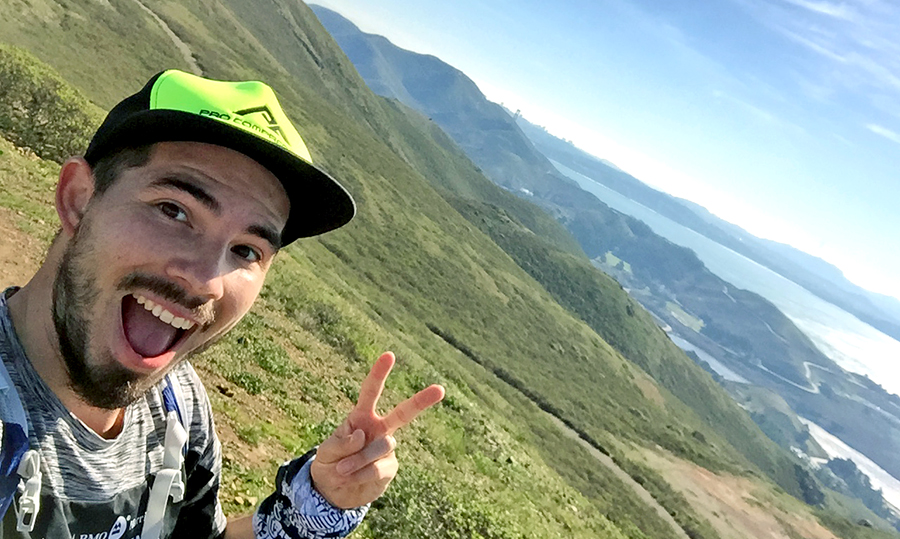 I crossed the finish line around 5:20, slower than I had hoped for, but pleased with how well my body responded. This was also my first time running in the Pro Compression "elites" and I friggin' LOVED them. They have little bit more padding on the bottom (similar to the lows, which I always run in) and some increased compression in the calf. Everyone that I have talked to raves about how awesome they are and I agree completely.
Golden Gate Trail Run (Marathon)
5:20:52
23/51 Overall
3/5 Age Group
After the race, I made my way to the Golden Gate Bridge for some quick photos and views and a couple of runners spotted me snapping pics with my medal. We chatted for a bit and one of the runners, Brandon, was a photographer. He snapped the featured photo at the top. The running community is amazing. Take a second to check out his work, it's stunning.
Up Next:
Phoenix Marathon, Feb. 27
Full: Sold Out
Half: Limited Spots remain
10% OFF code: PAVEY10
#WERUNSOCIAL meet up
Sponsored by Pro Compresison
Friday, Feb. 26 at 1PM
Pro Compression booth at the Expo (GIVEAWAYS!)
Hosted by @PavementRunner and @RunEMZ. aka #runpaveyemz
Hashtags: #werunsocial, #phoenixmarathon, #itsgoingdownatphx
Have you ever signed up for a race (any distance) as a training run?