Check out the video to learn more about NatureBox
I also recommend watching it until the end… me and Mika train for the Olympics.
I'm pretty excited to share this with you. I run a lot of miles… but I don't necessarily eat "healthy." It's something that I have started to become more aware of through fellow blogger's posts. When I was asked by NatureBox if I was interested in trying out their product, it immediately grabbed my attention. Their mission is to get YOU to eat healthier and that is something I need help with. I'm training for my first 50 mile race at the end of the year and drinking a coke at 3 p.m. because I'm "crashing" isn't healthy and isn't helping the cause. As you can see, this is a perfect opportunity for me to improve my snacking habits.
Here is a quick rundown of what NatureBox is:
Discover a Healthier You
NatureBox helps you eat healthier without needing to change your eating habits. We focus on snacks because that's the easiest habit to change.
Food You Can Trust
Every NatureBox item is carefully sourced and nutritionist approved. Everything inside your NatureBox will be guilt free so that you can feel great about what you're eating.
Together, We Give
For every NatureBox sent out, together we're helping to feed the hungry. NatureBox donates one meal for every box to feed the over 14 million children in America who go hungry. We believe in doing good and eating well.
Each month, NatureBox will send you 4-6 different snacks that contain:
No High Fructose Corn Syrup

No Partially Hrdrogenated Oils

No Trans Fats

No Artificial Sweetners

No Artifical Flavors

No Artificial Colors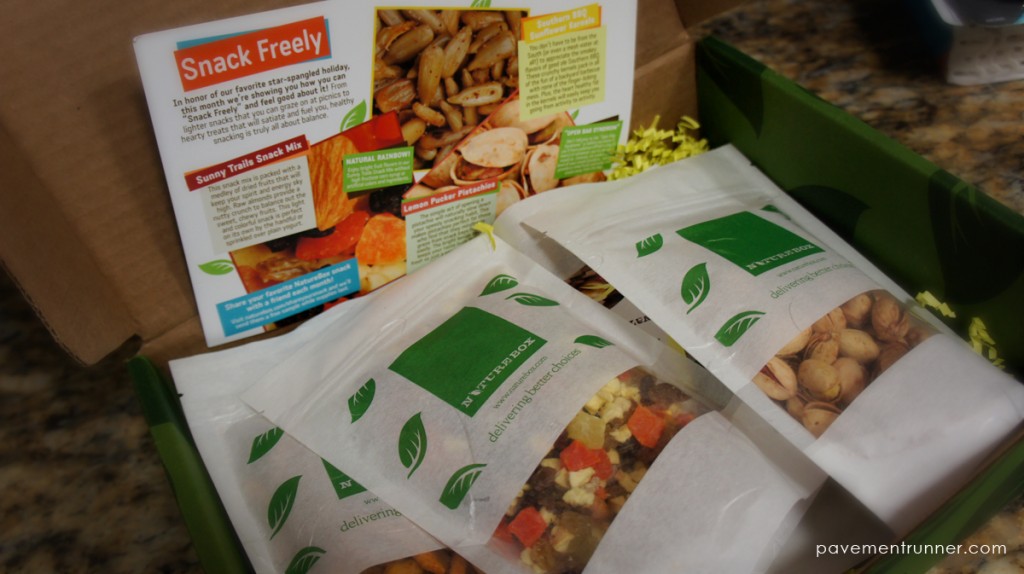 Here is what came in my July Box, titled "Snack Freely":
Zesta Fiesta Mix (snack mix with a kick), Sunny Trails (medley of dried fruits), Lemon Pucker Pistachios, Garden Tomato Crunchies (almonds with a tangy summery tomato flavor) and Southern BBQ Sunflower Kernels.
So far I have devoured the Sunny Trails and the Garden Tomato Crunchies and anxiously awaiting to open the others. I don't think they'll make it through the week as I want to try them all and I want to try them now. But what's cool about the snacks is that you don't need to eat them right away. The packaging keeps them fresh for a really long time and they are easily portable for you to travel with. I'm keeping them at my desk at work to avoid the 3 o'clock trip to the vending machine. If you need another reason, they are also a Northern California company and I love supporting local businesses.
Here comes the fun part.
NatureBox is so confident that you will love their monthly boxes that they'll let you try their boxes risk free. If you are not 100% satisfied, let them now and they'll issue a refund. Not only that, they have given me one box to share with you. That means it's GIVEAWAY time:
One lucky winner will receive their very own NatureBox.
Details:
It will be the next month coming up, not the same box listed above.

The winner must have a shipping address in the US.

At this time, NatureBox is unable to customize their NatureBoxes for specific dietary needs or personal preferences.
Here is how you can enter to win:
Leave a comment as to why you think NatureBox could help your snacking habits
For 3 additional entries (leave a separate comment for each):
Not required, but would be super cool if you did. Sorry, this won't land you an extra entry, but it wall make you my new best friend.
Entries close Sunday, August 19 at 8 p.m. (PST) and a random winner will be announced Monday morning.
There you have it. Be sure to head over to
NatureBox's website
to take a look at previous boxes and learn more about how you can snack healthier.
Advertisement: