Two quick things on this lovely Friday.
First: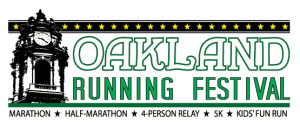 Early Registration for Oakland Running Festival ends on Saturday (4/6/13).
I've run all 4 years and with next year being the 5th anniversary, they are planning big things. This is the lowest price registration will be, even with a coupon or promo down the ride. THIS IS THE DEAL. You've read the race reports about how I've PR'd on this course (twice), how I've run in costume and how much I really enjoy it. I'll be out there for 2014, so hope you join me.
March 23, 2014
Full: $70 (until Sat., $95 after)
Half: $60 (until Sat., $75 after)
4-Person Relay: $180 (until Sat., $200 after)
Click here to register and join in on the fun!
Here are some photos from last month's Oakland Marathon PR.
Second:
The First Lady turned a year and a half, or 18 months. It is stated often, but it is correct: time flies. It's been a great journey and I'm looking forward to things to come. She is growing up so quickly and the days of her sleeping for hours on me are no more. But they are replaced with moments like these:
That's your two things for this Friday.
I'm running the Inaugural Rock 'n' Roll San Francisco Half Marathon on Sunday. I've decided to go with the GoPro attached to my head and am 99% sure I'll be wearing an orange shirt. Keep an eye out and say hello if you spot me. I'll be taking it at a comfortable pace around the 2:15-2:30 group.
I'll also be at the expo on Friday around 12-1230 with some friends to meet-up. Hit me up on TWITTER if you'll be there as well.
What are your plans for the weekend?
Did you get a cupcake when you turned 18-months old?
Advertisement: