The following post is sponsored by FitFluential LLC on behalf of Mizuno.
It's time for this endurance runner to work in some speed… and what better way than to Wave Sayonara with Mizuno. See? See what I did there?
On July 5th, Mizuno will be releasing the much-anticipated Wave Sayonara shoe. You may have seen them in twitter or instagarm with the hash #wavesayonara. I've had them for a week or so and have already had a few workouts in them. First off, LOVE THE COLORS. I'm all for bright, colorful shoes, so these were right up my alley. Love the pattern across the entire toe box and along the sides.
First up, let's look at a custom workout I've created to highlight how fun these shoes can be.
I call it the Hall and Oates Workout (pinnable image at the bottom of the post). It's built out of a simple speed workout on the track that is fun and intense. In the video, I'll show you how to do it once, then you are on your own to repeat as needed and dance as necessary. (FYI: the dance segment is more of a recovery segment, but it's WAY more fun to try and dance).
Now to the technical stuff.
The Mizuno Wave Sayonara is a light-weight trainer coming in at around 8.1 oz for the men and 7.1 for the women, depending on shoe size, of course. As the latest shoe to urge you to experience mezamashii running, this shoe is built to bring out your inner speed demon. There is a nice play on words with the title, don't you think?
I've run in these a couple of times and I definitely noticed the light feel of the shoe. It is now one of the lighter shoes in my shoe stash. In fact, it's the "lightest everyday training shoe" in the Mizuno line. As you know, I typically use a stability shoe for long distances, so this is going to be a speed workout shoe or used for shorter distances for me. Thankfully, the Wave Sayonara has a "euphoric foam midsole" designed to provide proper cushioning without adding on the ounces.
Mizuno Wave Sayonara — Everday Fast
Versatile and performance neutral with "as-needed" support elements
U4ic midsole delivers optimal shock attenuation, durability, and superior ride that is 30% lighter than AP+
U4ic is innovatively light and well cushioned
G3 Sole features lightweight, superior traction
Mizuno Wave Technology provides the perfect balance of lightweight cushioning and stability
Blown rubber sole for optimal flexibility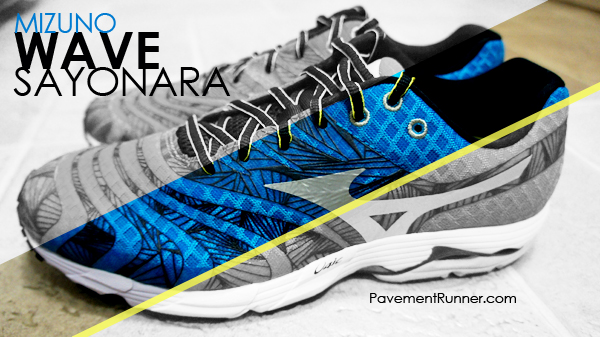 In comparison to some of my other neutral light-weight shoes, I can feel the added cushion while also taking advantage of the light feel. I could definitely see myself using these on short runs, but also testing them on longer runs up to 8 miles. These will be in heavy rotation for my lunch runs along with any 5k or 10k runs.
Helpful video to learn what it means to experience Mezamashii Running:
The meaning of a Mezamashii Running
Here is the pinnable image for the video workout above:
What did you think of the shoes?
What did you think of the workout?
Advertisement: