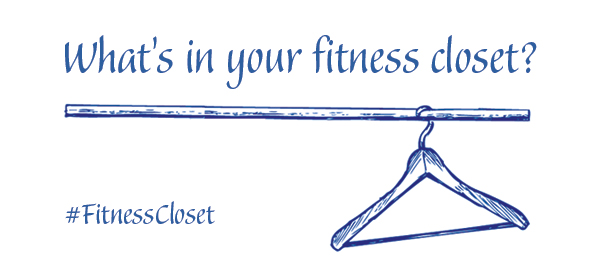 I'm linking up with a bunch of fellow fitness friends and bloggers and we are taking a peek inside of our fitness closets! Clearly we all have an addiction: either to shopping, or to fitness… maybe both.
See link up at the bottom to see who has what in their closet.
First off, you don't want to see my closet. The clothes are folded and neatly organized… yes, I'm THAT guy, but like most closets, there are monsters and goblins and ghouls, oh my. So instead, you get some styled shots. Let the games begin.
Shoes:
Might as well start with the fun stuff! I have lots of shoes, but for various reasons and purposes:
Adidas Climacool: these I have only used for walking around in.
Asics Kayanos: (2 pairs) these are my long distance shoes. I've run in Kayanos for over 6 years and they have been on my feet for all 14 of my road marathons.
Asics Gel Blur 33: speed work and short distances.
Mizuno Wave Cabraken 3: Trail shoes. I've run a few miles all the way up to Ultras in these. My trail shoe of choice.
Mizuno Wave Inspire 8: mid-to-long distance. Typically 7-8 miles, but have hit upper teens on occasion.
Reebok RealFlex: walking around in, but anxious to try on the track.
Saucony Guide 6: these are my #RUNch shoes. Distances up to 8 miles, including hill training.
Saucony Virrata: My transition into finding a Natural Foot Plant. Distances up to 7 miles.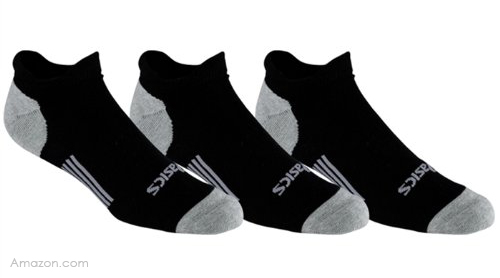 Socks:
Asics Hydrology: (black, low-cut) 13 pairs. The only sock I run in. I buy in bulk and don't mess around.
Injini: 1 pair, just received, have not tried on yet.
Swiftwick Aspire Zero: 1 pair, really comfortable.
Compression Socks and Sleeves:
Injini: 2 pairs, one shown because I'm wearing the other right now.
Compression Socks: 1 pair, the brighter the better
Compression Calf Sleeves: 2 pairs, one bright, one black
CWX: 1 pair, use these to sleep in while recovering
Zensah thigh sleeves: 1 pair, not shown, worn at night for recovery
Compression Shorts:
Adidas: 3 pairs
C9 (by Champion): 4 pairs
Nike: 1 pair
Road Runner Sports: 2 pairs
I'm not explaining my compression shorts to you. Final.
Running Shorts:
Adidas: 3 pairs, my favorite shorts to run races in. Three stripes stand out.
Champion: 1 pair, used mostly for training, inexpensive, effective.
Ink 'n' Burn: 1 pair, use on trail runs
Mondetta Performance Gear: 1 pair, used on trail runs. My only green shorts
New Balance: 1 pair, used in training, love the red stripe
Nike: 1 pair, always something about the swoosh
Old Navy Active Gear: 1 pair, training runs, inexpensive
Road Runner Sport: 1 pair, one of my favorite training run shorts
Running Pants:
Adidas: 2 pairs, used most often on runs in the morning
Hind: 1 pair, picked these up at Sports Basement, not in rotation that much, but used for THIS.
Mondetta Performance Gear, Magnum crop pant (black): super comfy, love these as recovery pants or for yoga.
New Balance: basic black, used a couple of times on cold runs.
Nike: Recently received, have not tested them yet.
Short-Sleeve Running Shirts:
Finisher shirts: 13 from various race distances
Ink n Burn: perfect for trail runs, has some trail attitude behind it.
Nike: my USA shirt, makes me feel "fast."
PearlIzumi: 1, recently received, have not tested
Road Runner Sports: 2, perfect for #RUNch during the week
ViewSport: FitFluential #PROOF shirt
Long-sleeve Running Shirts:
Finisher shirts: 10 from various distances
Custom-made Relay shirts: 2, personally designed
Nike: 72 Oregon shirt, recent addition and becoming a favorite
Arm Sleeves, Gloves, Headband:
Brooks Headband: 1, used on cold mornings to keep the ears warm.
INGNYC Arm Sleeves: 1 pair, love the orange and they stand out, very warm
Nike Arm Sleeves: 1 pair, fashionable, but thin and kind of tight in the upper arm. Effective tho.
Nike Gloves: 2 pairs. I love racing in gloves, Nike does the trick.
North Face Arm Sleeves: 1 pair, received at NFEC, extremely long which is amazing
Singlets:
Brooks: maroon, simple, mostly worn under a jacket as a base layer
Champion Disneyland 1/2 Marathon (2007): purchased at expo for race day due to high temperatures
National AIDS Foundation: custom-made for the training program (2006)
Jackets:
Asics: 2, one is extremely warm and my favorite to run in, the other is a finishers windbreaker from '10
Brooks: 1, neon yellow, effective for visibility
Road Runner Sports: 1, perfect for runs in the dark, comes with LED light
Hats and Visors:
Hats (4): Headsweats, PearlIzumi, Sugoi, Two Cities Finisher (2012)
Visors: (4): Headsweats (3), Road Runner Sports
Hoodies and Quarter Zips:
Mondetta Performance Gear: Propel hoodie — favorite, favorite, favorite. Thumb holes, too.
Oakland Marathon Finisher 2012: black quarter-zip, comfortable and warm
Two Cities Marathon 2012: red hoodie that I love to wear
Everything Else:
1 Garmin 305, 2 iPod shuffles, 1 headlamp, 1 pair of Knuckle Lights, 2 blinking red lights, 2 hydration packs, 6 water bottles and one set of Goat Head Sole Spikes.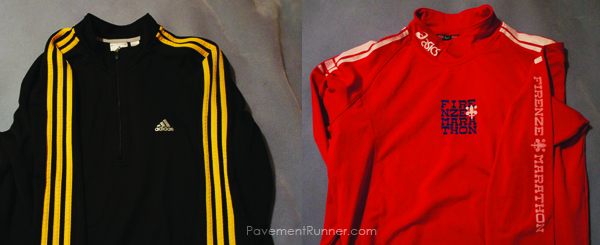 And these:
Adidas 3-stripe quarter zip: one of my early purchases as a runner. I call it my Bruce Lee top. Love the yellow and black combo.
Asics Florence Marathon finisher pull-over 2006: from my very first marathon. I hardly wear it, but I cherish it like no other.
There you have it. All of this exists in my closet… and that's just the running stuff. Oy. Hope you enjoyed the peek inside my closet. It's a collection of various brands with a few making more appearances than others, but all playing their role. I've found what works for me while trying to introduce new things. It's trial and error and seeing what works for you. Don't be afraid to try new things (just NEVER on race day) and trust in what has worked in the past as long as it keeps working.
#FitnessCloset Link UP below!
What's the percentage of fitness clothes in your closet?

Advertisement: