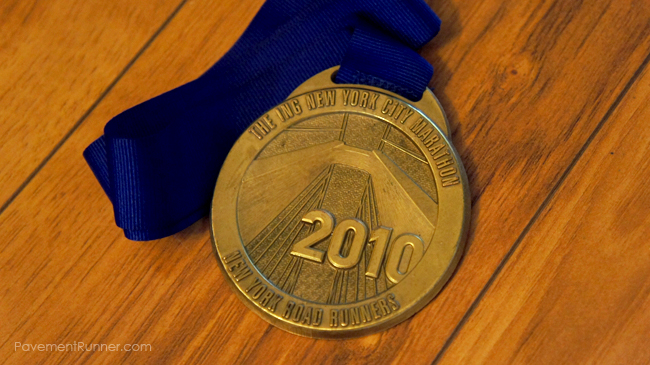 The following post is sponsored by FitFluential LLC on behalf of New York Road Runners.
In the last two weeks, the New York City Marathon has come up in conversations with fellow runners. On a run with @chrismalenab we talked about our upcoming races for 2014 and he mentioned that he was doing NYCM. Then last weekend on a run with @KineticFix, a friend of hers asked me what some of my favorite marathon races were and I, of course, had to include it.
I have only run the race once and it was a few years ago in 2010 (read about it here). I was coming off an ITB injury, so the race was going to be at a comfortable pace for me. My goal was to soak it all in and enjoy it. Since NYCM is a lottery, once you get in, you have to take advantage of it. There was no way I was going to let this opportunity slip away and I wasn't going to defer to the following year.
How did it feel?
Intense. Energetic. Emotional. There is so much going on that day and the WHOLE city comes alive to support it. It's like nothing I have ever experienced. When people ask me, the one word that always comes to mind is EXHAUSTING. If running a marathon wasn't already a challenge, imagine doing it with thousands of runners (2010 had almost 45,000 finishers)… then imagine doing it with the streets lined with people shouting at you and cheering you on. Don't forget that you are running through the five boroughs of New York (Staten Island, Brooklyn, Queens, Bronx, Manhattan) and across the Verrazano-Narrows Bridge and the Queensboro Bridge and finishing in Central Park… and you've got yourself one heck of a race. But that is only the beginning of trying to explain how it feels.
I'm the kind of runner that likes to thank people as I run: volunteers, person with a funny sign, etc… after a few miles, I was exhausted. I can't run 26.2 mile thanking everyone. They also encourage you to put your name on your shirt so that people can cheer you on individually. I wrote MONKEY and everyone had a good time yelling "GO MONKEY!" There is so much energy that while you are running that the only quiet sections of the course are crossing the bridges and through an Orthodox Jewish community in Brooklyn — which is a moment I will never forget for the almost sheer silence. It was as if all you could hear were the footsteps of the runners… it was such a sharp contrast to the remainder of the courses that it is a moment I will never forget. On the other end of the spectrum would be going up First Street around mile 16 after the Queensboro Bridge. It was like going down a runway where people line both sides of the street and scream their heads off at you.
Wear that Medal:
Another one of my favorite things was wearing the medal AFTER the race. Not just that day, but the following day as well. It was sort of a "thing." Runners were rocking them over regular clothes and giving each other nods and high fives. Strangers would congratulate you or tell you about how great it was to see everyone running. It really made the whole experience much more than just a race… much more than just a marathon. It was a community. It was a celebration.
Oh ya, and you get some awesome tourist photos of you with your bling. Here I am the following day ice skating in Central Park with my hardware in perfect form: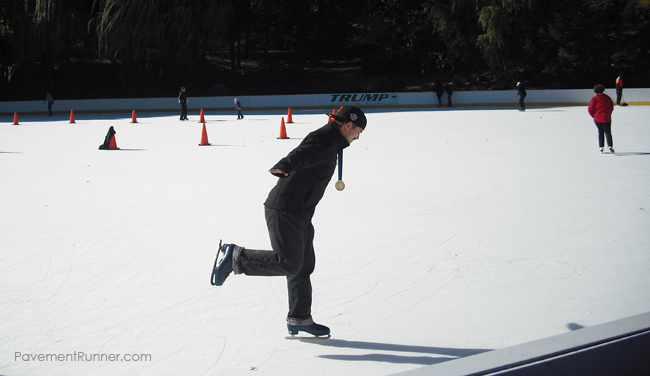 Thinking about entering?
It is absolutely something that I think every runner should experience once.
In fact, I want to experience it twice. I just threw my name into the lottery on Tuesday. If I get chosen, looks like I'm going to New York in November 2, if not, then I'll try again next year. There is an $11 fee to enter the lottery, but it goes to NY Road Runners and I can justify that as less then I'll spend on coffee this week.
Sweepstakes:
For the next 6 weeks (Feb. 3 – March 10), 10 winners will be chosen each week to win a guaranteed, non-complimentary entry to the 2014 TCS New York City Marathon. That's a total of 60 winners that will be chosen before the official drawing in March. Once you apply, you are automatically entered into this sweepstakes and the official drawing, so no need to enter twice or click anything special. Just apply and hope and wish and dream… oh, and train just in case.
Applications close March 18.
Twitter Chat:
On Thursday, February 6 at 9 p.m. EST there will be a twitter chat going on with the hashtag: #TCSNYCMarthonApply. The chat will be a Q&A on marathon training with Coach John Honerkamp. He ran the 2010 NYCM race with me, but finished a few hours in front of me at 2:44:22… ya know, no big deal.
Follow me on twitter: @PavementRunner – as I'll also be joining in on the chat.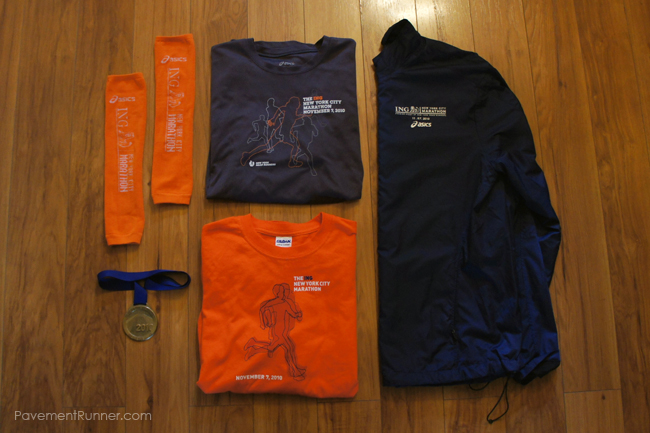 One thing I am also looking forward to if I get in again, is the shopping. I bought some stuff and I wish I had bought more. It's one of those things where you want to buy everything and you think it is too much, but then afterwards you wish you had purchased it. Luckily, NYRR has previous year's gear on sale after the race. I may have bought a few things.
Have you ever run NYCM?
Do you want to?